South to Host Inaugural Marching Band Championships
---
Posted on October 18, 2021
Joy Washington
---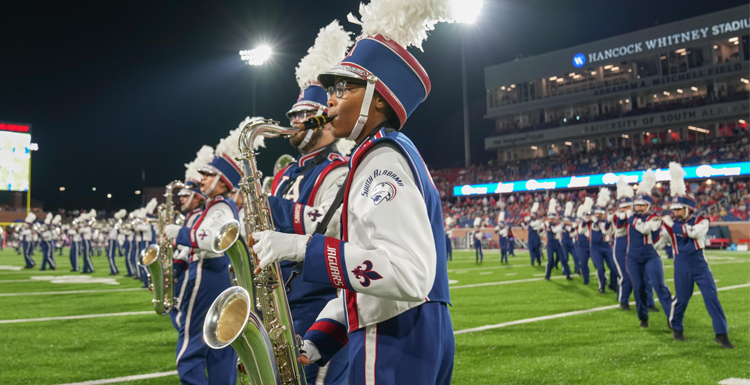 The Jaguar Marching Band performs during South's football game against Georgia Southern at Hancock Whitney Stadium, October 14, 2021.
---
The University of South Alabama Jaguar Marching Band, in conjunction with the USA Department of Music, will host the inaugural South Alabama Marching Band Championships at 2 p.m. on Oct. 23. The event is open to the public and tickets are $10 per person. Tickets can be purchased at the event or pre-ordered at www.usajaguars.com.
Registered bands will compete in one of the four-class divisions, with 20 bands being showcased in 2021. Bands small and large will have a chance to perform in the state-of-the-art Hancock Whitney Stadium on the campus of the University of South Alabama.
South Alabama Director of Bands Dr. Will Petersen is pleased that USA is offering a premier competition in the Gulf Coast Region for high school bands across Alabama and nearby states. With Hancock Whitney Stadium serving as a first-class venue, it will be the best location in the city for this inaugural event.
"It's always fantastic to travel and perform in an exhibition in front of thousands of band students, parents, and fans when we visit other band competitions," Petersen said. "But now that we have a first-class facility with the new Hancock Whitney Stadium at USA, we can bring bands and band students to campus to experience South in person - the facilities, the people, and the Jaguar Marching Band."
This will be an education-based format that will enrich and provide a great opportunity for students and band programs to grow and develop. With nearly 2300 student-musicians performing throughout the day, it is both a great outreach and recruitment effort.
"This has long been a dream of ours with the Jaguar Marching Band to be able to host a marching band competition on campus - even before I arrived at USA ten years ago." Petersen expressed. "Recently, several of the long-standing local competitions have shut down and bands have been forced to travel long distances for these types of performance opportunities. Being able to have an event on campus, where we can get students from Mobile and Baldwin County schools, along with other schools around the Gulf Coast, such as Pensacola, Panama City, Fort Walton Beach, and Ocean Springs is tremendous!"
The bands will be scheduled in 15-minute intervals for the performance unless noted on the schedule. During the contest, each band will have a 30-minute warm-up period before moving to the staging area before their performance.
There will be a distinguished panel of nine judges for the competition. Judges include Music General Effect - Glen Hauger; Music Ensemble - Dr. Greg Gruner (Director of Bands Emeritus at the University of South Alabama); Music Performance - Steve Graves; Visual General Effect - Jeff Gentry; Visual Ensemble - Tim Hudnall; Visual Performance - Peter Inglett; Colorguard - Karen Prince Welborn, Percussion - Brian Nozny; and Drum Major – Dr. Byron Dawes
Capping off the evening, the Jaguar Marching Band will present a special exhibition performance for all in attendance at 9:25 p.m. Central Daylight Time prior to the awards ceremony.
Tickets will be available at the Hancock Whitney ticket windows beginning at 1:00 p.m. on the day of the event.
For more information about the South Alabama Marching Championships, click here. For ticket information, visit here.
---