South's Weather Stations Serving Public, Private Interests
---
Posted on October 19, 2016
Alice Jackson
---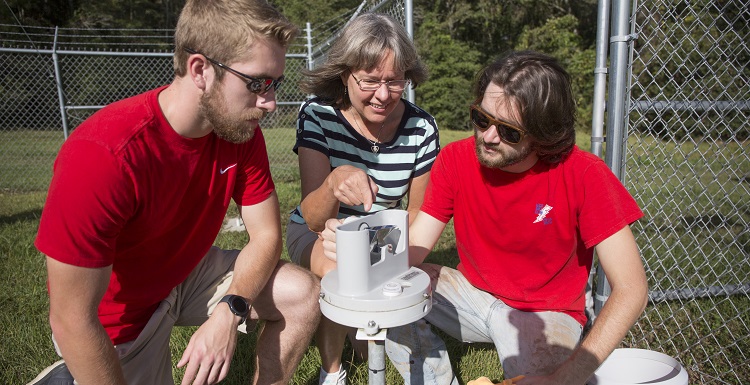 Meteorology majors Daniel Martin, left, and Mark D. Smith, right, assist Dr. Sytske Kimball, chair of earth sciences and professor of meteorology, with the USA Mesonet station on USA's main campus. Martin and Smith are both mesonet technicians.
---
When you live in one of the most hurricane-prone areas of the country, you can't have enough weather-recording equipment.
That's one of the many reasons for the University of South Alabama Mesonet, a network of 26 automated weather stations strung along the northern Gulf Coast and supervised by Dr. Sytske Kimball, chair of earth sciences and professor of meteorology at the University of South Alabama. The mesonet, which includes one station on the South campus, is operated under the University's Center for Hurricane Intensity and Landfall Investigation.
"The weather stations and their data are used in meteorology classes, especially by meteorology majors in instrumentation classes and by any students who want to get involved on an extracurricular basis with weather station maintenance, social media outreach and participate in various research projects using mesonet data," Kimball said. "We've even had one student get a job working at a mesonet in another state because he had gained experience with our system."
For meteorology students who work as mesonet technicians, it's an opportunity to gain job experience in their field while going to college. In addition to learning how the instruments work, the students also learn how to repair them.
"Many other schools don't offer an opportunity like this one," said Daniel Martin, a junior meteorology major from Birmingham. "The hands-on experience I'm gaining now will be beneficial with any job I have in the future."
Since its beginning in 2004, the mesonet stations have automatically collected 16 meteorological and soil readings, including temperature, rainfall, wind speed and direction, along with soil temperature and humidity, around-the-clock, 365 days of the year. The data is stored in an electronic archive and is also reported automatically to the National Weather Service office in Mobile where it is frequently used to issue severe weather and flash flood warnings and to perform post-weather event analyses. While the NWS has its own data collection system, the mesonet data collected at ground level gives the national service a more complete picture of weather systems.
Research based on the mesonet's data has focused on events including cold fronts, landfall of tropical storms, sea breezes, nocturnal cooling and local winds and rainfall climatologies.
Each location, which is fenced for security, includes: a tower with anemometers, thermometers, pressure sensors, relative humidity sensors, solar radiation sensors, rain gauges and soil sensors. Computerized communication sends the data to a centralized website for public access at http://chiliweb.southalabama.edu/.
"We also operate a Facebook page, South Alabama Mesonet, where information about station data, general weather info, tropical cyclones and more are posted multiple times weekly," said Nicholas Grondin, a senior meteorology major from Newington, Conn. "One of the best things about the mesonet is our data is free to anyone who wants to use it."
The newest mesonet station is located on the Poarch Creek Indian Reservation at Atmore.
"Thirteen of our stations are located on public school campuses, ranging from K-12, and it's a great outreach tool for us to share weather data and to encourage meteorology as a potential career among students from Florida to the Mississippi Gulf Coast," Kimball said.
The mesonet also serves residents, government agencies and private businesses in a wide range of applications including agriculture, ecosystem monitoring, fire weather, recreation, renewable energy, air quality and health, emergency management, litigation and climate change.
"Personnel at many of the area's forestry fire stations look at our data to determine fire hazard warnings, and agricultural interests use it to determine when to apply pesticides during growing seasons because pests flourish during times of high heat and humidity," Kimball said.
Kimball said mesonet systems like USA's are growing in importance for meteorology students because private companies and governments are looking for students that know how to maintain weather stations and correctly interpret and quality control collected data.
"A lot of companies are focusing on financial risk forecasting, raising the importance of weather impact on doing business," she said. "As that focus continues, mesonets and their data collection will become more important as well."
---