Mother's Battle with COVID Inspires Nursing Student
---
Posted on October 21, 2022
Thomas Becnel
---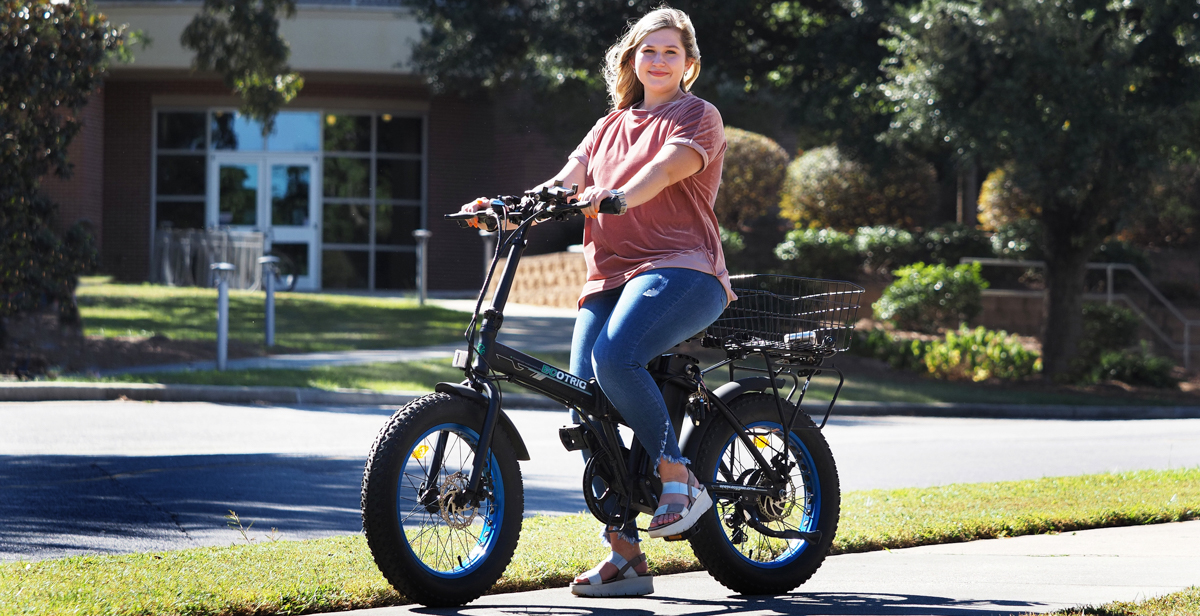 At the University of South Alabama, where she is a freshman, Claudia Allday is studying nursing and travels campus on an electric bicycle.
---
#FreshmanFocus is a series of stories on incoming students at the University of South Alabama.
After graduating from high school in Grove Hill, Alabama, Claudia Allday planned to study mortuary science and work at a funeral home.
Then everything changed.
"We all got COVID, my whole family, and we were fine, so it took us by surprise when my mother got so sick," Allday said. "She was in the hospital for 115 days. I know she was in the intensive care unit for 49 days. We were called in twice when they didn't think she would make it. It was awful."
Her mother recovered, though, and returned home for Christmas in 2021.
By then, inspired by the people who cared for her mother, Allday had decided to study nursing at the University of South Alabama. Mortuary science was a thing of the past.
"When she woke up, I said, 'Mom, I'm not going to do that anymore – I'm going to be an ICU nurse," Allday said. "And she was like, 'All right.' She loved it. She was all for it."
At South, Allday studies nursing, lives in the Camellia Residence Hall, and zips around campus on an electric bicycle. She doesn't care for driving through the big city of Mobile.
"I don't like all the red lights," she said. "In Grove Hill, we have about three traffic lights, and they're always green, because no one's around."
Grove Hill is just 90 minutes north of Mobile. Besides your family, what takes you home?
"I've got a lot of animals, and I can't go too long without seeing them. I'm obsessed with them. I have four donkeys, three goats and two dogs.
"The donkeys are a boy and a girl named Jack and Diane, like the John Mellencamp song, and the baby is Little Ditty. The fourth one is Joker. I have three goats – Peace, Bianca and Annie. My dogs are D-Dash and Coal."
What's it like starting a new life at college?
"My roommate is from Navarre, Florida, and I've met her friends from Navarre. They're all super sweet. I love 'em. We usually eat in the cafeteria and I go to Starbucks. I love Marble Slab Creamery, the ice cream place, and we made up a flavor – Red, White and Blue. It's sweet cream ice cream with blueberry, strawberry and sliced almonds."
It was the College of Nursing that drew you to South?
"I knew South had a great nursing program, and then I got the Mildred Coleman Starnes Nursing Scholarship, so I was definitely coming here. I was salutatorian at Clarke County High School, so I had good grades, although we only had 68 people in our graduating class. I don't stress about just anything, but I do when it comes to grades, even if I study for eight hours."
What are your classes like this fall?
"I've got Nursing 101, Biology, English 102 and Finite Math. And Public Speaking – that's interesting. I don't like speaking in public, but maybe I've gotten a little better."
Any electric bike adventures at South?
"I was riding once and it was raining and the wind was blowing and my umbrella broke. Then there were these two huge puddles and I was hydroplaning, so I started walking my bike back, and I got soaked.
"I need my bike. Especially when it's hot, and you're walking uphill, I'm dying out there."
What are your interests on campus?
"I'm in the Nurses Christian Fellowship at the Baptist Campus Ministry. Every other Thursday, we have a guest speaker and some food. We get maybe 30 people. It's nice.
"At home, we're a big faith-based family at Tompkins Baptist Church. I grew up going to vacation bible school and now I work there every year. We do arts and crafts and I help with the music. The kids sing and dance for their parents on the last day."
---