Mobile County Commission Commits $2.5 Million to Academic Success Center for USA Student-Athletes
---
Posted on October 22, 2018
Bob Lowry
---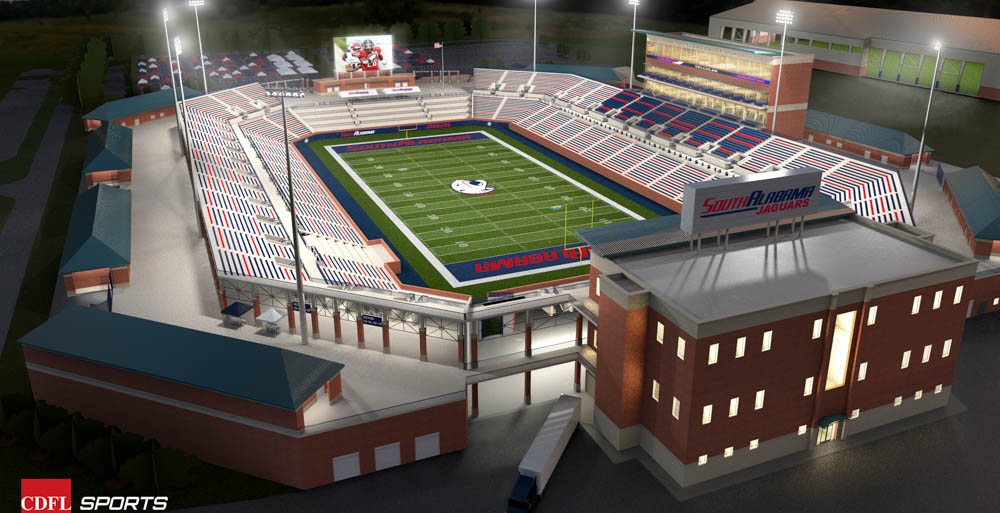 ---
The Mobile County Commission today voted to commit $2.5 million to create the Mobile County Center for Academic Success, which will be located within the administration building of the University of South Alabama planned on-campus football stadium.
"I want to commend and thank Mobile County's elected leaders – County Commission President Connie Hudson, Merceria Ludgood and Jerry Carl – for their assistance in moving forward this transformative project," said USA President Tony Waldrop. "The support of the Mobile County Commission makes possible a critical component of support for all student-athletes at the University of South Alabama."
The Mobile County Center for Academic Success at the on-campus stadium will be a 7,800-square-foot space with counselor offices, study areas, computers with unlimited printing, tutor rooms, and individual and group study rooms. The space will rival the best academic centers in the Sun Belt Conference, and will serve more than 400 student-athletes from all 17 Division I sports at South Alabama.
"The funding from the Mobile County Commission gets us much closer to our goal of having all the elements of the on-campus stadium in place for an opening in 2020," said USA Director of Athletics Joel Erdmann. "I want to encourage Jaguar Nation to follow the lead of the Commission, stay informed and engaged in this process and support the stadium at whatever level they can."
Fans can contribute online to the stadium's construction at GetOnCampus.com.
The 25,000-seat stadium's estimated cost is $72 million. Funding for the stadium, and resulting debt service on bonded indebtedness incurred to construct the stadium, will come from a combination of the athletic department, auxiliary enterprises and public/private funding. The project costs will not be funded by tuition or student fees.
The stadium will be located at the former site of the University's intramural fields, which have been relocated to a larger area offering more amenities for South students.
---