USA Ready For Homecoming 2021
---
Posted on October 22, 2021
Joy Washington
---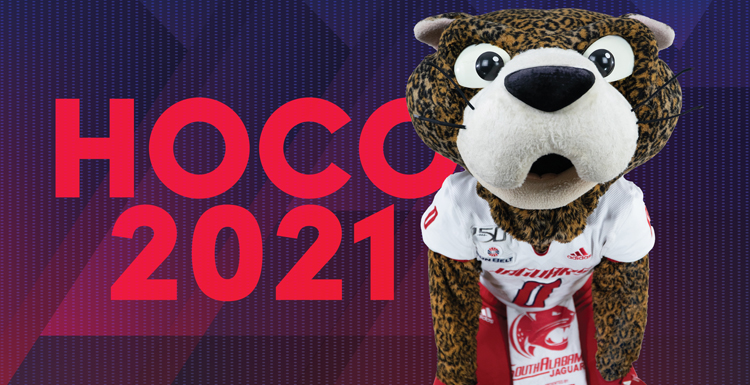 A full slate of activities will highlight South's homecoming week, October 25-30.
---
The University of South Alabama is ready for Homecoming 2021, bringing together students, alumni, faculty, staff and the community for the annual celebration to be held the week of Oct. 25-30.
This year's many homecoming activities will include a host of events including a pep rally, parade and a concert featuring Bassjackers, who will perform at 7 p.m. at the USA Mitchell Center. The concert, featuring the DJ duo that has reached the #34 position in the DJ Mag Top 100 and has scored hit collaborations with Martin Garrix, R3hab, and Snoop Dogg, is free to all USA students. General admission (non-students) is $15.
"South Alabama is excited to be able to celebrate homecoming, when everyone can gather on our beautiful campus and enjoy a host of activities," said James Contratto, USA's homecoming committee chair. "Homecoming is also a special time on campus when students have the opportunity to have fun and engage with alumni. This year, we are looking forward to reuniting with that Jaguar spirit in our beautiful Hancock Whitney Stadium."
Activities begin at 6 p.m. on Monday, Oct. 25, with the traditional "Junk the Jungle," for South students only, which officially kicks off homecoming festivities. Students are encouraged to toss tissue in the "Jungle."
On Tuesday, Oct. 26, Jaguar Productions invites everyone to Fun Fest, to be held from 6-9 p.m. at the Student Center. There will be free food, games, inflatables and much more for all to enjoy.
At 6 p.m. on Friday, Oct. 29, the Jaguar Volleyball team takes on App State in the Jag Gym. Following the game, the NPHC Homecoming Step Show will feature "Jags Blast to the Past," at 7 p.m. at the USA Mitchell Center. The event is free for USA Students, and general public tickets will be available online through the USA Mitchell Center. Come watch the NPHC Greeks Battle it out on the stage for a grand prize!
See a complete list of homecoming activities and more information here.
For ticket and game day information, visit USAJaguars.com.
---