South Grad Encouraging Artists to do 'Big Things'
---
Posted on October 26, 2019
Marketing & Communications
---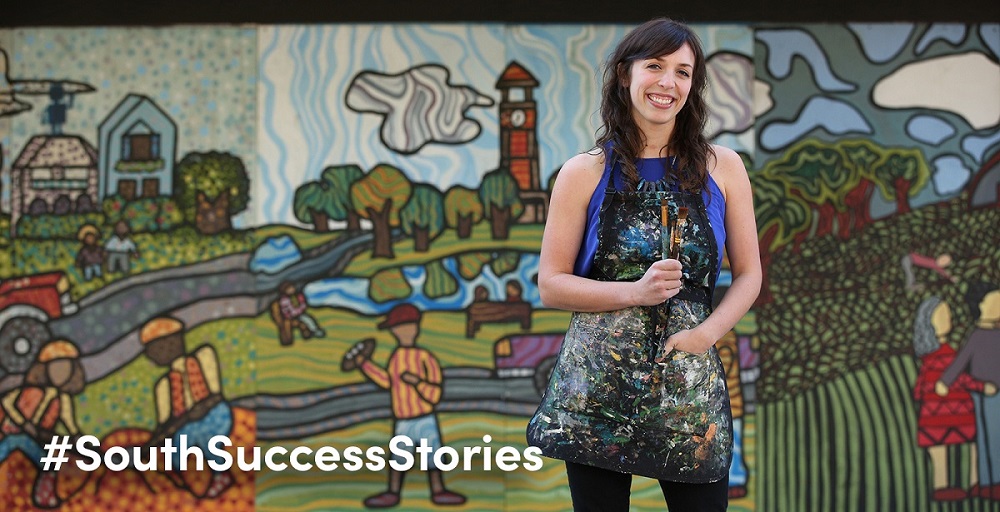 South alumna Lucy Gafford worked with other artists and students from several Boys & Girls Clubs in 2014 to paint this mural attached to the facade of the old Gayfers' building in downtown Mobile. The mural depicts life in Mobile County and even includes USA's Moulton Tower. Today Gafford is executive director of the Mobile Arts Council.
---
#SouthSuccessStories is an ongoing series featuring University of South Alabama alumni who are life-savers, innovators, game-changers, music-makers and creative-thinkers, successful in their careers and supportive of their communities.
Even as a high school student, Lucy Gafford made quite an impression on Charlie Smoke.
Smoke was the director of community development at the Mobile Arts Council. Gafford was a student at Murphy High School, president of the school's National Art Honor Society and a year from enrolling at the University of South Alabama.
"The minute I met her, I just thought, 'She's going places. This is somebody I want to know,' " Smoke recalled. "She just has a vitality, a charisma. ... She has the kind of personality that draws people to her."
Smoke's first impression of Gafford turned out to be right. The 30-year-old native Mobilian already has an impressive list of achievements. She gained Instagram fame and a nod from Ripley's Believe It or Not for her shower hair art. She was commissioned to paint two oyster shell statues as part of the Oyster Trail. And in June, Gafford was named executive director of the Mobile Arts Council.
She considers it one of her most significant accomplishments because the Mobile Arts Council matters so much to her and other artists in Mobile.
Founded in 1955, the Mobile Arts Council serves as an information clearinghouse for area artists and residents alike. It also supports art education initiatives and aims to enrich the city's culture through accessible art.
"Everything I do here aligns with what I love — promoting the arts and helping bring that to our community. That is what I'm passionate about," she said.
DIY costumes and dioramas
Art has been part of Gafford's life for as long as she can remember. She grew up in a family where art projects were just part of her everyday experience, she said.
For instance, they participated in the Do Dah Day pet parade every year. "I would work with my mom to make the costumes and dioramas in little wagons, and we would put the turtles and the rabbits in and march them down the street on parade," she said. "We were always doing fun things that involved the arts that I thought were normal things to do. But most people growing up didn't have that experience."
From sixth grade on, Gafford made her own Halloween costumes. In high school, she made her own prom dress "somewhat successfully," she said. "I've always had a knack for that because I was encouraged to make your own things. It can be a fun process."
She toured several colleges, but at South Alabama she liked the professors, the one-on-one instruction opportunities and the focus on developing the technical aspects of art. Plus, she received a Presidential Scholarship.
"It was a really nice fit for me," she said.
Art and opportunities
Gafford got her first fine arts job while studying at USA. Her mural instructor, Jason Guynes, offered her a chance to help create the USA Moulton Bell Tower murals.
"It was really a once-in-a-lifetime opportunity to work on that, especially as a student," she said.
She saw another chance to gain practical experience after Smoke spoke to her professional practices class about volunteer and work opportunities at the Mobile Arts Council
"Charlie was a really cool guy, and I liked everything he was talking about -- the Arts Council's involvement in the community and what they had to offer for artists starting out, like the Community Gallery — which we still maintain and change out every month," Gafford said.
Gafford ended up volunteering with the council as a student and competed in one of the council's annual fundraising events, The Throwdown, a live-art competition featuring local artists who have 90 minutes to create works of art from a shared supply table. Gafford took second place.
After graduating in 2012 with a bachelor in fine arts, she accepted a position working as an art instructor as part of the council's ChARTing New Directions program at the Boys & Girls Clubs of South Alabama. She taught ceramics, painting and drawing to all ages at two locations.
Eventually, she was offered a position at the Mobile Arts Council as program coordinator, then program director.
All along the way, she continued working on her own art, which includes paintings, murals, realistic animal sculptures she calls "pet heads," and of course, her shower hair masterpieces.
She has an online portfolio of more than 500 hair works of art — elaborate pieces she crafts on her shower wall, made from hair strands she loses while washing her hair. The portfolio includes renditions of the Notre Dame Cathedral, Jerry Seinfeld, a mosquito, Yoda and Easter lilies. Her remarkably detailed shower creations led to features in Mobile Bay Magazine, Ripley's Believe It or Not and even Teen Vogue.
A new challenge
When the executive director position became available, Gafford said she considered not applying for it because of her age.
"I thought because of my age and lack of experience, I was not the person for the job," Gafford said. "But I have been involved for years and know so many people here, and I'm wrapped up in everything we do, so why not try?"
Don't let her unassuming and unpretentious nature fool you. She's up to the job, Smoke says.
"She is extremely organized and meticulous," he said. "For her first one-person show, she knew exactly what she wanted, and was completely prepared. She takes on a job and gets it done efficiently and effectively."
Smoke, who worked with the Mobile Arts Council for 12 years, says Gafford is a natural leader who will shine in the role.
"Her youth is a real asset because it is a way for her to communicate to younger artists" and make art more inclusive, Smoke said.
"She is someone to whom younger artists can relate — someone who has the energy, innovation and the creativity," he said. "It's that great blend of humor and technique and seriousness and intelligence. It's a great package, and it makes her a very strong leader."
And if she's successful? There may be more Lucy Gaffords graduating and contributing to the arts in South Alabama.
"For a city of our size, we have a robust arts community," Gafford said. "We have public art all around the community, and our local colleges have a lot of young talent coming out of them each year.
"One of my big goals is to capture those people who are graduating and get them to stay and do big things to help Mobile be a more vibrant, creative place, because there is so much opportunity growing here."
---