Walking in the Footsteps of Florence Nightingale
---
Posted on October 26, 2017
Joy Washington
---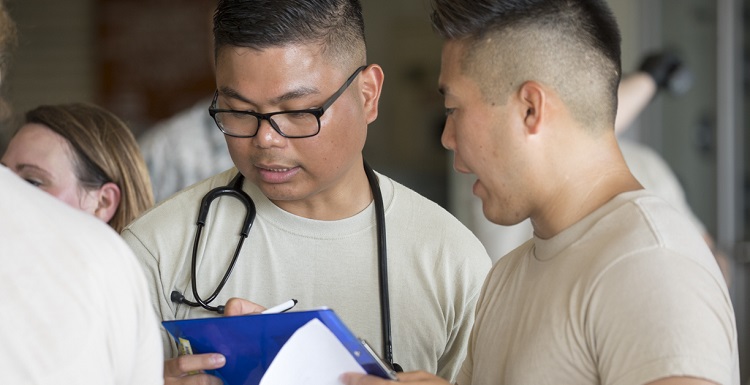 Capt. Rupert Laco, center, a South doctoral nursing program student is the recipient of the American Nurses Association-California 2016 Florence Nightingale Award. He is seen being briefed about one of his patients. Photo courtesy of the U.S. Air Force.
---
Florence Nightingale is recognized as the founder of modern nursing, initially making her mark through her care of injured soldiers. Today, her spirit lives on in the person of U.S. Air Force Capt. Rupert Laco, a University of South Alabama graduate. Laco has been named the American Nurses Association-California's 2016 Air Force's Florence Nightingale recipient.
Now a student in South's doctor of nursing practice program, Laco is the urgent care element chief at Yokota Air Base in Fussa, Japan, where he is working to save lives and heal the sick.
He decided to become a nurse due to his unforgettable experiences of watching his grandparents suffer from illnesses and eventually passing away.
"My grandmother had Alzheimer's disease, and she suffered from decubitus ulcers and mobility problems, which led to her death in 2004," Laco explained. "My grandfather also had a myocardial infarction, in which I witnessed his resuscitation and his death. I poorly understood those health issues, so I wanted to equip myself with health care knowledge by choosing a nursing career to influence and help the people around me."
Laco earned his master of nursing degree from South, and he's grateful for the support of Dr. Valorie Dearmon, chair of adult health nursing; Dr. Bridgette Moore, assistant professor of adult health nursing; and Dr. Mary Phillips, director of academic advising in nursing. He said they have been very supportive of his endeavors as an online doctoral nursing student.
"They give me honest feedback, and I know they care a lot about their students," Laco noted. "I chose USA's online program because I had a positive experience during my master's studies at South. I believe the USA College of Nursing ensures that students are equipped to face health care and nursing challenges wherever they work. And the online programs are military friendly and designed for busy professionals like myself."
Laco, who is a member of South Alabama's National Alumni Association, has received numerous awards for his superior patient care with the most recent being the 2017 374th Medical Group's Company Grade Nurse of the Year and the President's Volunteer Service Award. He's is pleased to be recognized for his diligent work in a profession he is passionate about.
"I am humbled to have received the recognition for the work in a profession I love," he said. "I am just so honored to be able to serve my country in the U.S. Air Force. The military has paid for my education. The educational benefits and a desire to serve drew me to this branch of the armed services."
Laco said although the doctoral nursing program is challenging, he feels primed to become even more competent and reliable as a nurse in the U.S. Air Force.
"I feel capable of efficiently conducting multidisciplinary collaboration, and I understand the standard health care business functions," he stated. "Subsequently, South's nursing program has armed me with knowledge regarding benchmarking, systems thinking, health care policy, self-evaluation, developing others, maintaining relationships and translating evidence into practice."
Laco said he's also learned how to identify gaps in patient care, health care processes, mentoring and technology. In addition, he has also achieved a nurse executive-board certification through the American Nurses Credentialing Center, thanks to South's faculty and the strong nursing program.
When Laco is mentoring future or new nurses, he shares how nursing can be tough at times, yet rewarding.
"I tell them you have to be organized, calm and steady on your feet," he said. "You will be stressed and overwhelmed, so take care to balance yourself. I am so glad my nursing faculty mentors encourage us to take care of ourselves physically, mentally and spiritually. Our goal as nurses is to provide excellent patient care. I want to make a huge difference in people's quick and efficient recovery, so they also become effective and healthy members of our society."
As Laco looks to his future he said he aspires to have a fulfilling life and career.
"I want to live a life where I positively influence the people around me and travel the world," Laco expressed. "My wife, Diana, and my son, Theodore, inspire me daily. I want to have a life and career that's full of learning and knowledge, which I can use to make other lives better."
---