Jags Win Sun Belt Conference Title
---
Posted on October 27, 2019
Marketing and Communications
---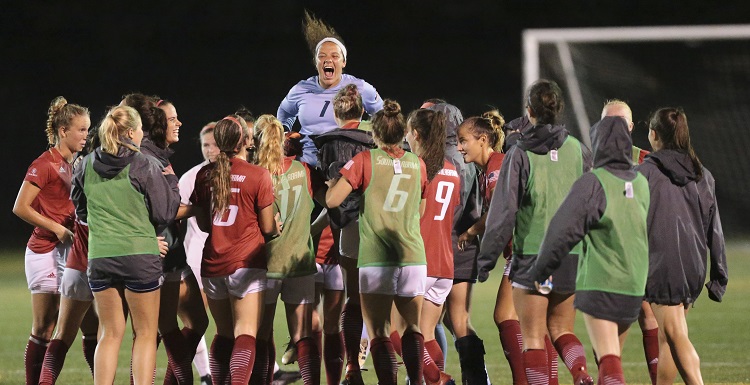 The University of South Alabama soccer team celebrates after a 1-0 win against the Appalachian State Mountaineers to win a fifth Sun Belt Conference title in six years.
---
The University of South Alabama soccer team shut out Appalachian State to win its fifth Sun Belt Conference title in six seasons with a 1-0 victory Friday against the Mountaineers.
The Jaguars move on to the Sun Belt Tournament, scheduled for Nov. 6-10 at the Foley Sports Complex in Foley, Ala.
"I'm delighted for the girls, and this is a great opportunity for everyone involved in the program," said Head Coach Richard Moodie. "It's been a great season for us, but we're not done. We're going to keep going."
The lone goal was scored in the 29th minute by senior Briana Morris. The game was held at Sage Park, about five miles east of campus, due to heavy rain and field conditions.
"But the message was, we have to win any time, any place," Moodie said. "At the end of the day, it was an ugly game, the weather didn't help any, but we were still able to get the victory. I'm excited with how we played. We looked like champions."
South Alabama increases its win streak to five in a row to go to 13-3-2 overall and 8-1-1 in the conference. The team is 7-0 at home for the first time since the 1997 team went 9-0; it is just the fourth time in school history the Jaguars won all of their home games.
For more about Jaguar soccer, visit usajaguars.com.
---