Lott and Daschle Share Political Views 'Across the Aisle'
---
Posted on October 27, 2023
Thomas Becnel
---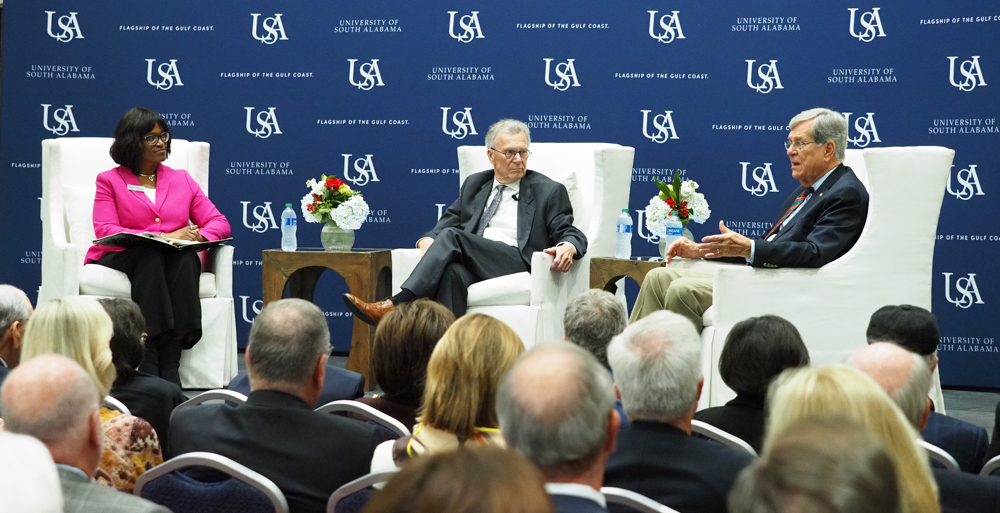 Former Senate Majority Leaders Tom Daschle, center, and Trent Lott discussed bipartisanship Irving Silver and Frances Grodsky Silver Endowed Presidential Lecture in the MacQueen Alumni Center. Dr. Joél Billingsley, vice president for diversity and community engagement, moderated the discussion.
---
Former Senate Majority Leaders Trent Lott and Tom Daschle spent Thursday afternoon agreeing, agreeably, in a University of South Alabama lecture about bygone days of congressional bipartisanship and a contemporary age of political dysfunction.
"You know, Republicans and Democrats used to talk," Lott told students at a pre-lecture luncheon. "That's one of the secrets to getting things done."
Lott, a Republican from Mississippi, and Daschle, a Democrat from South Dakota, offered an "Across the Aisle" program as their Irving Silver and Frances Grodsky Silver Endowed Presidential Lecture in the MacQueen Alumni Center. Dr. Joél Billingsley, vice president for diversity and community engagement, moderated their discussion for several hundred students, faculty and staff.
Both former senators blamed social media and cable TV networks for promoting more extreme opinions in American politics. Both blamed gerrymandering for encouraging more extreme candidates. Neither offered easy solutions.
"Frankly, I think we've got a lot of work to do," Daschle said. "We've just been three weeks without a Speaker of the House of Representatives, and I worry how this next election's going to play out on the presidential level. I think democracy's a lot more fragile than we realize.
"I don't think I've ever been more concerned about our country. I wish I didn't have to acknowledge that today. I'm embarrassed, I'm troubled, and I'm deeply concerned about the ramifications of all this."
Lott also criticized Republican infighting in the House. Former Speaker Kevin McCarthy was removed from office in an unprecedented vote by members of his own party. After weeks of bickering and votes on several would-be successors, Republicans finally settled on Rep. Mike Johnson of Shreveport, Louisiana.
"I'm hopeful for the new Speaker," Lott said. "I'm meeting with him next week. He's a conservative, but with a moderate disposition."
Lott and Daschle shared an easy rapport on Thursday at South. Both served more than 30 years in Congress. They clearly like each other.
When the two of them were seated on stage, Lott said, "This is the first time I've ever been to Tom's left." The audience laughed. Daschle replied, "I could say the same to you from your right."
In 2016, the former senators wrote a book together called "Crisis Point: Why We Must – and How We Can – Overcome Our Broken Politics in Washington and Across America."
"We should be thinking about writing a sequel," Daschle said. "There are crises now that we didn't even think about."
At an afternoon luncheon with students in the John Counts Room at the Mitchell Center, Daschle and Lott discussed lost days of bipartisanship in Congress.
Most of the questions and most of their answers were about leadership across the aisle. In a time of often bitter politics, Lott and Daschle represented a different era. Students noticed the change in tone.
"It's refreshing to see people who are so hopeful about bipartisanship," said Abbe Wentland, a senior studying political science at South. "I don't know how it'll play out in real life, but it's nice to hear."
Red Telephones for Lott and Daschle
Lott told students that when he and Daschle led their respective parties in the Senate, each one of them had a red telephone on the desk in his office. Those phones connected only to each other. That way they could speak at any time without any arrangements or in-betweens.
Daschle said he misses those days.
"It's been said that 'Compromise is the oxygen of democracy,'" Daschle said. "I think that's so fundamentally true, but compromise today is viewed as capitulation."
The former senators still talk and tease each other.
During a question-and-answer session in the MacQueen Alumni Center, a young audience member asked the senators what they thought about federal knowledge and disclosure of UAPs – Unidentified Aerial Phenomena. There was a pause before Lott drew a laugh from the audience by sidestepping the question.
"You know, Tom was in the Air Force," he joked, "so a question like that, I leave to him."
Daschle smiled and said that he believes in transparency and the government disclosing whatever information it has.
Lott also joked about sharing favorite sayings with Daschle and then quoting him without attribution. It's part of their Republican-Democrat routine. They respect each other and work together.
"We've both got a phrase that we like about the best way to persuade people is with your ears," he said. "That's where good leadership starts. You have to listen to people."
---