Jags Win Fourth Consecutive Sun Belt Soccer Title
---
Posted on October 28, 2017
Marketing and Communiations
---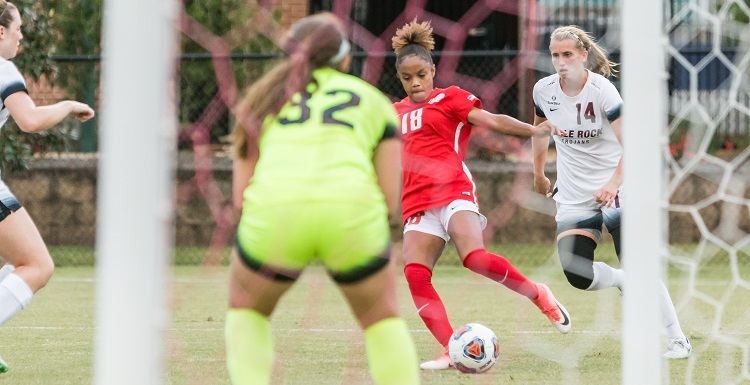 Sophomore Kory Dixon advances on Little Rock in the Jags' 1-0 victory to win the Sun Belt Conference title.
---
Sophomore Kory Dixon scored with 4:44 left in the contest to give the University of South Alabama soccer team a 1-0 victory over Little Rock and the Sun Belt Conference title Friday afternoon at The Cage.
The Jaguars, who were already the only Sun Belt program to win three straight championships, has won four in a row dating back to 2014.
Senior Rio Hardy assisted on the game-winning goal. Dixon's game winning shot followed an earlier close-range kick by Dixon that went over the goal.
"Kory is a poster child for kids around the country that play college soccer. That young lady has been in and out of the squad, but she's been at practice every day this week working extra. She finds herself in a situation where she can become the hero," said first-year Head Coach Richard Moodie. "She's been working at practice just going to goal, so today was a product of that. That's a message, not just to our girls, but around the country. You want to get on the team, you want to play more, impress the coaches and prove people wrong, just come in and do extra on the training ground."
Little Rock outshot South Alabama 9-3 in the first half, and sophomore goalkeeper Justice Stanford made several big saves before halftime to keep the game scoreless – a leaping stop at 15:00, then a close-range shot at 17:48.
"In the first half, they were all over us. Justice had the best game she's played this year. You get glimpses of the goalkeeper she can be for this program moving forward," Moodie said. "At halftime, we said to the girls that if a neutral party was watching the game, telling us who was playing for their fourth conference championship and who was playing for third, they would've had it wrong. I think that message hit home and in the second half we got a response out of them."
"Tonight wasn't our best performance but we found a way to win. I'm ecstatic for the girls – they deserve it."
The Jaguars, the top seed at the Sun Belt Tournament, will take on No. 8 seed Appalachian State on Wednesday at 1 p.m.
USA ends the regular season at 11-5-1 and 9-1 in the league. Little Rock drops to 9-8-2 and 4-4-2.
For more on South's Sun Belt title victory, visit www.usajaguars.com.
---