USA Led Project Seeks to Integrate Spiritual Competencies in Mental Healthcare
---
Posted on October 28, 2021
Thomas Becnel
---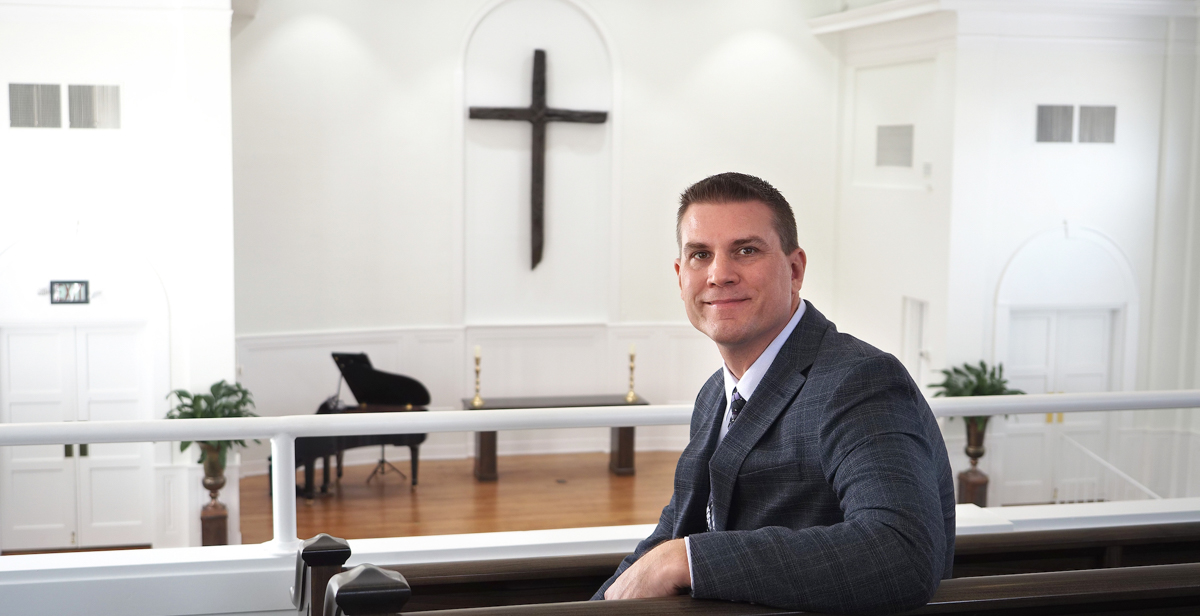 University of South Alabama Professor Dr. Joseph Currier, seated at Covenant Presbyterian Church in Mobile, where he is a member, said he has felt drawn by his belief in God to psychology, theology and mental health counseling. He is leading a national project that seeks to integrate religious and spiritual competencies in training mental healthcare providers.
---
Dr. Joseph Currier, a psychology professor at the University of South Alabama, looks forward to the day when mental healthcare includes a better understanding and appreciation of peoples' religion and spirituality.
Over the next three years, he's leading a national project, funded by a $5.2-million grant from the John Templeton Foundation, that will strengthen training, promote research, and coordinate efforts to integrate spiritual and religious competencies into graduate and post-graduate programs across the country.
The idea behind the project is that many clinicians lack the knowledge and experience to address spiritual and religious dimensions in the lives of their patients. The goal of the project is nothing less than "Catalyzing a Cultural Shift" for better training and more effective clinical practices for persons from all spiritual backgrounds, including those who do not identify with any particular religion.
"There has been much progress in medical school and psychiatry residency programs to honor the role of spirituality in health. This is a similar pioneering effort for psychology and other mental health professions," Currier said. "This is the first time there's been a project of this magnitude for our professions."
South Alabama is the lead institution for the Spiritual and Religious Competencies Project, which is broken into four parts. These sub-projects involve a spiritually diverse group of nearly 20 professors and graduate students from Baylor University, Bowling Green State University, Stetson University, the University of Maryland, Baltimore, and the University of California, San Diego.
Three graduate students are working with Currier in Mobile. Megan Blanton, who's earning her Ph.D. in clinical and counseling psychology, has more than 1,000 hours of experience as a mental health clinician. What she doesn't have is much background in religion and spirituality.
"It's not a central part of my life, which is why I think this is an even more valuable experience," Blanton said. "In therapy, we explore very deep, personal issues of the mind and psyche. For people who are religious, these are some of the deepest parts of the heart and soul. To neglect that would be a disservice."
A website for the Spiritual and Religious Competencies Project — srcproject.org — describes plans for a spiritually integrated approach to mental healthcare.
Dr. Kenneth Pargament, an emeritus professor of psychology at Bowling Green University, has written several books on spiritually integrated therapy. He's been a leader in the field for a half-century. Now he's an enthusiastic participant in the nationwide project.
"It's the culmination of decades of research that underscore the important connection between spirituality and mental health and well-being," Pargament said. "It's also on the cutting edge, moving from research to practice, training people in mental health to be more expert in this area.
"I think there's been a real sea change in attitudes. When I started in the 1970s, there was a real skepticism and even antagonism about the need for training. But there's been a real transformation since then. There's greater openness and interest."
Currier reached out to Pargament when he began studies that led to his work with the competencies project.
"I was really impressed with Dr. Currier — he's a rising star in this area of study," Pargament said. "When the possibilities for this project came up, he was the logical person to take the lead, given his expertise and productivity."
At South, Currier will be taking a sabbatical from teaching in the spring of 2022, which should make it easier for him to work on the competency program.
"This comes at a really opportune time for me," he said. "I'll be able to do some travel. We have some meetings planned. I enjoy being the leader of the project. We have an amazing team that works well together. I have a do-whatever-it-takes attitude and deeply value the aims of this project.
"For this project, the sum is greater than the parts. Someone needs to be the glue to synthesize everything together. It's my job to keep us on track."
Psychology and Theology
Currier, a native of Minnesota, is a tall, crew-cut professor who sometimes wears suede sneakers with his suits.
His father was a physician. He grew up playing sports. During the summer, he worked at a golf course, which taught him a thing or two.
"I learned that I wasn't all that interested in golf," he said, laughing. "I wasn't a very good caddy, to be honest. But I learned a lot about privilege, politics, and how power gets transferred from one person to the next."
Before starting college at University of St. Thomas, Currier experienced a spiritual calling. He felt drawn by his belief in God to psychology, theology and mental health counseling. After earning a master's degree in clinical psychology from Wheaton College, he began work on the South Side of Chicago.
He counseled troubled youth who experienced trauma and parents who had lost custody of their children.
"It was super-super transformative," he said. "I learned about cultural humility. I learned how to connect with people who have very different backgrounds. I learned about working with people going through trauma and grief."
From Chicago, Currier and his wife, who is from north Mississippi, moved to Memphis. At the University of Memphis, he worked with Dr. Robert Neimeyer, an expert in grief therapy, who became a mentor.
For the Department of Veterans Affairs, he began counseling the first wave of service members returning home from wars in Iraq and Afghanistan. This was when the suicide rate among veterans first rose higher than that of the general population. Counselors and psychologists faced a crisis in mental health care.
"We had a serious public health problem that few people knew about," Currier said. "I really enjoyed the patients I got to work with. It was a great fit — perfect for me. I didn't know it at the time, but my veterans were teaching me life-changing lessons about the importance of faith and spirituality in healing."
From Memphis, Currier went to Pasadena, California, where he joined the clinical psychology faculty at Fuller Theological Seminary in 2010. Many the faculty there worked on grants from the John Templeton Foundation, which was founded by Sir John Templeton, a mutual fund pioneer and billionaire philanthropist who supported spiritual understanding through scientific research.
From Pasadena, Currier and his wife and three boys moved to Mobile in 2013. In 2015, he was appointed director of clinical training for the Ph.D. program at South and served for five years. He belongs to Covenant Presbyterian Church. He remains active with Veterans Recovery Resources, where he has served as the clinical director for six years.
Smaller studies funded by the John Templeton Foundation led to his work on the Spiritual and Religious Competencies Project. Nearly two years of planning and organization stalled with the arrival of the coronavirus pandemic. The future was uncertain.
On the Gulf Coast, Currier tried to stay hopeful and focused.
"I took up surf fishing. There's plenty of time to reflect and pray when the redfish aren't biting," he said. "It was eating me up. I needed to find ways of staying centered."
Finally, Templeton was able to invite a full proposal last fall. Funding was approved and the project formally began in August. It's a busy time. Sub-projects are getting started from Maryland to California.
"We're a few months in," Currier said, "and we've got a really steep ramp-up but are already having some successes."
Three-Year Project and Beyond
Support from the John Templeton Foundation, which has an endowment of more than $3 billion, is crucial to the Spiritual and Religious Competencies Project. A grant of $5.2 million goes a long way, even for a nationwide program of research, training and advocacy.
"Look at this," Currier said, calling up the project website on his computer. "It's amazing what you can do when you have the necessary resources."
Currier acknowledges there is often academic apprehension to mixing religion and science. At the same time, a complete separation ignores consideration for those who identify as spiritual or religious.
"A lot of what we're trying to do is to hear from skeptics and naysayers," he said. "We believe we're going to learn a lot of lessons. It's going to start with the faculty. If you want to make cultural changes, you either need to influence a huge number of people or a handful of really influential people."
Currier thinks much progress has already been made. Recently, he got a phone call from researchers at the National Institutes of Health.
"There's a lot of movement right now," he said. "It's pretty exciting that the NIH, the largest funder of scientific research in the country, has formed a steering committee to discuss how to investigate religion and spirituality."
For the next three years, Currier will continue work on the Spiritual and Religious Competencies Project.
"I don't know what's going to happen after this project, but I'm sure it will lead to others," he said. "We're trying to strengthen a movement that will continue far after our funding is done. This goal of ensuring that every mental health professional can address their clients' faith or spirituality is something I'm going to pursue for the rest of my career."
---