Sexual Assault Nurse Examiners Training to Begin at South
---
Posted on October 30, 2018
Joy Washington
---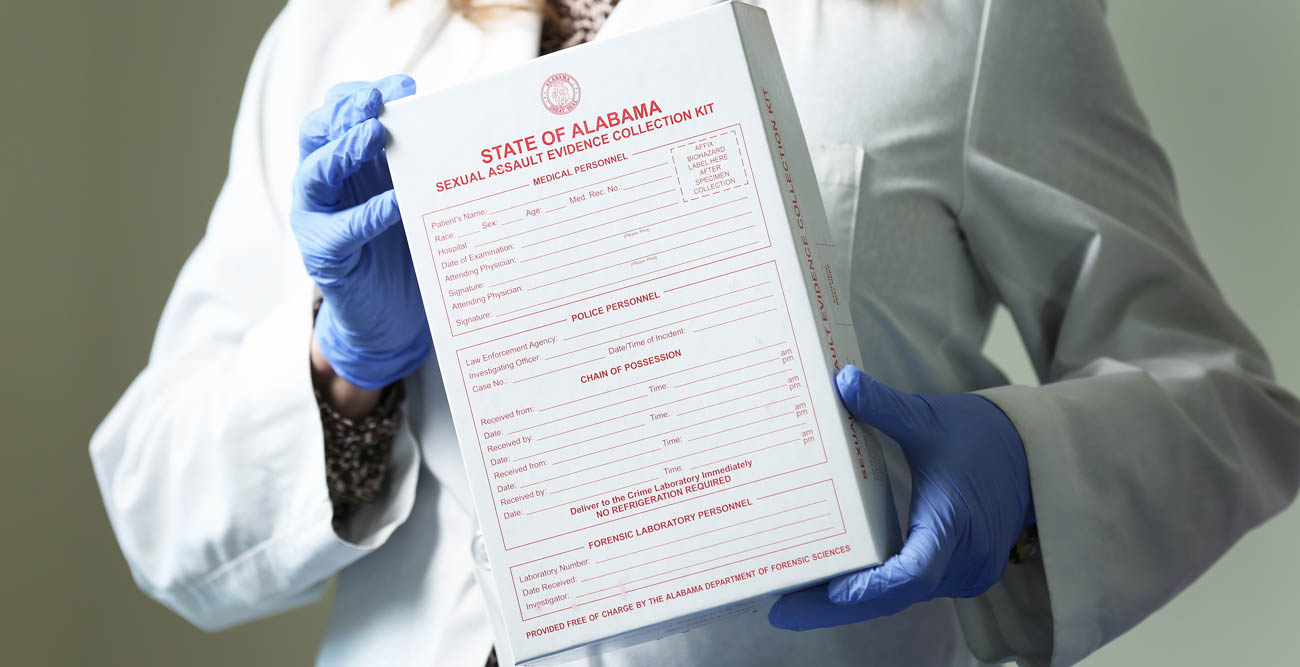 ---
Victims of sexual assault need a specialized level of health care from nursing professionals trained to provide it. Known as Sexual Assault Nurse Examiners, or SANEs, they are few in number. However, the University of South Alabama has received a federal grant that will enable the University to train more SANEs to serve in this field of health care, especially in areas with medically underserved and rural populations.
The approximately $1.1 million grant is from the Health Resources and Services Administration, an agency of the U.S. Department of Health and Human Services. HRSA is the primary federal agency for improving health care access to people who are geographically isolated, or economically or medically vulnerable.
"The grant award provides the South Alabama College of Nursing faculty the opportunity to advance nursing education and practice," said Dr. Heather Hall, professor and dean of the College of Nursing. "The faculty will serve in key roles to increase the total number of registered nurses, advanced practice registered nurses and forensic nurses who will be trained, certified and engaged in forensic practice as sexual assault nurse examiners, or SANEs, in Mobile and rural communities."
Eligible nurses will receive specialized training to serve survivors of sexual violence. There will be 10 nurses initially trained online through the International Association of Forensic Nurses as well as in the classroom, the USA Health clinics and in the USA Simulation Laboratory.
"One of every nine adult women, or about 200,000 adult women in Alabama, has been a victim of rape in their lifetime," Dr. Carolyn Dolan, professor of community/mental health nursing, said. "Nationally, there are approximately 1,400 SANEs, but in Alabama there are fewer than 12. When a sexual trauma occurs, the availability of a SANE to care for the victim or survivor makes a positive difference in the outcome."
The IAFN will partner with University faculty to ensure that resources including USA Online, the Innovation in Learning Center, the Biomedical Library and the USA Simulation Laboratory will be maximized in constructing a learning and professional networking matrix.
"This grant also establishes academic and community partnerships with key agencies in order to provide opportunities for students to experience collaborating with experts from law enforcement, victim advocacy, social services, the clergy and forensic science, just to name a few," Dolan said. "This is a nursing-specific educational grant, but a large component of the educational process is becoming proficient in collaboration in teams. The best health care response to sexual violence occurs in team settings where there is a coordinated response involving multiple community players. Sexual violence impacts more than its victim; it impacts the community and society at large."
University and community SANE project partners include Dr. Mike Jacobs, director of USA's Human Simulation Program; Dr. Natalie Fox, director of nursing for USA Health Physicians Group; Rachael Rodgers, coordinator for Lifelines Counseling Services and the Mobile Rape Crisis Center nurses; Chris Jett, USA Health Children's & Women's Hospital administrator; Dr. David Gremse, professor and chair of pediatrics for USA Health; Dr. Bert Eichold, Mobile County Health Department health officer and Susan Stiegler, MCHD assistant health officer.
"We anticipate increasing the number of specially trained, certified adult and pediatric sexual assault nurse examiners in the Mobile region," said Dr. Sharon Fruh, professor and associate dean for research, faculty development and evaluation in USA's College of Nursing. "SANE is well established in the literature and has been shown effective in meeting the needs of local communities while partnering the acute assessment of the sexual assault victim to community agencies for continued support after the traumatic event."
Fruh said the grant will allow the South Alabama nursing faculty — including Dolan, the project director and Dr. Leigh Minchew, project co-director, and faculty from maternal-child nursing and community/mental health nursing — to create a curriculum. "This grant will help both South nursing students and community registered nurses who feel called to serve on the sexual assault response teams to increase the availability of specially trained, certified SANEs," Fruh said.
Dolan said the HRSA funding will allow nursing at South Alabama to bridge multiple resources. Consultants from the IAFN and the Alabama chapter of the IAFN will partner with faculty to ensure the academic resources.
"We want the SANEs to be change agents," Dolan said. "The national thought process is that if the emergency room can't provide the SANE care, then there should be a policy to locate the nearest SANE center or hospital. The nurses being trained will be educated about how to communicate this helpful information to rape victims and their families."
In the Mobile area, sexual assault victims should report to the USA Health Children's & Women's Hospital for care. Victims receive immediate and private attention, a rape kit is administered to collect physical evidence and specialized care protocol is implemented to help rape victims in case they want to file charges.
For more information about the HRSA grant, call the University of South Alabama College of Nursing Office of Research, Faculty Development and Evaluation at (251) 445-9430.
The project is supported by the Health Resources and Services Administration (HRSA) of the U.S. Department of Health and Human Services (HHS) as part of an award totaling approximately $1.1 million with zero percentage financed with non-governmental sources. The contents are those of the author(s) and do not necessarily represent the official views of, nor an endorsement by, HRSA, HHS or the U.S. Government.
---