South Art Teacher Wins Prestigious Award
---
Posted on November 3, 2022
Lance Crawford
---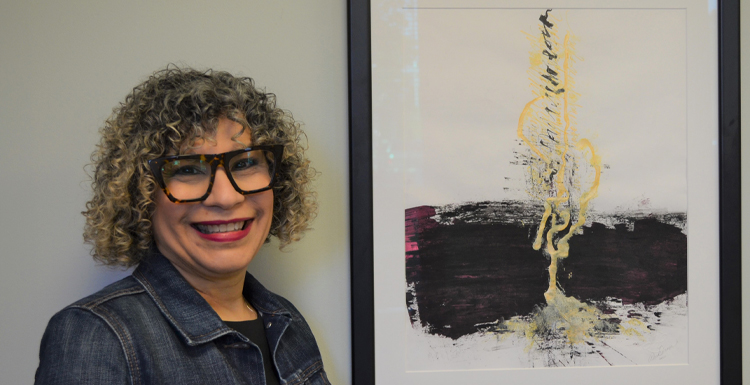 Alma Hoffmann, an associate professor of graphic design, poses with her painting 'Micah 4' which was named by Creative Quarterly as one of the 100 Best Artworks of 2021.
---
University of South Alabama Associate Professor of Visual Arts Alma Hoffmann's painting 'Micah 4' has been named to a list of the 100 Best Artworks of 2021 by Creative Quarterly, an international publication recognizing excellence in art, photography and design.
"I went from being in shock and looking at the email in disbelief to super excited, literally jumping and screaming," Hoffmann said. "I screamed my husband's name to come and see it because I have to have a witness just in case."
'Micah 4' is the final piece to Hoffmann's four-part series that features her interpretation of the Book of Micah from the Old Testament.
"The book of Micah is a book of turmoil and hope. Turmoil because it is a declaration about injustices that are being committed by the leaders of the town of Moresheth-Gath," she said. "However, my artwork reflects the triumph over evil once and for all. Thus, the gold penetrates the dark and rugged shapes. The work represents hope, overcoming, a new morning and a new day."
Now in her tenth year at South, Hoffmann teaches graphic design. She describes that form of artwork as rigid as the content of each piece needs to be aesthetically functional to communicate a client's message. Her artwork is an escape from that rigidity.
"I lay on the work, move around it, sit on it, lay next to it, get up, move again, dance around the work with the brush or paints," she said. "I forget about the time, forget about everything and everyone, and sometimes I forget to eat too."
Hoffmann said having her artwork named one of the 100 Best of 2021 is certainly a shot of adrenaline, not that she needs any motivation when it comes to creating art.
"I feel blessed beyond words that I am able to create, to give life to ideas, to explore materials and tools, and to simply play in order to see something come to life that did not exist before," she said.
---