Applying for Federal Financial Aid Made Easy
---
Posted on November 6, 2020
Joy Washington
---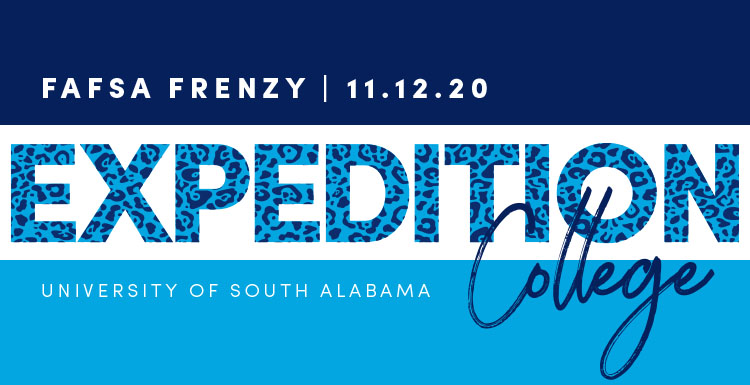 University of South Alabama students and their parents can learn the most effective way to apply for federal financial aid by attending a FAFSA Frenzy virtual workshop.
---
Every year, millions of students file the Free Application for Federal Student Aid, known as the FAFSA, so they can be eligible for more than $120 billion in grants, work-study, and low-interest loans from the U.S. Department of Education. But filling out the form can be a daunting process, and students and their parents need to be prepared.
That's where the University of South Alabama Office of Student Financial Success steps in. The office is offering a free virtual event to provide students and parents with information and assistance with completing the FAFSA. The event will be held from 5 p.m. to 7:30 p.m. on Thursday, Nov. 12. Visit the FAFSA Frenzy website for the full schedule and workshop details.
At the virtual event, USA financial literacy specialists will conduct a 30-minute FASFA boot camp, followed by four breakout sessions led by USA experts. Students also will have the chance to book virtual one-on-one sessions with financial aid specialists to address specific FAFSA challenges or needs. South Alabama Student Aid Ambassadors will help answer phones and address any general FAFSA questions.
"The COVID-19 outbreak has caused rapid and significant changes for students and their families. Access to aid, to support the college journey, may be more important now than it ever has been before," said Brook Elder Moore, USA's director of Student Financial Success. "Our goal is to ensure that all students have access to the tools needed to start this journey and assistance in helping them navigate the path."
Moore added: "During our first free virtual FAFSA Frenzy, prospective students and their parents can get expert assistance from dedicated USA Financial Aid gurus and our very own USA Student Aid Ambassadors. The prospective students will receive professional assistance completing the FAFSA via setting up a one-on-one virtual session with our student aid advocates and get personalized advice in our small group breakout sessions."
Students who pre-register and attend the workshop will be entered into a drawing to win a $500 USA "Expedition College Book Scholarship."
To prepare for the workshop, students and parents should have the following:
A computer with internet access
Federal Student Aid identification number
2019 Federal tax information (parent's information)
Create a Federal Student Aid identification, if you do not already have one. Visit Federal Student Aid ((https://fsaid.ed.gov/npas/index.htm.)) and create a username and password.
Information on breakout sessions and one-on-one appointments can be found on the USA FAFSA Frenzy website, or by contacting USA One Stop at onestop@southalabama.edu.
---