Four-peat! Jags Take Sun Belt Title
---
Posted on November 7, 2016
Marketing and Communications
---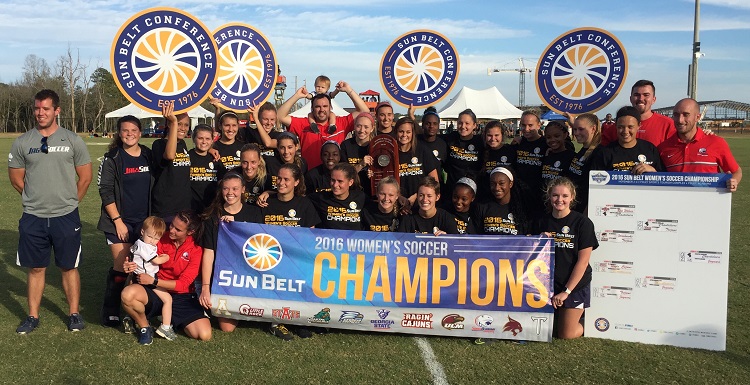 Following their Sun Belt title victory with two second half goals, the Jags will enter the NCAA Tournament with a 15-5-1 overall record.
---
Sophomore Jemma Purfield scored two second-half goals to lead the University of South Alabama soccer team to a 2-0 win over Coastal Carolina in the Sun Belt Conference Championship game Sunday afternoon at the Foley Sports Tourism Complex.
The Jaguars become just the second school in league history to win four consecutive tournament crowns, and will await word on their first-round NCAA Tournament opponent on Monday afternoon at 3:30 p.m.
"In the first half I was disappointed with the girls, if I'm honest, and I tore them up a little bit at halftime" USA head coach Graham Winkworth said. "In the second half we were much better. We defended better and were more creative going forward than we were in the first half, but a lot of that is credit to Coastal Carolina. Much like Troy did in the quarterfinals, they put numbers in areas making it difficult to break them down. They didn't give us much to worry about at the other end, but they made it difficult for us to give them anything.
"Once the goal came, the game opened up obviously and it was more enjoyable to coach, and probably watch."
The Jags will enter the NCAA Tournament with a 15-5-1 overall record. The Chanticleers finish their season at 12-6-3.
Purfield, who was named the tournament's most outstanding player to go along with her regular-season honors of player of the year and defender of the year, found the net in the 57th and 85th minutes.
"I love what she does on the pitch, but honestly, what Jemma gives us off the field is even greater," Winkworth said. "She's got a special left peg, but I love what she does off of it, and if you ever got to know her, you'd know she's a special young lady."
After a scoreless first half that saw 13 total shots but only three on goal, South Alabama finally broke through at 56:46. Freshman Jana Loeber fed Purfield down the left side, who then beat the Coastal Carolina goalkeeper at the far post.
Purfield put the game away with 5:43 left in the contest, scoring directly on a corner kick.
"She didn't have a particularly strong first half," Winkworth noted. "She was not at her best, but it's tough to play three games in five days. In the second half, she was excellent. I know she scored from a corner kick, but I liked the first one better, personally. She made an excellent run with a great finish and it was a big relief once that one went in."
All three of Purfield's shots found the target. Junior Chardé Hannah had four shots, with two on frame.
The Jaguar defense, which allowed 12 shots but only one on goal, became the first school to record three clean sheets in the tournament since North Texas in 2012.
Freshman Justice Stanford was forced to make only one save in tallying her 10th shutout of the season, tied for the second most in school history.
"The defense played well all week," Winkworth said. "They were organized and we changed formations all week. I was pleased with how we defended, and we defended from the front as well."
Coastal Carolina's Becca Austin made six saves and allowed both USA goals.
Purfield, Loeber, Stanford and Hannah were joined on the all-tournament team by junior Ashlynn Jones.
For more information about South Alabama athletics, check back with www.usajaguars.com, and follow the Jaguars at www.twitter.com/USAJaguarSports. Season tickets for all Jaguar athletic events can be purchased by calling (251) 461-1USA (1872).
---