The Dynasty Continues
---
Posted on November 9, 2020
Lance Crawford
---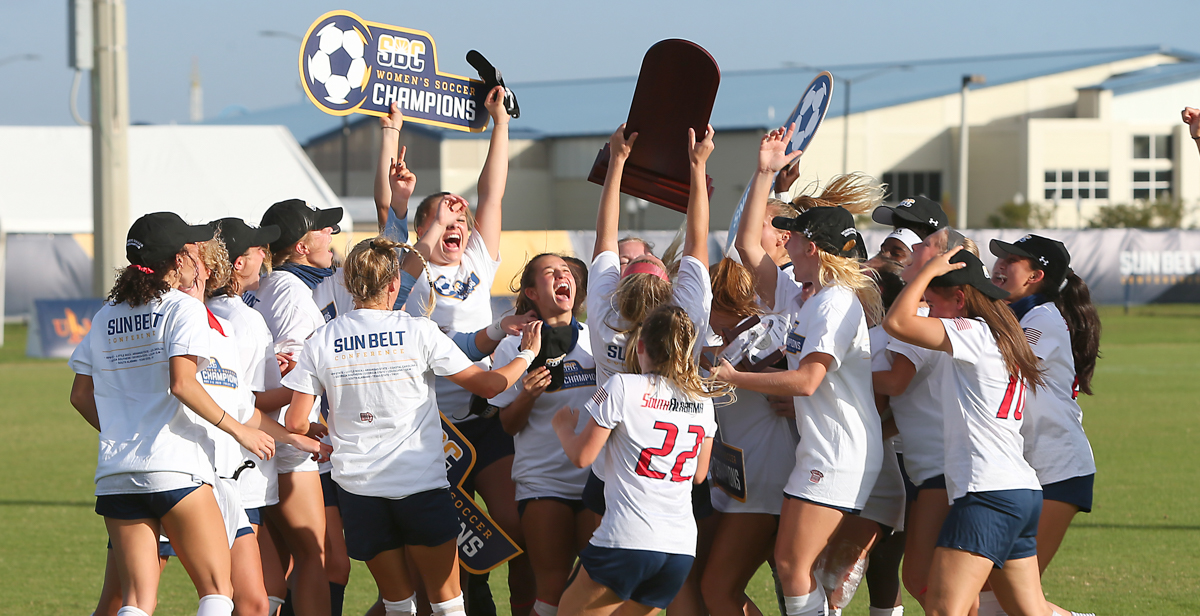 Morgan Cross scored two goals in the final 5:39 to lead the Jaguar women's soccer team to its second straight Sun Belt Conference championship and its seventh in the last eight years.
---
It has been a fall tradition for years now, but the University of South Alabama women's soccer team needed some late game drama to win another Sun Belt Conference championship. Morgan Cross scored twice in the final five minutes, 39 seconds to lift the Jaguars past Arkansas State 2-1 in the title game. With the win, South has now won seven of the last eight conference championships and it's the second straight year they've defeated the Red Wolves in the final.
"I told the team that there's very few things that have reduced me to tears in my life and this was one of them. I am just so proud of them all," said Jaguars head coach Richard Moodie.
Despite winning another conference championship, it wasn't an easy for the Jaguars. They survived their first-round tournament match against the University of Arkansas-Little Rock winning on penalty kicks before a 4-1 win over Louisiana put them in the title game against ASU.
"The adversity that we've gone through this week is unbelievable. To do what we do, week in and week out, to have enough left in the tank to push those last five minutes to get a goal," Moodie added.
The match was scoreless at halftime before the Red Wolves broke through with a goal two and a half minutes into the second half. ASU's defense — one of the conference's best — was able to lock down the Jags' attack before Cross scored the equalizer on an assist from Kailey Littleford in the 84th minute.
The 36 minutes, 34 seconds that South trailed in the game was longer than they have trailed in all other games this season combined. (35:46).
Three and a half minutes after her first tally, Cross used her speed to beat the defense and the Red Wolves' goalkeeper for the game winner.
"I just broke away and pulled out. I'm not one for thinking in the moment but I saw one-on-one and thought 'one-on-one to win the tournament, let's go!' and I had a good finish," she said.
Cross, a junior from Dunfermline, Scotland was named the Sun Belt tournament's Most Outstanding Player. Four other Jaguars, Ana Helmert, Allison Luckhardt, Brenna McPartland and Olivia Wilkes were named to the all-tournament team.
The Sun Belt has also announced its all-conference team. McPartland, Gracie Wilson and Tilly Wilkins were named to the first team, while Cross, Helmert, Leandra Flury and Athanasia Moraitou were placed on the all-conference second team.
It's been a successful week for Jaguar sports, the men's cross-country team captured a conference championship, while Carolien Millenaar won the women's cross-country individual championship on Halloween day.
---