JagFIT@South Health and Wellness Effort Takes Shape
---
Posted on November 13, 2018
Joy Washington
---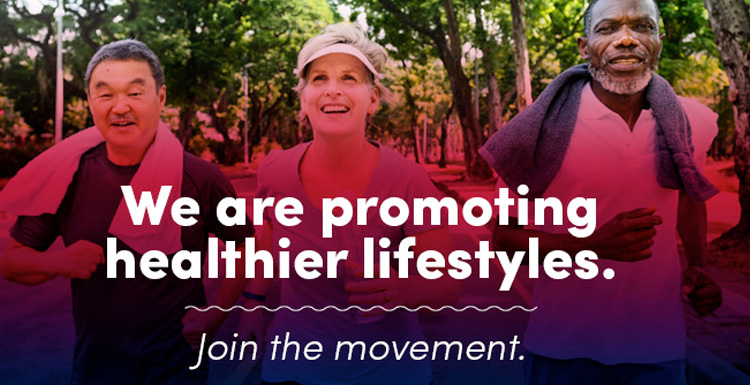 South is marketing JagFIT@South to its employees to improve health and well-being.
---
Improving health and well-being is a new focus to support employees and help them thrive at the University of South Alabama. It's called JagFIT@South.
"JagFIT@South will help all employees make informed choices about health and wellness," University President Dr. Tony Waldrop said. "We are excited to present and support the first health and wellness initiative at South Alabama. We want this resource to create an environment where all employees can work and live healthier lives."
The South Alabama Health and Wellness Initiative Committee, which includes faculty and staff from the academic and health areas of the University, is creating a University-wide effort to promote healthy lifestyles choices. JagFIT@South for students will be rolled out next fall.
USA Health plans for JagFIT@South to create an environment that supports health and wellness and encourages employees to join the movement.
"This collaborative effort will continue to grow JagFIT@South and promote sustainable strategies that will maintain and improve the health and well-being of the University community," explained Dr. John Marymont, vice president for health affairs and dean of the College of Medicine. "We are one family focusing on a healthier work environment and lifestyle for all employees."
JagFIT@South will emphasize these four priorities:
Move your body and participate in the health and wellness challenges or exercise,
Fuel your body with balanced nutrition,
Stay connected to your emotional and spiritual well-being, and
Live a healthier life and take advantage of available resources that can benefit all employees.
"As employees of South, we spend a majority of our time at work," said Brian Allred, committee chair and director of campus recreation. "We know the experiences at South influence health and happiness. The new website will showcase several great opportunities to compete in some fun and exciting exercise and wellness challenges, which will be rewarded with some great giveaways."
The committee reviewed a 2015 Wellness Survey that was done by the USA Polling Group to implement the new health and wellness effort.
To learn more about JagFIT@South and how University employees can join the movement, please call Human Resources at (251) 460-6133 or visit www.southalabama.edu/jagfit@south.
---