Contemporary Drama Running at Theatre USA
---
Posted on November 14, 2016
Alice Jackson
---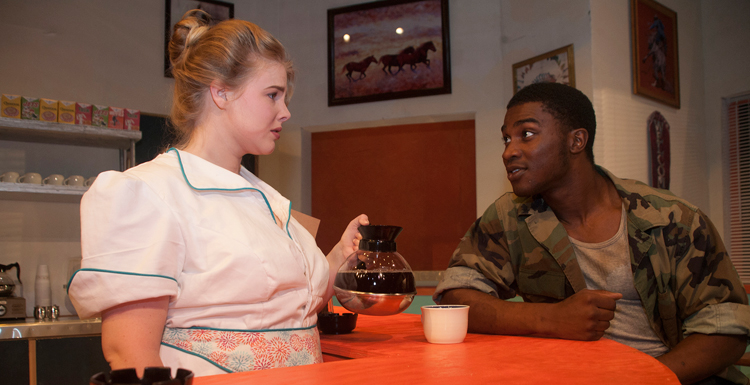 Seniors Sadie Bell Freeman and Tahj Vaughans star in Theatre USA's production of "When You Comin' Back, Red Ryder?"
---
The out-of-the-way diner in "When You Comin' Back, Red Ryder?" seems a lot like some around south Alabama, but the skilled student actors of Theatre USA will show you there's really no place like Foster's Diner.
Set in the New Mexico of the 1960s, the contemporary drama "When You Comin' Back, Red Ryder?" tells the story of a group of customers and diner staff swept up into a maelstrom of violence, both physical and emotional.
"It is a thrill ride not to be missed," said Lars Tatom, chair and associate professor of theatre.
The play opened on Broadway in the early 1970s and was later made into a film.
The play runs at Laidlaw Performing Arts Center from Nov. 11-12 and 17-19, beginning at 7:30, with a 2 p.m. matinee on Sunday, Nov. 13.
The cast includes University students Tahj Vaughans, Tori Blackmon, Aaron Esters, Will Ballard, Blake Waters, Sadie Bell Freeman, Kip Hayes and Nicole Lusk.
Paul Hurley, assistant professor of theatre and dance, will produce. Scenic and lighting design will be supervised by Lyle Miller, professor of technical theatre and stage design, and costumes will be designed by Rebecca Britton, associate professor of costume design and technology.
The Laidlaw Performing Arts Center is located at 5751 USA Drive South.
For more information, or for ticket sales, contact the USA Theatre and Dance office at (251) 460-6305, or visit the box office, located in the lobby of the Laidlaw Performing Arts Center. The box office is open Monday through Friday, 9 a.m.-4:30 p.m. as well as one hour before each performance.
---