Start the Presses! The Vanguard Goes Print
---
Posted on November 14, 2023
Thomas Becnel
---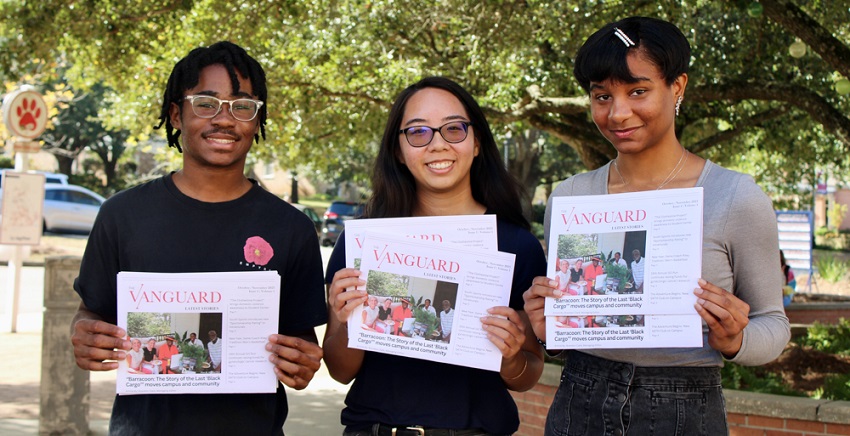 With the first print editions of The Vanguard in several years are, from left, Brandon Clark, managing editor; Stephanie Huynh, editor-in-chief; and Iman Thibodeaux, contributing writer.
---
While the rest of the publishing world moves online, The Vanguard student newspaper is going old school with its first print editions since 2019.
The University of South Alabama publication remains online, but now there will be regular print issues to draw more attention to student journalism and news on campus.
On a recent morning at the Student Center, Vanguard staffers handed out free cookies and copies of the paper. "Can we just take one?" students asked. Yes, they could.
Brandon Clark, managing editor, wrote a Page One story: "Barracoon: The Story of the Last 'Black Cargo' moves campus and community." It's the first byline he's ever had in ink on paper.
"Even in high school, it was all digital," Clark said. "This looks amazing. You look down and see the headline and the picture and your name above the fold."
Stephanie Huynh, editor-in-chief of The Vanguard, welcomed the idea of adding print editions of the student newspaper. She remembers when her older sister, Sandra, wrote for the paper back in 2013.
"She would show me some of her old articles and I thought that was so cool," Huynh said. "And then I came here and it was all online, and I thought that was so sad."
Dr. George Bovenizer, assistant professor of communication and advisor for the student newspaper, wanted to start small. He ordered 500 copies of a four-page issue from a company in Mississippi. The Vanguard was printed on stock paper, rather than traditional newsprint, so reproduction and readability are higher quality.
There will be another print issue of The Vanguard before the end of the fall semester. Next year, there should be more issues, more pages and more news.
"The excitement level has been pretty high," Bovenizer said. "It's a nice addition to our online version."
Dr. Robert Coleman, interim chair for the Department of Communication, wanted to bring back the print edition. So did the University administration. Since 1965, South students and faculty have followed campus news in The Vanguard.
"It's shared knowledge," Coleman said. "It's tangible, something you can hold in your hand and talk about with people. 'Hey, did you see this in The Vanguard?'"
The market for modern media can be difficult to predict. In the same way that vinyl records made a comeback for music fans, print newspapers resonate with readers who prefer pages that fold.
Clark, a junior from Madison, Alabama, is majoring in multimedia journalism. He took the photograph that accompanied his "Barracoon" article. He also wrote a short story on a 5K race to raise money for cancer research at the USA Health Mitchell Cancer Institute.
Huynh, a junior from Gautier, Mississippi, is a business management major who enjoys student journalism. She worked on her high school yearbook and started out as a reporter for The Vanguard. Her work includes stories on "The Clothesline Project," raising awareness of domestic violence, and the HEART Project, promoting recovery from sexual violence.
She edited The Vanguard print issue on the Canva graphic design platform, using digital stories posted online with a WordPress interface.
"People said it looked good," Huynh said. "People said it looked professional."
Jaguar sports news for the print issue included photos of women's volleyball and football tailgating. There were features on an outdoor retreat for the men's basketball team and a new sportsmanship rating for intramural squads.
In a back-page column, the editor-in-chief thanked readers for supporting the student newspaper and its "new way" of publishing stories. At the Student Center, she looked relieved to have the issue printed and in student hands.
"Now we can get excited – now it's real," Huynh said. "Before, it was like, 'Oh, we have this deadline to meet.' Now it's real. Now it's on to the next one."
---