Students Launch Food Pantry for Others with Food Insecurities
---
Posted on November 15, 2017
Joy Washington
---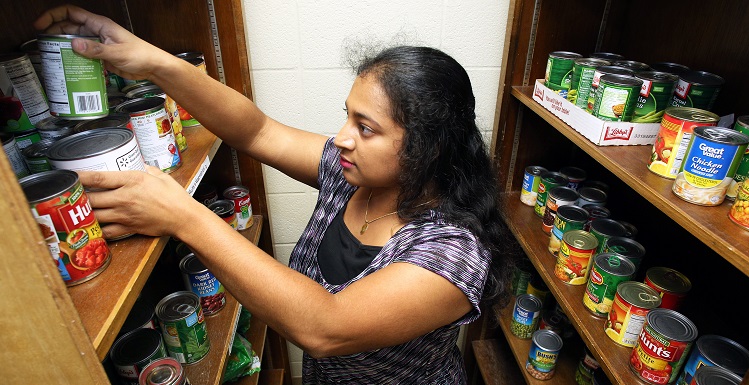 Supraja "Sippy" Sridhar, a second-year medical student, and other students are helping to provide food for hungry South students through the Donor to Diner organization she created.
---
"Students should not feel ashamed if they are hungry." That's the sentiment of University of South Alabama second-year medical student Supraja "Sippy" Sridhar, the founder and executive director of Donor to Diner at USA. Through Donor to Diner, a campus food pantry has been created to provide short-term relief to South students experiencing food insecurity.
"We are an advocacy organization that aids and advocates for students facing food insecurities, which means we are not only providing food and resources for students in need, we are removing the stigma and the shame of food insecurity," said Sridhar, a native of Hoover, Ala. "We are excited that the food pantry is ready and open to help students in need."
The term food insecurity means an inconsistent access to food due to a limitation in resources. Feeding the Gulf Coast and South's Student Government Association conducted a study which suggested that 57 percent of the South Alabama student body is estimated to be affected by hunger at some point while they are in college. Nationally, about 48 percent of college students are affected by this issue, with it being more prevalent among students of color and first-generation students, according to the National Student Campaign Against Hunger and Homelessness.
Sridhar was raised by parents who taught her to be compassionate and serve others, and when she learned that one of her college friends was hungry, she shared her meal card with her and realized there must be many more students who are dealing with the same issue. That's how Donor to Diner was created.
"Donor to Diner at USA works to ease the difficulty students in this situation face by providing them with convenient resources," noted Sridhar. "This issue can often be invisible to many, but I am grateful to the students who have volunteered to assist with this effort and help create and manage the campus food pantry."
Dr. Michael Mitchell, vice president for student affairs and dean of students, serves as advisor for Donor to Diner. He and Sridhar recently returned from a national conference in Philadelphia where they met with other faculty, staff and students starting food pantries on their campuses.
"The issue of students who are hungry can be invisible to most of us, but I am grateful to 'Sippy' and all the students who have led the effort for our campus pantry," Mitchell noted. "We learned a lot at the conference to help make the food pantry beneficial for the students in need, and we're excited to welcome the food pantry to our campus community as an option for students who may be experiencing food insecurities. When the study revealed the need on campus, we didn't waste any time starting the necessary work to create the pantry."
Donor to Diner has the support of numerous University partners, such as Student Academic Success, the Student Government Association, the Dean of Students office, and faculty, staff and alumni.
South joins more than 300 schools across the nation that have set up food pantries for hungry students. Sridhar wanted this to be a simple and confidential process for students to access the food items they need. The pantry is open Monday through Friday from 9-11 a.m. and 2- 4 p.m. The hours can vary during the holidays. They are also accepting donated items that are canned or boxed.
"South's food pantry is unmarked, to make it discreet for students to access it," Sridhar said. "Students must send an email by 8 p.m. on the day prior to when they would like to visit the food pantry. All correspondences are confidential."
Students should contact usadonortodiner@gmail.com if they need access to the pantry.
---