Phi Kappa Phi Honor Society Names Scholar, Artist of 2019
---
Posted on November 15, 2019
Joy Washington
---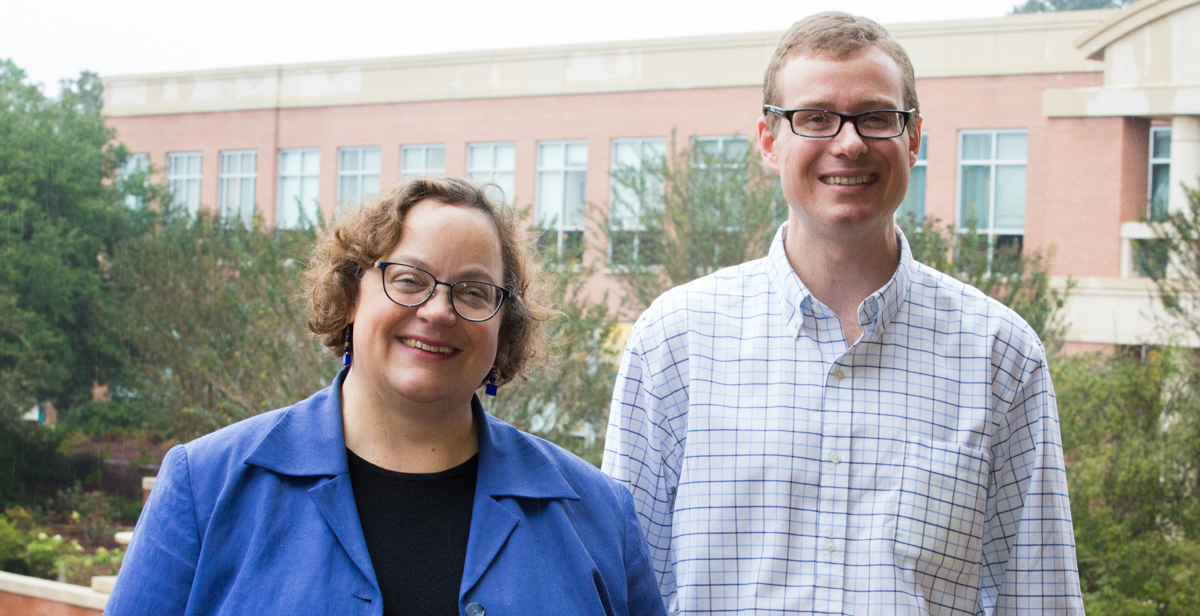 Dr. Laura Moore, left, associate professor and chair of music, and Dr. Silas Leavesley, professor of chemical and biomolecular engineering, were named respectively as Phi Kappa Phi's artist and scholar of the year.
---
The creative musical process, through research, preparation and performance, is strengthened by the art of collaboration, which highlights and strengthens new skills in students. Other research can show the value and critical aspect of color and how it can send information to the human eye in hopes to improve patient care, while also giving students research experience.
These attributes have been recognized by the University of South Alabama chapter of Phi Kappa Phi, an all-discipline honor society, which has named Dr. Silas Leavesley, professor of chemical and biomolecular engineering, as its Scholar of the Year and Dr. Laura Moore, associate professor and chair of music, as its Artist of the Year.
"Drs. Moore and Leavesley demonstrate the impressive range and quality of faculty research and creative activity at South," said Dr. Ellen Harrington, professor of English and president of South's Phi Kappa Phi chapter.
Leavesley is working with other faculty and students to foster innovative discoveries in pulmonary research and promote faculty development. He also holds a joint appointment in the USA College of Medicine department of pharmacology and the Center for Lung Biology. His research interests are in the area of the development of new imaging technologies for medical sciences research and clinical applications.
"I have designed new technologies to allow hyperspectral imaging to be performed on microscope and endoscope platforms for detection of pathologic cells and tissues," he noted. "Our research seeks to develop a new generation endoscope that provides images in many different colors, and it's referred to by their characteristic wavelength. My long-term goal is to have the ability to rapidly and effectively screen for cancers and other diseases."
Moore, director of Choral Activities at USA, directs the concert choir and chorale, and teaches conducting and music history to undergraduate and graduate level students. She is also an active vocal coach and accompanist.
"This is a rare privilege for me to be honored," she said. "I have two piano performance degrees, but it has been years since I have presented a solo piano recital. Instead, I love to collaborate with singers, instrumentalists, choirs and orchestra. Whether I am playing the piano in a program of art song, conducting the chorale on campus, preparing the opera chorus to perform in La Traviata, or looking forward to working with the choir for Mozart's Requiem with the Mobile Symphony next April, I am enjoying the artistic process. In this process, I have the challenge of research, work and practicing, but also have the absolute satisfaction of collaboration with gifted musical colleagues and, ultimately, the creation of art."
Harrington also announced that USA student and chapter member Donavon Dahmer was selected as a national student fellowship winner. Dahmer is a first-year USA College of Medicine student.
During the awards event, each of the faculty honorees gave a brief presentation about their creative work or research. Phi Kappa Phi honors distinguished faculty from USA each year at the ceremony, as it initiates exceptional students at the junior and senior levels to mark their academic achievement.
Phi Kappa Phi's campus chapter was founded in 1977, and it was founded nationally in 1897. It's the nation's oldest and most selective collegiate honor society for all academic disciplines. Membership is by invitation only for the top 10 percent of seniors, graduate students and 7.5 percent of juniors. Faculty, professional staff and alumni who have achieved scholarly distinction are eligible for membership consideration.
---