Plant Health Research
---
Posted on November 15, 2021
Lance Crawford
---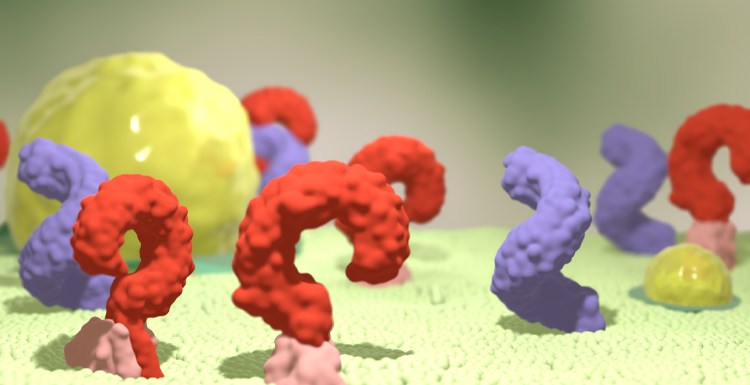 "The illustration depicts the outer membrane vesicles (OMVs) produced by pathogenic bacteria ("yellow balls") coming into contact with the plant cell. In his study, Dr. Tuan M. Tran found that OMV insertion into the plant plasma membrane is dependent on membrane nanodomains (regions highly enriched of sterol and phospholipids). This OMV insertion could alter the dynamics of the plasma membrane and also prime plants for better immune defense responses upon infection by pathogens."
---
The University of South Alabama's Dr. Tuan Minh Tran, an assistant professor of biology, is the lead author of an article published in The Plant Cell. The Plant Cell is a prestigious scientific journal that publishes novel research of special significance in plant biology, especially in the areas of cellular biology, molecular biology, biochemistry, genetics, development and evolution.
"I am excited that my work was accepted by The Plant Cell after a relatively short peer-review cycle," Tran said. "The story was compelling and got really positive feedback from all the reviewers as our findings are novel and addressed many aspects of plant cell interactions with invading bacteria and their components."
Tran joined South's faculty prior to the fall semester and teaches genetics. In this research, his lab elected to study the direct interaction between outer membrane vesicles (OMVs) produced by pathogenic bacteria and plant cells, and how these interactions guide downstream plant defense responses.
"We showed in this work that OMVs could serve as an immunogenic cargo specifically targeting the plant plasma membrane nanodomains during infection," Tran said. "Therefore, OMVs could be exploited as an effective tool to boost plant immunity and improve plant health."
---