South Alabama Faculty Named Clinical Scholars of the Robert Wood Johnson Foundation
---
Posted on November 16, 2018
Joy Washington
---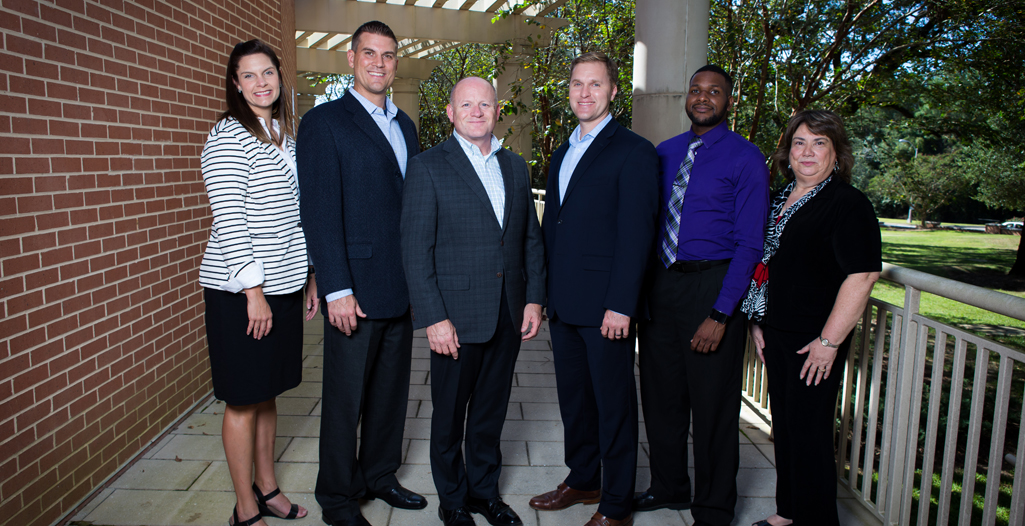 Veterans Recovery Resources Clinical Scholars from the University of South Alabama, founder and graduate students at South are providing veterans and their families with a whole health approach to wellness. This is the first team from Alabama to be selected for a grant award from the Robert Wood Johnson Foundation. VRR Founder and Executive Director John Kilpatrick is flanked by South Alabama Clinical Scholars Dr. Erin McAdams, Dr. Joe Currier, Dr. Jeremy Fletcher, Josh Moore, graduate student and Clinical Scholar Dr. Marjorie Scaffa. Not pictured is Timothy Carroll, a fourth-year doctoral student.
---
Veterans Recovery Resources, VRR, is a community-based mental wellness program in Mobile that's designed for the specific needs of veterans. As the Mobile community and surrounding areas commemorate Veterans Day this week, the University of South Alabama announces that several faculty members have been named to the VRR Clinical Scholars team through a three-year $420,000 grant from the Robert Wood Johnson Foundation.
Dr. Jeremy Fletcher, assistant professor of physical therapy and VRR clinical scholars team leader; Dr. Joseph Currier, associate professor of psychology and director of clinical training for the combined clinical and counseling psychology doctoral program at South; Erin McAdams, assistant professor in the department of physician assistant studies and co-director of clinical education; and Dr. Marjorie Scaffa, professor emeritus and founding chair of the department of occupational therapy, currently serving as a health and wellness counselor in the College of Medicine, will focus on providing veterans and their families a whole health approach to wellness. This is the first team from Alabama to receive this grant award.
"I am thrilled for this team. Through this award, the Robert Wood Johnson Foundation has affirmed what I believed as soon as I learned of the work--that it is an extraordinary example of University-Community Engagement," said Shannon Shelley-Tremblay, director of community engagement. "The USA faculty members who are a part of the leadership team have created a partnership that is an impactful learning experience and a replicable model of community service for veterans and their families who have sacrificed so much for us all."
The Robert Wood Johnson Foundation is the nation's largest philanthropy dedicated solely to health, and recognized Veterans Recovery Resources for its unique plans to serve veterans.
"To be acknowledged as one of the RWJF Clinical Scholars is a distinct honor," Fletcher said. "Our selection validates our unique, veteran-centered approach to healing and well-being through an interdisciplinary approach. The program is designed to empower clinicians to become leaders capable of creating a culture of health. It's our hope that we may use this training to develop a community-based approach to mental and physical wellness for our veterans."
Fletcher, who's also a veteran peer advisor, uses a holistic approach to rehabilitate and address veterans with chronic pain. He said individual and group rehabilitation approaches will be used, including yoga, aquatic therapy and graded exercises.
Currier connects to this work through his experiences. He helped care for the first wave of Iraq and Afghanistan veterans enrolling in the Veterans Health Administration health care system.
"My research and clinical practice have primarily focused on serving those who served over the past decade. To date, my primary role with VRR has entailed leading the development of the overall clinical framework," he said. "In doing so, we needed to define who we will help, who will work for us and with us, what services we will offer, how we will implement our services, and most importantly, why we want to do this work. It is important to remember this process was a multi-year, collaborative effort among our talented team, consulting with colleagues at other institutions, and most importantly, seeking the preferences and priorities of veterans in our community."
McAdams, a physician assistant, is lead for physical health and a member of the Army National Guard and Army Reserve for 10 years. She brings a personal connection.
"My passion is to serve veterans," she said. "I have the unique opportunity to understand the complexity of veteran health care, so I am honored to be a member of the VRR team. The needs of veterans have grown immensely over the last decade and a half due to the long-standing conflicts. We serve as a beacon to those who suffer from physical pain, mental health and chronic health conditions."
Scaffa worked as an occupational therapist and educator for 35 years, and she works in the field of mental health counseling.
"I currently work with veterans using a solution-focused, strengths-based approach to occupational therapy and counseling with the ability to integrate other theoretical approaches to meet the needs of individual clients," Scaffa said. She is focused on health promotion and prevention, family and relationship issues and helping veterans overcome grief and trauma.
"The clinical scholars will further benefit from a high-caliber curricula and coaching from national leaders, collaborating with other cutting-edge thinkers to create greater impact and accelerate infusing a culture of health into the Mobile community and surrounding areas," Scaffa said.
South Alabama graduate student Timothy Carroll, a fourth-year doctoral student, is completing his clinical psychology assistantship at VRR and is one of several graduate students working with the clinical scholars team from South.
"I provide individual and group psychotherapy to veterans and their families in our community as a member of the VRR team," he said. "My work represents a unique opportunity to integrate and apply what I have learned over the course of my graduate training. VRR represents a space of safety and refuge."
The new VRR organization, founded and led by 32-year military reservist John Kilpatrick, recently held a building dedication with a ribbon cutting and reception at its Outpatient Clinic & Administration Building, located at 1156 Springhill Avenue in Mobile. This will be where veterans will receive health and wellness services. The organization is now raising funds necessary to open a companion residential program located on the same campus as the clinic. To learn more about Veterans Recovery Resources or to support the mission, visit www.vetsrecover.org or call (866) 648-7334. To learn more about the Robert Wood Johnson Foundation program visit https://www.rwjf.org/en/our-focus-areas/focus-areas/health-leadership.html.
---