USA Researchers to Collaborate With Gun Owners on Firearm Safety Initiative
---
Posted on November 16, 2020
Jeb Schrenk
---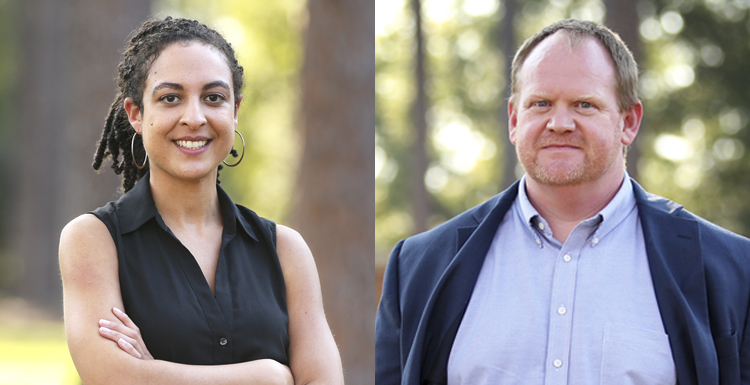 University of South Alabama Assistant Professor Dr. Krista Mehari and Professor Dr. Phillip Smith were awarded a $1.8 million grant to research strategies to reduce gun-related suicides and homicides. The project will last three years and will focus on better understanding the perspective of people who possess and own guns to improve public health strategies.
---
Two University of South Alabama faculty researchers have received a $1.8 million federal grant to collaborate with gun owners in devising strategies to reduce injury and death.
The grant from the U.S. Centers for Disease Control and Prevention will fund the three-year Project GRIP to address gun-related suicides and homicides. While much of the national discussion centers on access to firearms, the approach by Assistant Professor Dr. Krista Mehari and Professor Dr. Phillip Smith in the department of psychology will focus on better understanding the perspective of people who possess and own guns to improve public health strategies.
"We hope this project will help us better understand people's relationship with guns and their attitudes toward guns," Mehari said, "so when we're thinking about finding common ground in reducing the rates of suicide, homicide and assault, we're able to identify strategies that are culturally valid and that are something that people will find acceptable and useful."
Mehari's background is in youth violence prevention and adverse childhood experiences. Smith's research focus is on depression, mental health and suicide prevention.
"Mental health and suicide prevention is one world I live in. I also live in a world that's involved in guns," said Smith, who said both backgrounds are important to understanding his approach. "I grew up around guns. I own guns now. And I think within suicide prevention there's a lot of talk that is not helpful to building bridges, to working together toward what I think are shared values of saving lives. There's a lot of understanding that needs to be done, and this project is an attempt to cultivate some of that understanding."
Guns are used in more than half of all suicides and three-quarters of all homicides in the United States, according to the project strategy filed as part of the grant application. Homicide and suicide disproportionally affect two groups: Violence causes 41 percent of deaths of African American boys and men between the ages of 15 and 34, and suicide causes 17 percent of deaths among white boys and men between the ages of 15 and 44.
Prevention measures among these groups, however, have had limited and varying success, the researchers argue, due to a cultural disconnect between those strategies and the populations at most risk.
"A nuanced understanding of people's reactions to existing gun injury prevention strategies, as well as their own beliefs about the most effective ways to reduce intentional gun injuries, is needed to inform public health approaches to injury prevention," according to the researchers.
Put simply: There needs to be more listening to those affected in order to come up with viable solutions.
To that end, the researchers will put together advisory boards made up of the affected populations, whose members will help refine core questions for the study, develop interview questions, recruit participants for those interviews and interpret findings.
The Mobile Police Department lent its support to the grant application, and Mehari sits on the board of its Project THRIVE, which provides assistance to victims of trauma and violence. Curtis Graves, Mobile police commander for strategic initiatives, said department's previous prevention education includes a 2019 campaign to reduce gun theft by encouraging owners to lock up weapons instead of leaving them in vehicles.
"Our task is to work with our partner agencies to come up with strategies to help us to address why trauma and violence occurs," Graves said. "It's one thing to react to crime, but it's another thing to study why these things may occur and understand the social-ecological connections that they all have."
Mehari draws a parallel between her research and finding ways to make driving a safer activity, such as seatbelt enforcement and campaigns against driving while texting or intoxicated.
"Car accidents are a leading cause of death in the United States for adolescents," she said. "But the answer isn't not allowing adolescents in cars, because it's a fundamental part of American life. So, then, we have to think about what does responsibly and safely being in a car look like?
"In the end we're hoping to have a really specific understanding of options for prevention strategies related to gun violence and people's attitudes toward those strategies."
Dr. Albert Farrell, a professor of psychology at Virginia Commonwealth University, is a co-investigator on the project.
---