South Researcher Digs into the Truth on Worms
---
Posted on November 17, 2020
Thomas Becnel
---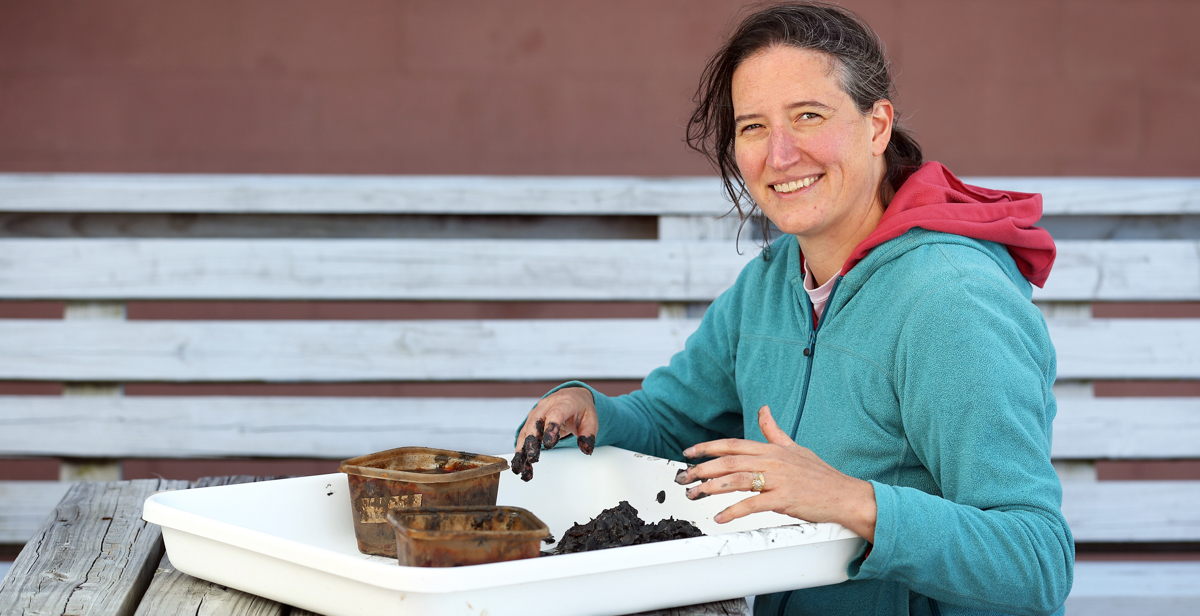 Dr. Kelly Dorgan, an associate professor of marine science at the University of South Alabama, studies worms and their impact on marine sediment.
---
After recent hurricane winds damaged buildings at the Dauphin Island Sea Lab, Dr. Kelly Dorgan and her graduate students had to lug laboratory equipment across its campus.
"We study worms," she said, laughing, "but we do a lot of electronics."
Dorgan, 40, is a senior scientist at the Sea Lab and an associate professor of marine science at the University of South Alabama. Her makeshift laboratory contains a hodgepodge of custom-built machines. Many of them feature imaginative recycling of devices made for something else.
She lifts a plastic cover from one counter to reveal a cheese slicer — yes, a simple cheese slicer with a taut wire — that is attached to a force sensor. It measures resistance as it cuts through marine sediment samples.
On the next table is a suitcase-sized glass cylinder with heavy metal bolts at each end. It looks like a doomsday device from a James Bond movie. That might be why one of the students scrawled a note on the glass: "Not A Bomb."
That machine is used to measure biochemical reactions in sediment.
Finally, against a far wall, there are two probes used to measure sea floor samples. One uses a corkscrew-like attachment to pull samples from a core. The other slides a disc with a balloon into the soil, then measures the force used to inflate it.
For Dorgan, these unlikely gizmos help provide answers to what she calls the puzzle of science. That kind of curiosity inspired her to begin studying marine life in high school on the Atlantic Coast of Virginia. Now it helps her continue to teach and lead research along the Gulf Coast of Alabama.
In 2019, she won a prestigious Early Career Development grant from the National Science Foundation.
"They're typically five years, rather than three, so you can plan more long-term about what you want to do," Dorgan said. "And there's an educational component, so I'm going to be doing a course on marine technical methods. I'd like to be able to teach students to build the tools they need to find the answers to the questions they want to ask. If they can do that, it opens the possibilities to all kinds of questions."
Smart, Creative, Cool
At the Dauphin Island Sea Lab, where there are 15 senior scientists, Dorgan works with graduate students, interns and postdoctorate researchers. She started a mentoring program for undergraduate students on Dauphin Island. Her research over the last seven years has been funded by federal government programs, such as the National Science Foundation and the Office of Naval Research, as well as locally by the Mississippi-Alabama Sea Grant Consortium.
Dr. Lee Smee, chair of university programs at Sea Lab, admires her work.
"Dr. Dorgan is one of the brightest and most talented young scientists in the country," Smee said. "She's one of the smartest people I know and she's very creative. In the lab, she builds a lot of her own equipment. It's really cool."
Publications for Dorgan include a 2005 article in Nature, one of the leading scientific journals, called "Burrow extension by crack propagation." This paper described the biomechanics of worms using what she called "fracturing" as they move. It helped establish her reputation as a marine ecologist who also uses scientific tools from engineering and physics.
"To get an NSF Career grant is a major, major accomplishment, but she also won a Navy Young Investigator Award," Smee said. "I don't know anyone else who has both."
Chesna Cox, who manages Dorgan's sediment lab, is a young marine biologist who plans to earn a master's degree at the University of South Alabama. Before the coronavirus pandemic, she was part of a lab group that met weekly to critique science journal articles. She calls her boss "Kelly."
"She hates being called Dr. Dorgan – she says that's her mother," Cox said, laughing. "She's very laid back. It's a relaxed environment."
There is a lab tradition for field trips that take researchers near Bayou La Batre.
"We always stop and get a box of donuts," Cox said. "Then we bring them back to the lab and everyone spends the rest of the day picking off pieces of donut and eating them."
The Word on Worms
Dorgan lives in Mobile with her husband, a computer scientist she met while doing post-doctoral work at the University of California, Berkeley. They have a 2-year-old son who gets to spend time with her parents, who have retired to Dauphin Island.
At the Sea Lab, Dorgan likes to joke that she doesn't get to do field work anymore – all she does is write research proposals. That is an exaggeration. Sampling takes her back and forth on the Gulf Coast.
On one day in October, she spent the morning collecting sediment near a spot called Point aux Pins on the Mississippi Sound. Then she returned to her lab for an afternoon interview.
She was still wearing rafting sandals, knee-length pants and a stained T-shirt. Patches of dried mud stuck to her shins. She scraped them off, absent-mindedly, while explaining how her work combines functional morphology and benthic ecology.
At the University of Maine, where Dorgan earned her Ph.D., she studied burrowing worms and how they move through marine sediment.
For her research, she used Jello and lights to measure the stresses worms applied to work their way through mud and sand. She quickly notes that she wasn't the first to use lights and gelatin, but it remains the kind of colorful detail that helps the public understand her work.
People can picture how a bird flies through the air, and a fish swims through the sea, but it's harder to imagine a worm wriggling through a layer of sediment.
Some of the species Dorgan has studied were several inches long. Now she focuses on much smaller worms and the mud and sand that surround them. Her close-up look has broader implications for big-picture surveys of the ocean floor.
"The Navy, historically, has driven a lot of progress in oceanography," she said. "A lot of funding goes into understanding marine environments, and animals modify those environments in lots of significant ways. I like working on that kind of research. It tends to be a collaborative and there's lot of work with engineers and people with very different areas of expertise."
Most of the worms she works with are related to the segmented earthworms familiar to many people. But there are thousands of species that vary in different ways.
"The groups in the ocean are much more diverse and interesting-looking," Dorgan said. "They have all sorts of appendages to capture food particles and do a lot of different things. A lot of them have external gills of some kind. Many are detritus-eaters, but they're also scavengers and predators, and they're very diverse."
In science, particularly the fields of physics and engineering, Dorgan would like to see more diversity. She's interested in summer camps and high school programs that work to draw more women into research careers.
One of her first mentors was Linda Schaffner at the Virginia Institute of Marine Science. As a high school student, Dorgan began studying the sea floor ecosystems that would become her career.
She continued her research in marine science programs from California to Maine. Now she leads her own lab program on the Gulf Coast, where there is a range of muddy and sandy sediment.
Dorgan smiles when she explains why she's still studying sea worms.
"They're important, they're different, and they're poorly understood," she said. "There's still a lot of open questions."
---