Senior Composes Music Celebrating Moulton Tower
---
Posted on November 17, 2017
Joy Washington
---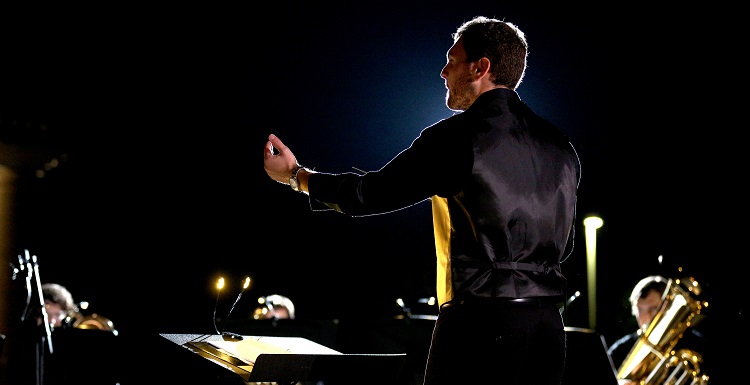 Tyler Brandon, a senior music education major, conducts the performance Wednesday evening of two pieces, "Moulton Fanfare and "Moulton Tower Suite," he composed as part of his honors thesis. Photo below: Brandon dedicated the performance to Geri Moulton, right, and the late V. Gordon Moulton, USA president emeritus.
---
Tyler Brandon grew up embracing and loving music, and while visiting the campus of the University of South Alabama several years ago, he was fascinated with the grandeur of the Moulton Tower and Alumni Plaza. At that time, he never thought he would one day perform at the iconic campus structure.
Fast forward and Brandon is now a senior at South majoring in instrumental music education. He spent the past two years working on his music composition "Moulton Fanfare" and "Moulton Tower Suite" in preparation for his senior honors thesis. The event's theme was "Celebrating Moulton Tower," and Brandon conducted the USA department of music brass and percussion ensembles at the Moulton Tower and Alumni Plaza on Wednesday, Nov. 15. His instrument of choice is trombone.
"I am so happy," he said after the performance. "I am pleased we had a nice crowd to come out and enjoy my music composition, the brass and percussion ensembles and this beautiful fall evening at the Moulton Tower," Brandon said. "It's been a great deal of work, but I appreciate everyone who helped me throughout this process."
Brandon, a native of Long Beach, Miss., and a graduate of Long Beach High School, started his research for the project by contacting Geri Moulton, wife of the late V. Gordon Moulton, president emeritus, after whom the tower is named. He had several visits with her and it allowed him to gather the background information he needed to write his music composition.
"After my initial meeting with Mrs. Moulton, I drew a great deal of inspiration to create 'Moulton Fanfare,' and 'Moulton Tower Suite,'" he said. "'Moulton Fanfare' was inspired by Mr. Moulton's love for the commencement ceremony. And, the inspiration for the second piece, 'Moulton Tower Suite,' came from Mrs. Moulton mentioning that the goal for the Moulton Tower was to provide a space that students, faculty, staff, alumni and the community could gather, reflect, relax and be at peace."
The second piece, "Moulton Tower Suite," had four movements:
Early Morning Tower represents the tower during the morning;
Creatures of the Shadows represents the tower during a nervous and anxious type of night;
Nocturnal Love-Beauty of Night represents the tower during the peaceful and beautiful portion of night; and
It's Time to Come Home-Commencement, which came from Mr. Moulton's words in an email sent to the alumni to announce the dedication of the tower; he told them, "Alumni, it's time to come home."
During the opening of the performance, Brandon thanked Mrs. Moulton; his thesis committee members, Dr. Jeannette Fresne, professor of music, and Dr. Kip Franklin, assistant professor of music; and Dr. Greg Gruner, Brandon's faculty mentor and music department chair in the College of Arts and Sciences. He is also grateful to Dr. Michael Doran, professor of computer science in the School of Computing, for his encouragement, and Dr. Kathy Cooke, dean of the Honors College. Cooke attended the performance, and she is proud of Brandon presenting his original composition as his honors thesis project. She said this is what the University education, and especially honors education, is all about.
"It's especially wonderful to hear how Tyler — who every day radiates joy, commitment and enthusiasm — reflect his experience in music," she said. "It was exciting to hear "'Celebrating Moulton Tower,'" and to share that experience with the community under the tower itself. I have been looking forward to his concert ever since the first day I met him. "
Brandon said Gruner encouraged and helped him as he wrote his music composition. Gruner even performed on trombone during Brandon's performance.
"Tyler is a wonderfully motivated student," Gruner noted. "He follows through and completes all his assignments. I worked to help him keep the project manageable so that he could achieve his ultimate goal of writing an inspiring and meaningful music composition."
On Wednesday under the stars with hot chocolate on a chilly, yet calm, fall evening, those gathered at Moulton Tower got to hear the culmination of Brandon's work. Now, he will prepare to defend his thesis, and graduate in May.
To watch a Facebook Live video of the performance, visit the Honors College Facebook page.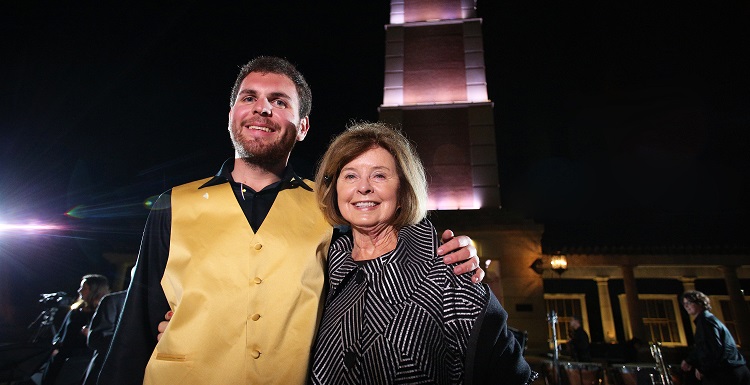 ---