A Sustainable Lifestyle
---
Posted on November 18, 2022
Lance Crawford
---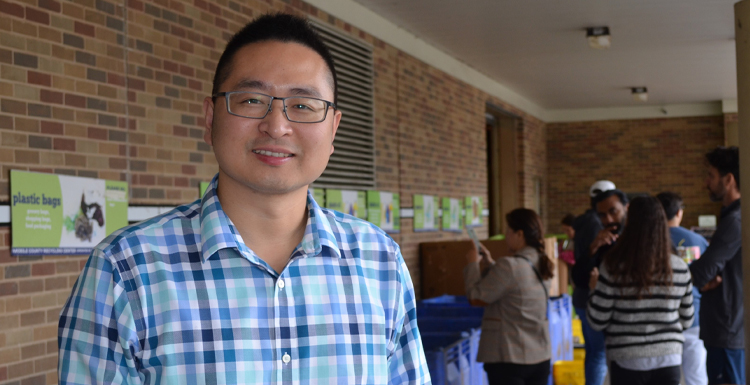 Dr. Shenghua Wu, assistant professor of civil engineering wants to create a solid waste sustainability hub connecting higher education institutes, community partners, college and K-12 students. He recently helped land a $100,000 EPA Environmental Education grant that will help fund it at the University of South Alabama.
---
University of South Alabama Assistant Professor of Civil Engineering Dr. Shenghua Wu has a passion for sustainability. The principles of reduce, recycle, reuse and rethink have shaped his career.
Wu recently helped land an Environmental Protection Agency's Environmental Education grant. It's the first time South has received this type of grant and the $100,000 award will fund an environmental education program.
"It always occurred to me that sustainability is a lifestyle, but early intervention is needed to educate people about what it is and what we can do to implement it," said Wu. "It gave me the idea of creating a solid waste sustainability hub, which serves a nexus that connects higher education institutes, community partners, college and K-12 students."
The plan is to develop a mini sustainability course and host a free two-day summer camp at the University for 20 high school students from eight surrounding counties.
"It provides a unique and fun experience for them to gain knowledge about solid waste management, join a campus tour, and connect with professors and college students at South," Wu said. "They will see many cool things, including do-it-yourself shredding recycled plastic bottles into pieces and integrating them into concrete and asphalt mixtures, and using recycled waste glass to make the jewelry at glass studio.
"Instead of simply raising the awareness of environmental protection by advocating the importance of 'do not litter,' this project provides a multifold platform to enhance the preparedness of students to solve these emerging problems," he said"
Prior to joining the faculty at South, Wu was a senior sustainability research engineer for the Illinois Center for Transportation.
At South, he initiated a sustainable asphalt material laboratory focused on using recycled materials for pavement. He's partnered with the Mobile Recycle Center investigating effective ways to reuse and repurpose waste materials such as glass and plastic for roadways and serves as a founding advisor for a new student organization, Society for Sustainable Engineering.
Wu understands that too many people don't think about sustainability, it's much easier to just throw something out and forget it. That is why he believes this program is so important.
"Education shapes a person and the future of a nation. We can do something to attract our regional young talent from the underserved communities, providing them opportunities to connect the world and shape their mindset," he said.
---