Upward & Onward Raises $160.9 Million for Academics, Research, Athletics and Healthcare
---
Posted on November 19, 2020
Lance Crawford
---
The University of South Alabama completed its $150 million Upward & Onward campaign on September 30, exceeding its goal by $10.9 million by raising $160.9 million, the University announced today. More than 23,000 individuals, businesses and foundations donated to the campaign.
The campaign publicly kicked off in 2015 with an emphasis on supporting five strategic priorities: Student Access and Success, Enhancement of Research and Graduate Education, Global Engagement, Excellence in Healthcare, and University-Community Engagement. Dr. and Mrs. Steven and Angelia Stokes, both USA alumni, served as co-chairs of the Upward & Onward campaign.
"Angelia and I have been honored to serve the University in this ambitious campaign," said Stokes. "USA has given us so much, and we are confident that, because of the success of this campaign, many more students and the community will reap the benefits for years to come."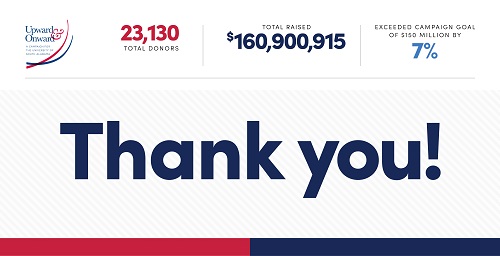 Upward & Onward is the second, and largest, campaign in the University's history. Since 2015, the University and USA Health have completed funding for 11 capital building projects, adding more than 718,000 square feet to the University's facilities. A few of the projects include Hancock Whitney Stadium, the Health Simulation Building, the Fanny Meisler Trauma Center and the MacQueen Alumni Center.
Longtime USA supporter Abraham "Abe" Mitchell invested a record $50 million gift in 2013, during the quiet phase of the campaign, which led to the creation of the University's landmark Mitchell-Moulton Scholarship Initiative. Throughout the campaign, the Initiative matched more than $17.5 million in gifts, for a total of $35 million raised in support of student scholarships.
"We have not only increased the ability to serve more people through the addition of new facilities," said USA President Dr. Tony Waldrop, "the campaign has elevated every aspect of the University by opening doors for students, advancing groundbreaking research and enhancing life-saving treatments for the people of the Gulf Coast region."
Highlights of the Upward & Onward Campaign's impact:
Overall Campaign
More than $35 million raised for scholarship funding, including $17.5 million matched through the Mitchell-Moulton Scholarship Initiative.
A total of $7.7 million donated by 6,356 current and retired USA employees
15,297 individuals gave to the University for the first time.
Donors from all 50 states and nine countries supported the campaign.
Student Access and Success
More than 430 new or enhanced endowed scholarships were established to open doors for thousands of students.
Since March 2020, $176,212 has been raised in support of Pandemic Emergency Funds, including student assistance funds.
New and renovated facilities will provide state-of-the-art academic and athletic training for USA students, including the Health Simulation Building, the Mobile County Commission Center for Academic Success, the Jon Lieber Baseball Clubhouse and renovations to Marx Library.
A new Honors College was established in 2017 to provide a diverse community of interdisciplinary excellence for highly motivated students. Since that time, 126 students have graduated from the program.
Enhancement of Research and Graduate Education
Over $11 million raised from 1,700 donors to support graduate education and to enhance life-changing research.
211 endowed funds established or enhanced.
$1.2 million donated to improve access to healthcare in medically underserved areas of Alabama.
Global Engagement
Sixteen scholarships established or enhanced for study abroad opportunities.
Seven scholarships established or enhanced for international education.
Almost 600 students impacted through Study Abroad programs and scholarships.
Students have experienced learning in 52 different countries since 2015.
Excellence in Healthcare
More than $5.5 million raised through fundraising events that attracted thousands of participants.
Funding was secured for seven new or expanded buildings, including the Strada Patient Care Center, Fanny Meisler Trauma Center, Children's & Women's Hospital Pediatric Emergency Department, USA Health Freestanding Emergency Department, USA Health Mobile Diagnostic Center Midtown, and USA Health Mapp Family Campus, Baldwin County.
More than 16,000 cancer patients were treated in Mobile and Baldwin counties.
Over 11,400 USA Health employees donated to the campaign.
University-Community Engagement
Through the support of regional businesses, Mobile County Commission, alumni and the community, Hancock Whitney Stadium opened on September 12, 2020.
Alumni and friends gave more than $4.8 million to build the 15,000-square foot MacQueen Alumni Center.
Two scholarships were created for students who demonstrate leadership and a commitment to social justice and perseverance.
More than 3,600 USA alumni volunteered 10,972 hours of community service since 2015.
---