Phi Kappa Phi Names Scholar, Artist of 2017
---
Posted on November 21, 2017
Alice Jackson
---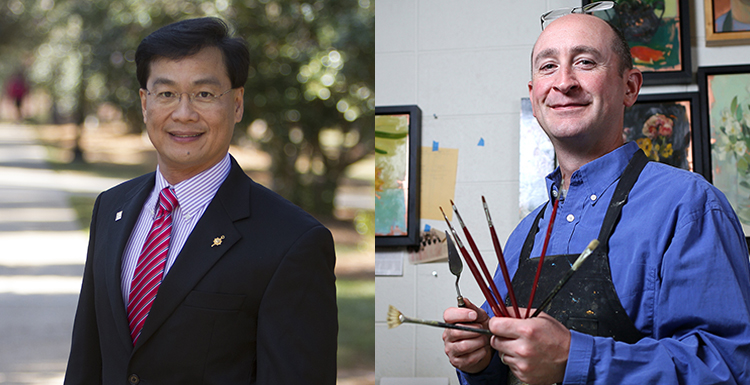 Dr. Romulus Godang, left, professor of physics, and Benjamin Shamback, professor of visual arts, were selected respectively as Phi Kappa Phi's scholar and artist of the year.
---
The University of South Alabama chapter of Phi Kappa Phi, an all-discipline honor society, has selected Dr. Romulus Godang, professor of physics, as its Scholar of the Year and Benjamin Shamback, professor of visual arts, as Artist of the Year.
The announcement came during the chapter's annual induction ceremony where each gave a brief presentation about their research or creative activity.
Membership in Phi Kappa Phi recognizes distinguished performance in study, research or leadership, sustained over a period of years. Invitations are typically extended late in an undergraduate's career or even after graduation, marking the transition from accomplished work of high merit to further exceptional attainment.
Benjamin J. Shamback
Shamback's specialty is oil painting, and his work can be found in the Huntsville Museum of Art, the Masur Museum of Art in Louisiana and in private collections throughout the United States and Canada.
He began painting on copper after studying a painting on copper by 17th century Baroque artist Artemisia Gentileschi. His main influences are Russian-French painter Chaim Soutine and American painter Maxfield Parrish. Rich colors and complex surfaces characterize his still life and landscape paintings.
Several of his paintings can be seen in the feature films "A Little Bit of Heaven," "Oculus," and "The Order of Myths."
He is a past recipient of the Gold Medal of Honor for Oil Painting from the Allied Artists of America and the Faber Birren Color Award. He is represented by LeMieux Galleries of New Orleans.
Shamback, who teaches courses in painting and color, can often be found painting in his studio or at Bellingrath Gardens.
He received a bachelor of arts in illustration from Central Connecticut State University in 1996, and he earned the master of fine arts in painting in 1999 from Fontbonne University in St. Louis.
Dr. Romulus Godang
Over the years, Godang has conducted high-energy physics research in several international research experiments. He began his research at the CLEO particle detector experiment located at Cornell University. He then worked on the HyperCP and CKM experiments at Fermi National Laboratory. Since 2002, he has worked on the BABAR experiment at the Stanford Linear Accelerator, Stanford University. Before joining BABAR, Godang worked on the CMS experiment at CERN. In 2011, he joined the Belle II experiment in Japan.
Godang's current research focuses on the two international experiments — BABAR and Belle II. The BABAR Collaboration consists of approximately 600 physicists and engineers from 75 institutions in ten countries. The Belle II Collaboration consists of approximately 650 physicists and engineers from 95 institutions in 26 countries.
Godang's interests are the precision measurements of the parameter elements for understanding the source of matter and anti-matter asymmetries in our universe and exploring for new physics. Collaborating with his colleagues, he has co-authored over 500 published research journals with more than 40,000 citations.
---