Bryan Stevenson to Speak at USA
---
Posted on November 26, 2018
Alice Jackson
---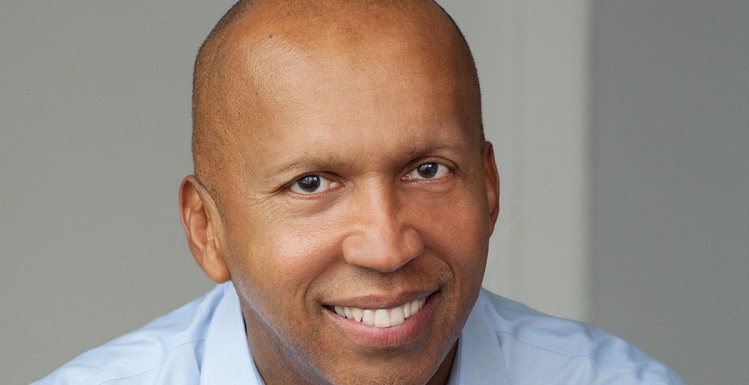 Bryan Stevenson, author and executive director of the Equal Justice Initiative, will speak at the University of South Alabama at 7 p.m. on Wednesday, Nov. 28 in the Mitchell Center. Photo/Nina Subin.
---
Bryan Stevenson, founder and executive director of the Equal Justice Initiative and the driving force behind the internationally acclaimed Legacy Museum in Montgomery will speak at the University of South Alabama at 7 p.m. on Wednesday, Nov. 28 in the Mitchell Center.
Stevenson, a Harvard-educated attorney known for winning major legal challenges on behalf of wrongly incarcerated citizens, will speak on "Insights" gained from his legal background as well as personal experiences, outlined in his New York Times best-selling memoir "Just Mercy."
The book is also USA's Common Read/Common World book selection for 2018-2019. The voluntary program for all University students, especially freshmen, aims to improve understanding of differences and commonalities across the world while engaging in academic discourse and critical thinking.
Doors will open at 6 p.m. for the free event, which is sponsored by the USA Office of the President, Mobile United, Mobile County Commission, Office of Commissioner Merceria Ludgood, and Empowering Change: Strengthening Our Community Connections. Parking will also be free.
"We are both excited and honored to welcome Bryan Stevenson to South to share his experiences during this important event," said Dr. Tony Waldrop, University president. "Bryan has dedicated his life's work to equal justice and, through the Legacy Museum, calling sober attention to the legacy of slavery, lynching and racial segregation. He is a gifted attorney, writer and teacher, and I look forward to learning from him."
Chris Gibson, director of programs for Mobile United, said: "We are honored to partner with Empowering Change, the University of South Alabama and Mobile County Commissioner Merceria Ludgood to present one of the foremost thought leaders and actors in social justice today. His message and work dovetail nicely with the work of diversity, inclusion and leadership that is at the root of what we do at Mobile United."
Free tickets may be obtained at bryanstevensonmobile.eventbrite.com.
In his book, Stevenson shares his story as an impoverished black child who became a Harvard Law School graduate. Throughout his career, he has assisted in cases that have saved dozens of prisoners from the death penalty, advocated for poor people and developed community-based reform litigation aimed at improving the administration of criminal justice. As founder and executive director of the Equal Justice Initiative in Montgomery, he has won major legal challenges eliminating excessive and unfair sentencing, exonerating innocent death row prisoners, confronting abuse of the incarcerated and the mentally ill as well as aiding children prosecuted as adults. Recently, Stevenson won a historic ruling from the U.S. Supreme Court banning mandatory life-without-parole sentences for all children age 17 or younger.
In April, Stevenson attracted worldwide attention with the opening of the National Memorial for Peace and Justice in Montgomery. It honors the names of each of the more than 4,000 African- Americans lynched in the 12 states of the South from 1877 to 1950. Stevenson contends that the history of slavery and lynching has influenced the subsequent high rate of death sentences in the South where it has disproportionately applied to minorities. A related museum, "The Legacy Museum: From Enslavement to Mass Incarceration," which is built on the site of a former slave warehouse, also opened in April.
Stevenson also holds a master's in public policy from the John F. Kennedy School of Government.
An active public speaker, Stevenson has received numerous honorary degrees, including from the University of Delaware, Williams College, Loyola University Chicago Stritch School of Medicine, College of the Holy Cross, Wesleyan University, University of Mississippi and Northeastern University.
In June 2017, he delivered the 93rd Ware Lecture at the Grand Assembly of the Unitarian Universalist Association in New Orleans, joining the ranks of previous lecturers, including Martin Luther King Jr. and Kurt Vonnegut.
---