Basketball Forward Casey Ferguson Courts Advertisers with Viral Videos
---
Posted on November 29, 2021
USA Athletics
---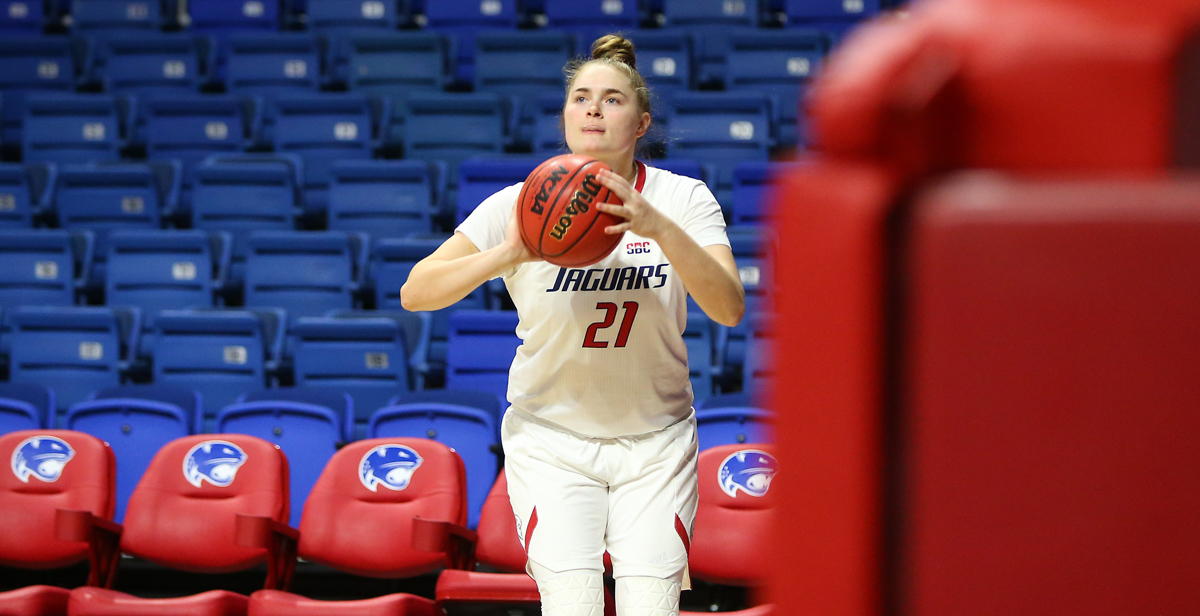 Casey Ferguson, a forward for the South Alabama women's basketball team, has been able to benefit monetarily from her popular social media posts following a rule that allows student-athletes to profit off their name, image or likeness.
---
On the bus ride back from Birmingham, Alabama, in November 2019, the University of South Alabama women's basketball team obsessed over the newest social media fad: Tik Tok. For the nearly four-hour trek back to Mobile, every player scrolled through 15-60 second segments of a variety of content. Every player, that is, except for Casey Ferguson.
"They all had Tik Tok but I didn't," Ferguson said. "They were all just wasting time with it so I downloaded it and started watching lots of videos."
By January the then-redshirt sophomore started posting her own clips about the team. In March, the COVID-19 pandemic stopped the world and, in turn, stopped her videos. At home, Ferguson was separated from her school, sport and team. However, two things remained: her cooking and content. In April, she posted her first viral video, a demonstration of how the Biloxi, Mississippi, native boiled crawfish.
"It was weird for me because I was never really a social media person. I didn't even get a phone until high school," she said. "I didn't really know what was going on, I just thought 'OK cool people are watching me.' They liked the way my voice sounded and they were shocked at how much seasoning I was using, which is crazy to me because I think it's normal."
Ferguson said she has cooked her entire life, making the process of going to the store, buying a sack of live crawfish, boiling it with spices and other seafood as normal as breathing. The difference this time was that she recorded it.
"I realized you don't have to dance on Tik Tok because everyone just thinks that's what you have to do. My thing turned out to be food, so I started cooking and I just cooked every single day," Ferguson said.
In a matter of months, her following grew to 1.5 million. Because of her social media presence, Associate Head Coach Rachel Travis coined the term 'FergNation' to describe her community of viewers.
"I'm not sure when exactly FergNation started," Travis said. "I mentioned it one day because I'm always saying 'Let's get it JagNation!' Since she has a large following on social media, FergNation seemed fitting."
From there the number has steadily climbed to 2.5 million, edging closer to her goal of reaching 3 million followers. Between graduate school, basketball season and her social media endeavors, Ferguson is satisfied with her rate of growth.
"Once I hit 2 million, grad school was here and so was basketball. I realized that is more what I wanted to focus on so the progression is slower, but it's at a pace I can handle," Ferguson said. "Before, I also didn't have deals like I do now so I have had to pick and choose, but I'm in a balanced place right now so I don't need to grow like crazy because I'm growing at a great rate for me personally."
In the Top 25
In August, as student-athletes awaited the NCAA's approval to benefit monetarily on their own name, image and likeness (NIL), ESPN compiled a list of 25 of college basketball's most marketable players. Coming in at number 10 was Ferguson.
"I was so surprised. I didn't even know that was a thing," Ferguson said of her reaction to the article. "The attorney I was working with tagged me in it on Twitter because he also works with the Cavinder twins (Haley and Hanna, junior guards at Fresno State who were ranked third), so that's how I first saw it. I thought 'Wow that's crazy,' especially because I was number 10 out of men and women across the entire country."
The article stated "in a sport where the rich schools have always had a significant advantage over the have-nots, Ferguson's popularity is proof that those rules don't necessarily apply in the NIL world."
Once NIL was given the green light, Ferguson was able to reap the benefits of her labor. She signed her first deal with Wing Stop, due to her popular chicken wing video, and has since worked with other companies to promote their product or service.
"At this point in time I have a lot of deals going on and people reaching out," she said. "I get paid to do advertisements for them on Tik Tok or Instagram, which is what I'm getting into next. They send over a contract and a brief of what they want then I do the video exactly how they want it. If they don't like it then I redo it because it is a job."
Ferguson says the coaching staff has been supportive of her endeavors since the beginning. Travis recalls how Ferguson's presence has affected the program from recruits knowing of her to followers attending away games and fans stopping her in the airport for a photo.
"Her social media presence has absolutely impacted our program. People know her," Travis said. "Most importantly, though, she's impacted us from day one with her work ethic, joy, talent and love."
Despite his limited Tik Tok use, Head Coach Terry Fowler understands where Ferguson's following comes from.
"Once you've been around Casey for five minutes you know why she has over 2 million followers on Tik Tok. People gravitate to her energy and smile," Fowler said. "She is charismatic."
Team Leader
With the progression of her popularity, Ferguson is debating what her future holds. Her current goal is to pursue a career in collegiate coaching. However, she sees how people enjoy watching her life, which has made her consider pursuing social media full-time. This is not the first time Ferguson has been torn between basketball and social media. She confesses there was a point where Tik Tok was her priority.
"I told Coach Fowler in one of our meetings that I was so focused on social media and I wasn't focused on basketball. I was there and still being a good teammate, but as far as goals in basketball I didn't have any," said Ferguson. "I came to the realization since I am older and running out of time here that I need to enjoy my time while I have it."
With a new team, Ferguson decided to step up in her new role as leader being one of only three returning letterwinners.
"Casey is the unquestioned leader of our team," Fowler said. "She is the most genuine person I know, which allows her to connect with her teammates in a very special way. She is selfless and only cares about the well-being of the team. No matter her role on any given day she is a star."
Travis has also seen Ferguson grow in a leadership role because of her passion for the program.
"Casey is all-in with this team regardless of what is going on in her personal or professional life," Travis said. "She knows how to be fully present in anything she is doing."
The now redshirt senior averaged 3.8 points and 1.8 rebounds per game last season handing out 26 assists and 13 steals in her 24 appearances. Ferguson ended the year third in the Sun Belt Conference after shooting 39.1 percent from beyond the arc.
As her time as a Jaguar comes to a close, Ferguson realizes that basketball is temporary, but a social media career could be forever.
"My whole life was not planned to be like this at all," Ferguson said. "I have tried to dig deeper and see what happens. I dove even more into school, people and basketball. It's just crazy how all of this has worked out."
---