Front Line Nurse Shows Compassion for Patients, Herself During Pandemic
---
Posted on November 30, 2020
Joy Washington
---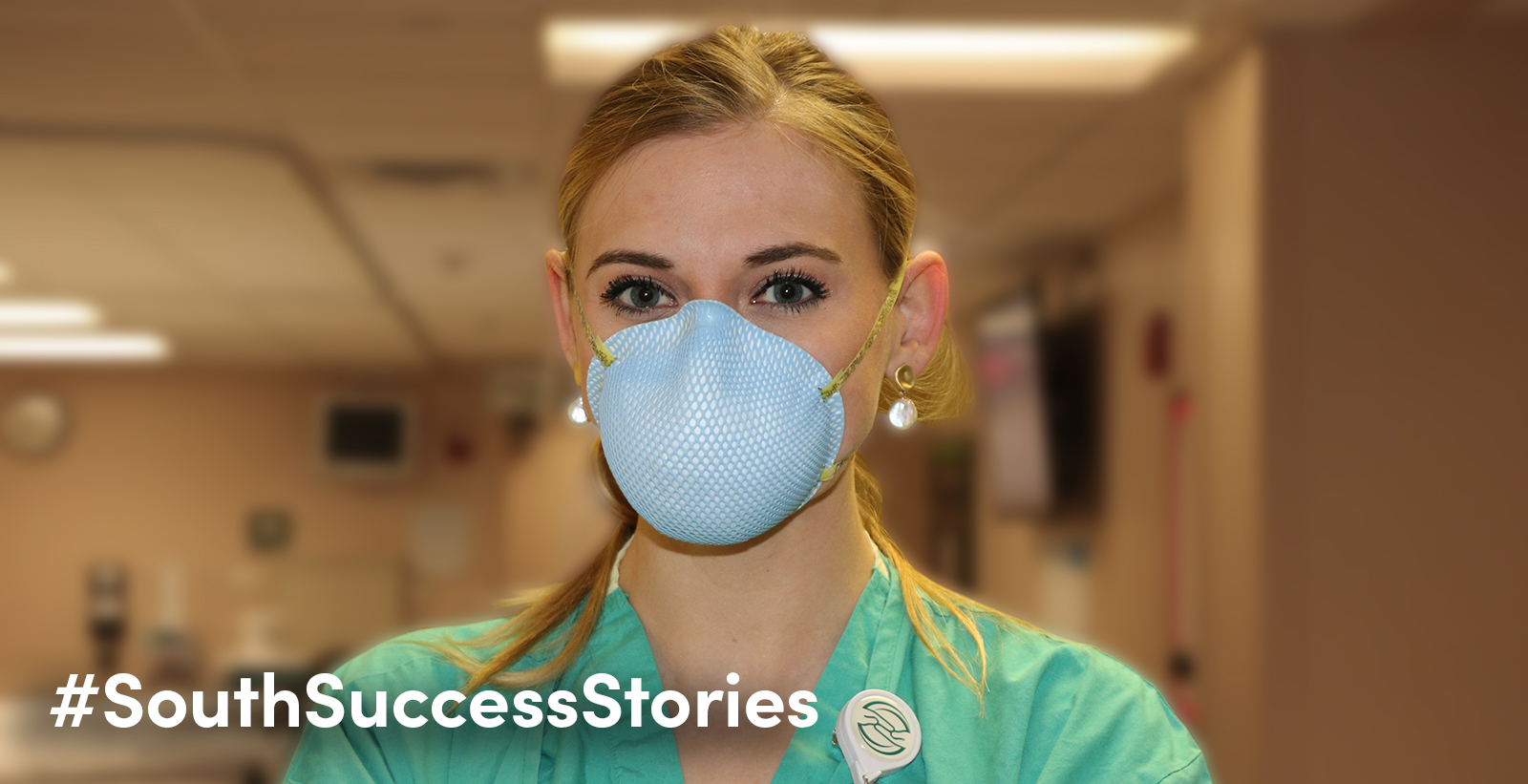 Bailey Trout Stephenson, a 2018 graduate of the University of South Alabama College of Nursing, worked in a Brooklyn hospital in the spring, taking care of COVID-19 patients in an intensive care unit. The work, like the virus, could be unforgiving. "I was there to help save the life of each patient I cared for, and that didn't happen," she said. Photo Courtesy of Bailey Trout Stephenson.
---
#SouthSuccessStories is an ongoing series featuring University of South Alabama alumni who are life-savers, innovators, game-changers, music-makers and creative-thinkers, successful in their careers and supportive of their communities.
When Registered Nurse Bailey Trout Stephenson returned home after taking care of COVID-19 patients in Brooklyn, New York, during April and May, she reflected on the suffering and resilience of her patients, and the need to focus on her own self-care.
Stephenson wasn't alone in her feelings. The International Council of Nurses reports that nursing professionals are experiencing unprecedented levels of stress due to COVID-19, including full-blown stress response syndromes, anxiety, depression, post-traumatic stress disorder and chronic illness and burnout.
The idea to help in New York came in April, while Stephenson, a 2018 graduate of the University of South Alabama College of Nursing, was watching the U.S. Navy's hospital ship Comfort arrive in New York City to provide extra support for COVID patients. Stephenson discussed with her husband her thoughts about traveling to New York and using her intensive care experience to help save lives. Three days later, she left Augusta, Ga., and arrived in New York to help care for patients at Kings County Hospital in Brooklyn.
"I was there to help save the life of each patient I cared for, and that didn't happen. I got really attached to my patients," she said. "Because of the contagious nature of the virus, their families couldn't be by their bedside, but I was there along with other nurses serving as their adopted families.
"I worked 18 days straight for 12 hours without a day off," she said. "They really needed help in intensive care, the ICU. I usually had three or more patients to care for in my unit. "
Stephenson learned that due to the high-stress level, she had to spend more time on self-care. Following her shift, she would wind down by checking her mail and opening care packages and cards that were sent to her by family and friends. She read her Bible, ate her meals and slept in the evenings, which gave her the strength to serve and care for her patients another day.
But, it was still a challenging reality to lose patients.
"Some of my patients didn't make it," she recalled sadly. "They fought so hard to live. Regarding my 78-year-old patient, I remember crying at his bedside. I then looked in the window area and saw his Nike shoes, and thought about how he walked around and loved his family in those shoes. And, then we would have patients who would survive. I learned to reflect on each patient and moment, whether they lived or didn't."
Although this was her first traveling nursing experience, Stephenson felt the education she received from USA's College of Nursing prepared her for the experience. In the midst of challenging days in ICU, she could hear the voice of her mentor, Associate Professor Dr. Debra Swanzy.
"Nursing is not only based on knowledge but what you do with that knowledge," Swanzy said. "We teach the basic skills that our students can take with them to any institution. The hospital policy may vary somewhat, but the basic principles we instill in our students transcend location and packaging. Nurses are required to think critically through ever-changing patient situations."
Stephenson signed up with Krucial Staffing to help care for patients with the virus for two weeks. But in the end, she cared for her patients for two months. She saw the need and extended her time. The Saraland, Ala., native had planned to take the two weeks off work for a mission trip to Haiti. But the trip was canceled due to the coronavirus. Her mission was in Brooklyn.
Before returning to Augusta, Ga., to work at University Hospital, she took a COVID-19 antibody test and was negative. She still quarantined for 14 days. Stephenson noticed when she started going out to shop or run errands, she felt a level of anxiety and depression. She couldn't talk about her experience in Brooklyn with her husband and family. After several months, she scheduled an appointment with a physician and a counselor. She is now taking medication and doing well.
"When I got back to Georgia, it made me anxious to see people not wearing a mask," she said. "I am a strong advocate of self-care and the importance of wearing masks, washing hands, and social distancing. I have seen what this virus can do to the body. I have become a vessel of knowledge where I work based on my experience. I also educate my family and friends about protecting themselves from this virus."
Swanzy said the pandemic has taken a toll on the mental health of nurses.
"We teach our students the importance of providing high-quality care to their patients," she said. "At the same time, we teach them to take care of themselves. These skills translate to any situation in the hospital or clinic. Bailey always stood out as a student who tried her very best at everything. She wanted to not only succeed but to be excellent. Our mantra in the USA College of Nursing is, 'let's not settle for good, but let's strive for excellence.'"
Stephenson, a graduate of Saraland High School, saw her father in the face of one of her 40-year-old patients. And she cared for that patient and many others who were in ICU, where she assessed what they needed, and monitored their oxygen levels. She also applied lotion and held their hands. And made sure families could talk to or see their sick loved ones as often as possible, sometimes using her cell phone.
"Caring for patients with COVID in Brooklyn is where God needed me to be," Stephenson said. "I had so much compassion for my patients and respect for the healthcare professionals I worked with. When I returned home, I had to take time to have the same compassion for myself and seek help when I needed it."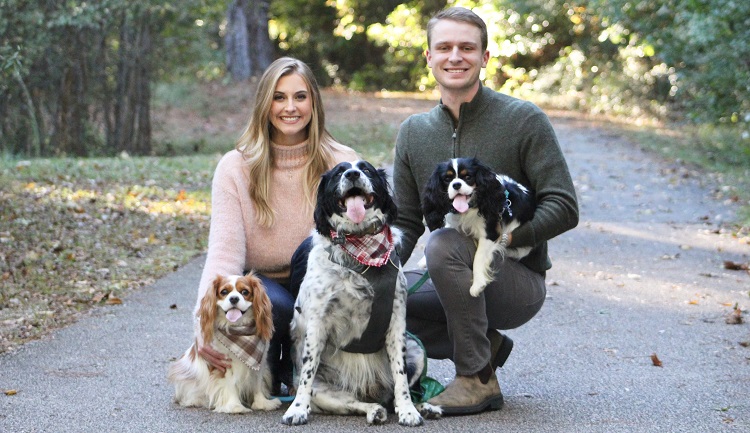 Bailey Trout Stephenson's family gave her the love and support she needed while caring for COVID-19 patients in New York. From left are Bailey, her dogs, Diana, Pete and Clark, and her husband, Jack Stephenson.
---