In Search of a Safer Sunscreen
---
Posted on December 1, 2016
Bob Lowry
---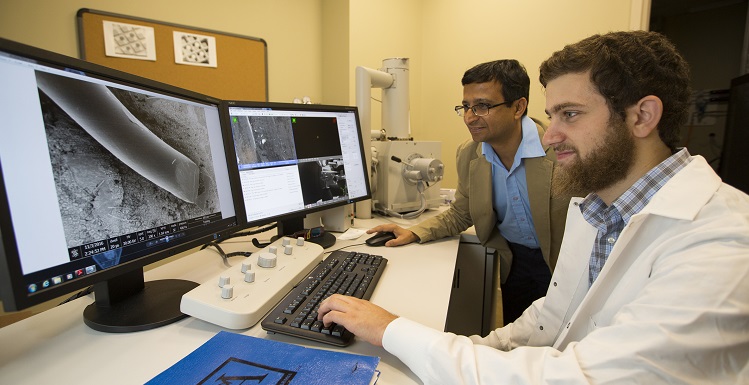 Engineering student Yousef Omar, right, and Dr. Sumit Arora, instructor in the College of Engineering's Core Facility, examine a silver wire magnified 200 times with the University's scanning electron microscope. Silver nanoparticles are a key ingredient in their research efforts regarding sunscreens and other biomedical applications.
---
Ask chemical engineering student Yousef Omar to describe his research experience at the University of South Alabama, and he says things like "insanely awesome" and "extremely fascinated." He's not the only one who's excited.
Omar's poster presentation on developing a safer sunscreen won second place in the Health Sciences category at the recent National Collegiate Honors Council conference in Seattle. The annual competition features some of the top undergraduate researchers in the country.
Omar's research journey at USA began almost immediately. "My first day as a freshman, I went to see Dr. Palanki (Srinivas Palanki, then-chair of chemical and biomolecular engineering) and he told me about this research project at the Mitchell Cancer Institute," Omar, a junior from Mobile, said. "So I started my research at MCI. It was my first time to play with all that equipment, and it was a blast."
The project was and is a collaborative effort between MCI researchers in the lab of Dr. Ajay Singh and the College of Engineering, where Omar and research assistant Dr. Sumit Arora worked as a team on a highly innovative idea developed by Singh, hoping to foster more effective and safe sunscreen using silver nanoparticles instead of the zinc oxide and titanium oxide ingredients found in most sunscreen products.
"The zinc and titanium caused serious biological harm in our study using cultured human skin cells. When compared to the silver nanoparticles, there's a night-and-day difference between damage caused and no damage," Omar said.
Although these research findings are preliminary and much more in-depth work needs to be done before reaching a conclusion, the benefits of a safer sunscreen application are obvious. So, too, are the benefits of undergraduate research at South Alabama.
"The research experience allows undergraduate students to become more organized and focused, and determine an area of interest, as well as jump start their careers as prospective researchers," Arora said. "Moreover, research helps in developing their analytical thinking while also giving real life experience in a professional research environment." Arora joined the College of Engineering last year as an instructor to establish a new lab and start testing his own ideas independently.
For example, Omar, Arora and biomedical sciences student Zohaib Ijaz are teaming up on a research project developing a novel green technology for the synthesis of silver nanoparticles for biomedical applications. This method, which has prompted the University to file a provisional patent on the process, involves extracts from a specific plant that enhances the effectiveness of the silver nanoparticles.
Dr. Doug Marshall, assistant director of the USA Honors Program and an associate professor in the department of sociology, anthropology and social work, led USA's seven-student contingent to the NCHC conference.
"We're putting our best undergrad students up against the best undergraduate students from the rest of the country," Marshall said. "Our success is a testament to the quality of the students South attracts and recruits, to the hard work of the faculty who mentor our students, and to the way our honors program keeps our students involved in research and helps them to be their best."
Omar is also the latest in a growing line of family members who are part of the USA family. His father is a faculty member in the College of Engineering, his uncle is a faculty member in the College of Medicine, one brother is a South graduate and another brother is on track to graduate next spring. Yousef will be in the Class of 2018. And then?
"I want to be a trauma surgeon," he said. As a member of the College of Medicine's Early Acceptance Program, he's already had exposure to the high-stakes world of the Level I trauma center at USA Medical Center. "I was able to sit in on an orthopedic surgery procedure and it just blew my mind." Omar also wants to get a Ph.D. with his medical degree. His ultimate dream is to provide funding for a research grant "so others who are passionate about research will have the means to carry it out."
South students presenting posters at the NCHC conference were:
Shivani Ananthasekar, majoring in biomedical sciences
Nick Grondin, meteorology
Alex Henderson, computer science
Jacob Maynard, computer science
Yousef Omar, chemical engineering/pre-med
Ravi Rajendra, biology/pre-med
Kaitlyn Roberts, chemistry
---