Developing Leaders Through 'iLead'
---
Posted on December 1, 2017
Joy Washington
---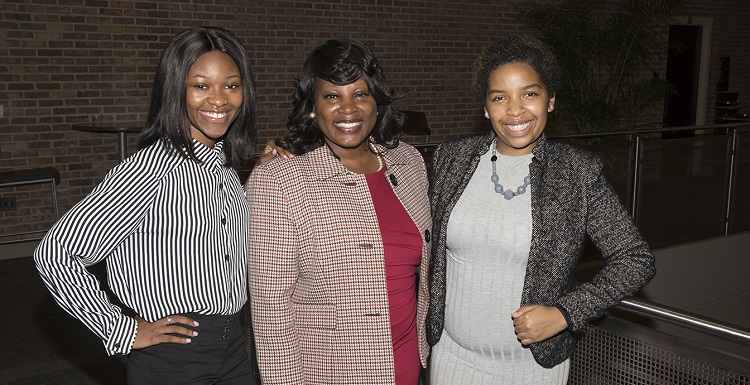 The Office of Multicultural Student Affairs launched the iLead Leadership Institute, an eight-week program to build and strengthen student leaders. From left are Maniysha Marshall, iLead Class of 2017 president; Dr. Valerie James, founder of Vision Spot Consulting, LLC., which managed and facilitated the first iLead Leadership Institute; and Deja Thompson, vice president of iLead.
---
The University of South Alabama is encouraging students to explore and strengthen their leadership skills through the Office of Multicultural Student Affairs iLead Leadership Institute, an eight-week program that includes interactive activities and leadership development training.
Dr. Michael Mitchell, vice president for student affairs and dean of students at South, and Jamora Valrie, director of OMSA, wanted to create a pilot program that would help build and strengthen student leaders.
"The Office of Multicultural Student Affairs at the University manages 16 student organizations comprised of 1,200 students," Valrie said. "One of our primary learning competencies is student access and success. The iLead Leadership program was created to help our students implement leadership principles in their personal, academic and extracurricular pursuits leading to a successful and rewarding college experience at USA."
Dr. Valerie James is founder of Vision Spot Consulting Group, LLC, in Mobile. James managed and facilitated the training for South's iLead Leadership Institute. Her firm specializes in leadership and organizational development, process improvement strategies and the growth of human potential in organizations across the globe. James started working with the 30 iLead participants during a retreat in August. The students officially started in the pilot program on Sept. 14.
"I was impressed with the mission statements the students have created for themselves," James said. "One of my goals was to help the student participants take their mission statements and crystalize their vision and leverage their skills on campus, in the classroom and in their future professions.
"This was an awesome experience for me and the students," James added. "They learned how to design an organizational structure and identify different leadership styles. We also talked about team dynamics and discussed their different areas of strength. We also did a SWOT analysis, which involves looking at strengths, weaknesses, opportunities and threats."
Students in the iLead Leadership program selected officers and recently gave brief presentations in the Student Center Ballroom during the first iLead Capstone event. Maniysha Marshall, a health care management major from Opelika, Ala., will serve as president, and Deja Thompson, an interdisciplinary studies major from Mobile with a concentration in community service, will serve as vice president.
"I have been able to step out of my comfort zone based on the great experience I have had as a member of the iLead Leadership program," Marshall noted. "I never thought I would have gotten this type opportunity. It has helped me grow and build leaderships skills that I didn't know I had. And, I hope to even secure an internship soon based on the connections that I have made."
Thompson came to South because her mom wanted her to go to college, and now because of her experiences in iLead, she is more connected to who she is as a leader.
"I am now going to college for me," Thompson explained. "I have learned that I am an influencer and an open-minded person. I have also learned how to be a keen listener, which is so important. I always knew I was a natural leader, but this opportunity has opened my eyes to how you have to build your own brand. I am now interested in motivational speaking, and I am minoring in communications."
James said the iLead Leadership program has been such a success that there are plans to expand it to other students at South Alabama. For more information about the leadership program, call the USA Office of Multicultural Student Affairs at (251) 460-6895.
---