South Musicians Shine in USA Holiday Concert
---
Posted on December 2, 2022
Thomas Becnel
---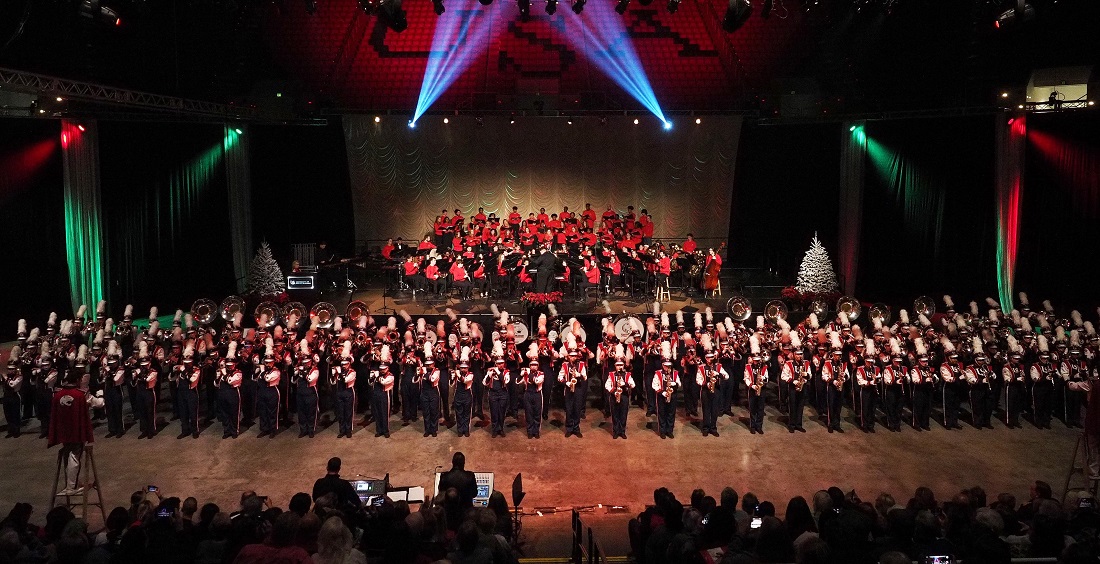 The Jaguar Marching Band joined instrumental and vocal ensembles for the finale of the 2022 Holiday Concert.
---
Jared Freeman, a sophomore trumpeter at the University of South Alabama, spent a good portion of his fall semester mastering Haydn's Trumpet Concerto in E-flat Major.
On Thursday night, he took a break from that classical project to join classmates in playing popular carols, jazz arrangements and festive medleys in the USA Holiday Concert at the Mitchell Center.
"It's more fun than anything," Freeman said. "I love Christmas music. Christmas music helps make Christmas."
South musicians and singers performed for several hundred people in the annual up-tempo December program. A snowfall machine greeted guests at the south entrance to the Mitchell Center. Children played beneath the wafting flakes. Parents led them to a nearby table for punch and cookies.
President Jo Bonner welcomed people to the 2022 USA Holiday Concert. Guest emcee Stacey Driskell, associate director of the Mobile Opera, asked the audience to get comfortable.
"It's time to sit back, relax and sing along if you'd like to these fabulous songs," Driskell said. "It's the most wonderful time of the year."
For student musicians, the end-of-semester concert serves as a reunion for everyone from the Wind Ensemble and Concert Choir to the Opera Theatre program and Jaguar Marching Band.
"We usually stay in our own bubbles, right?" said Garrett Booth, a junior horn player. "But with this concert, you get to perform with people you've seen in the hallway a thousand times."
For Maddy Kille, a flautist majoring in computer science, music at South is a way to balance her academic and creative sides.
"It's definitely a getaway for me," she said. "It's fun to get into the mood of Christmas. I like to get into the vibe and express that musically."
During the Holiday Concert, Kille got to play the whistle, a recorder-style flute, for an Irish jig arrangement of "I Saw Three Ships."
The Thursday night program, "The Most Wonderful Time of the Year," also featured a Hanukkah tune and a stirring performance of the "Polar Star" suite. A rousing finale and encore welcomed on stage the Jaguar Marching Band.
For the first time in three years, thanks to the coronavirus pandemic, students got a chance to perform a Holiday Concert.
Fa la la la la, la la la la — finally.
"I'm really glad it's back," said Juan Carlos Mata, a senior trombone player who was a freshman at the last Holiday Concert. "And it's not just the performers who are excited. The audience is, too."
Festive members of that audience wore Christmas sweaters decorated with ribbons, reindeer and candy canes. Handing out programs were members of the marching band color guard. Student quartets performed in the lobby before the concert.
Jasaan Roberts, a baritone majoring in music education, will graduate from South in the spring. Next winter, he hopes to be planning a holiday concert for an Alabama high school.
Growing up in Enterprise, Alabama, he sang in Christmas shows each year. He remembers falling off a riser during one rehearsal. There's a photo on his phone of children wearing Santa hats and performing with the Rucker Boulevard Rhythms.
"I know we sang 'Rudolph the Red-Nosed Reindeer,' Roberts said, laughing, "and I remember something about a sleigh ride set to the music of 'YMCA.'"
Hannah Lawrence, a soprano and graduate student in the music program, also enjoys the light-hearted spirit of holiday programs.
"For a choral concert, we did "Good King Kong,' by P.D.Q. Bach," she said. "It's a joke Christmas song and there's a part where everyone pulls out a kazoo and starts playing. We had so much fun with that."
Most student performances on campus are in the Laidlaw Performing Arts Center, which holds 240 people. The Mitchell Center can seat many times that number for the USA Holiday Concert. A big show for a big audience.
"It's really exciting," Roberts said. "This is my first Holiday Concert at South, and I've been here a few years."
---