USA Lands $2.25 Million Grant To Help Second Year Students
---
Posted on December 3, 2021
Lance Crawford
---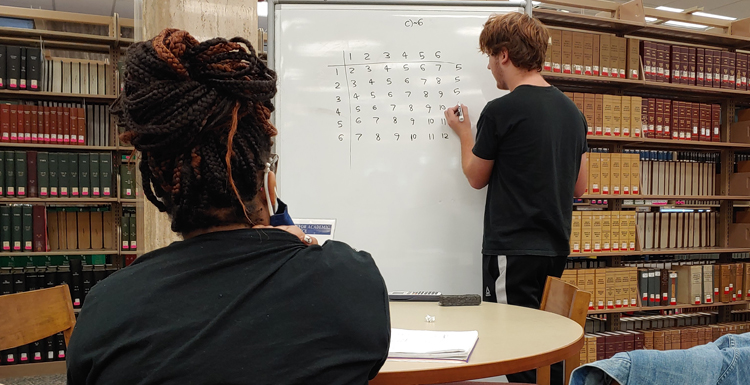 A tutor works with another USA student on the 2nd floor of the Marx Library. A five-year, $2.25 million grant will help Student Academic Success institute a new program dedicated to the "Second Year Experience." The goal is increasing retention rates between year two and year three.
---
The University of South Alabama has received a $2.25 million U.S. Department of Education Title III Strengthening Institutions grant to help second year students engage their studies through faculty mentoring, academic coaching and experiential learning.
The Title III Strengthening Institutions program helps eligible universities to become self-sufficient and expand their capacity to serve low-income students. South will receive the funds over the next five years to administer its Second Year Experience program.
"Over the next year we will launch an office dedicated to curating the Second Year Experience, expand academic coaching, create a second-year experiential learning program with a career trek to visit regional employers at no cost to qualifying students and redesign of tutoring space in the Marx Library to allow for active learning configurations," said Kristi Clayton, assistant director of Student Academic Success.
The program isn't tied to any specific college or major, but instead is open to all second year students at the University. The goal includes increasing retention rates from year two to year three, increasing graduation rates and decreasing the number of students graduating with excess credit hours.
"Reducing the number of students graduating with excess credit hours is important to reduce the debt burden on our students so that they can maximize their greatest wealth building tool — their income," Clayton said.
Dr. Nicole T. Carr, associate vice president of Student Academic Success, was the principal investigator, but credits Clayton for landing the grant.
"Kristi was the will behind this project. She brought the drive, the energy and lots of writing to the application," Carr said.
With its special focus on first-generation college students, Second Year Experience is a special project for Clayton.
"I am a first-generation college student and a proud South Alabama alumna who would have been greatly impacted by a program like this," she said. "We will spend the next five years bolstering the second year student experience. I'm excited to see where this program goes and the impact that it has on our second year students."
---