Medical Student to Present Findings at National Symposium
---
Posted on December 4, 2020
Carol McPhail
---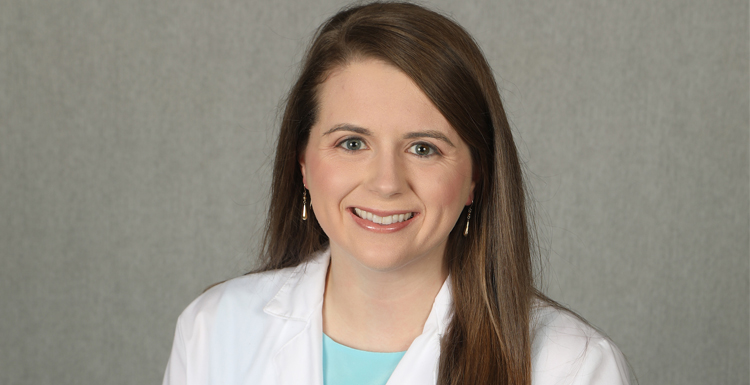 Lexie Gibson is a fourth-year medical student at the University of South Alabama College of Medicine.
---
In March, when the pandemic was beginning to spread, medical students at the University of South Alabama College of Medicine were selected to help manage data from COVID-19 testing performed by USA Health.
Lexie Gibson, a fourth-year medical student from Eufaula, Ala., took the opportunity to delve into the data to study associated factors, long-term outcomes in the current population and to contribute to larger, national data sets for more comprehensive study. "One of the things I was interested in was pre-existing diabetes and how it affects outcomes," Gibson said.
Recognizing that diabetes is associated with decreased immunity, Gibson mined the data to see how many of the 600 people tested from March through June had a previous diabetes diagnosis. She found the percentage of diabetes was 15.2 percent – a bit higher than the state average of 14.5 percent.
Gibson also discovered that among patients who tested positive for COVID-19, those with diabetes mellitus – a metabolic disease that causes high blood sugar -- had significantly higher rates of hospitalization, worse outcomes and higher rates of death secondary to COVID-19. Findings such as these are critical for patient care because so much is still unknown about COVID-19. She will present these findings in a poster presentation at the American Medical Association Research Symposium, which is being held virtually Dec. 3-6.
"It was interesting to see how the prevalence rate of diabetes in our COVID-positive patient population compared with both state and national prevalence rates because it may reflect the increased inherent risk of our patient population as well as illustrate underlying health disparities specific to our population," she said.
Gibson was among the first medical students selected for this COVID-19 data project, said Casey L. Daniel, Ph.D., M.P.H, director of epidemiology and public health at USA and assistant professor of family medicine at the USA College of Medicine.
The goals of the project were to inform health system coordination and policies in real time to ensure maximization of limited resources and provide critical information for epidemiologic study of COVID 19. Gibson's project was part of the latter work.
"The project is so important because it provides vital information for epidemiologic study of COVID-19 as well as potentially associated factors among patients," Daniel said "We know there are disparities among COVID patients, and we are in a position to provide more data about that to the larger body of literature because of the diversity in our population. We have the potential to provide insights that other, less diverse regions are not."
In partnership with the City of Mobile, USA Health has operated a drive-through public testing site since March 2020.
---