Concussion Expert to Speak at Commencement
---
Posted on December 5, 2017
Alice Jackson
---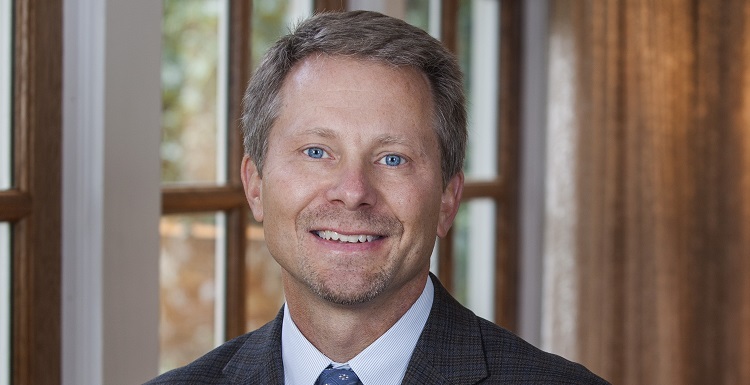 Neuroscientist Dr. Kevin Guskiewicz, a nationally recognized expert on sport-related concussions, will deliver the USA Fall Commencement address at 2 p.m. on Saturday, Dec. 9, in the USA Mitchell Center.
---
Neuroscientist Dr. Kevin Guskiewicz, a nationally recognized expert on sport-related concussions and dean of the College of Arts and Sciences at the University of North Carolina at Chapel Hill, will deliver the USA Fall Commencement address at 2 p.m. on Saturday, Dec. 9, in the Mitchell Center.
South is scheduled to award 654 bachelor's degrees, 722 master's degrees and 152 doctoral degrees. Three candidates will receive dual degrees. Fall commencement is the graduation exercise for students who completed degree requirements in either the summer or fall terms.
USA will provide live streaming of the ceremony beginning at 2 p.m. on the University's website, southalabama.edu. Recorded video of the entire commencement will be available online at the same address following the live web cast.
Dr. Kevin Guskiewicz
Using both laboratory and on-the-field data, Guskiewicz was one of the first researchers to identify the long-term effects of multiple concussions, including cognitive impairment and depression in later life, through large-scale epidemiological studies of retired professional football players.
Recognizing the inadequacy of traditional concussion screening tools, which relied primarily on an athlete's self-report of symptoms, Guskiewicz demonstrated that postural control, or balance, serves especially well as an objective measure in the evaluation of concussive episodes. His portable and cost-effective Balance Error Scoring System is now widely used by athletic trainers at colleges and secondary schools to diagnose and manage injury more rapidly and accurately.
Most recently, he has focused on the cumulative effects of repetitive, sub-threshold brain impacts. Using accelerometers embedded in the helmets of college football and young hockey players, he and colleagues are investigating the relationship between magnitude and number of head impacts and clinical symptoms of concussion. Taking this research a step further, he is working directly with collegiate football players and coaches to identify dangerous hits in real time and to correct improper tackling techniques associated with sustaining concussions. While engaging clinicians, coaches, parents and athletes in recognizing the immediate and long-term effects of concussions, Guskiewicz is contributing significantly to state and federal policy discussions concerning development of more stringent return-to-play guidelines and head-gear investigations that will improve the safety of athletes of all ages.
His groundbreaking work has led to numerous awards, including the prestigious MacArthur Fellowship, known as "the genius grant," in 2011 for his innovative work on the diagnosis, treatment and prevention of sport-related concussions. He and his colleagues used the award to help improve safety in high school sports and to help the U.S. military identify and treat serious head injuries, leading to Time magazine naming him a "Game Changer, one of 18 innovators and problem-solvers inspiring change in America."
Both the NFL and the NCAA used Guskiewicz's research when each organization rewrote its concussion guidelines and recommendations.
His research has resulted in 23 funded-research grants, the publication of more than 90 journal articles and six textbook chapters related to concussions in sport. He was awarded a Fellowship in the American College of Sports Medicine in 2003, the National Academy of Kinesiology in 2006 and the National Athletic Trainers' Association in 2008. In 2010, he was named to the NCAA's Concussion Committee, the NFLPA's Mackey-White Committee and the NFL's Head, Neck and Spine Committee.
Guskiewicz is the Kenan Distinguished Professor of Exercise and Sport Science and co-director of the Matthew Gfeller Sport-Related Traumatic Brain Injury Research Center and director of the Center for the Study of Retired Athletes. He holds appointments in the departments of orthopaedics, physical medicine and rehabilitation, the UNC Injury Prevention Research Center and the doctoral program in human movement science.
Guskiewicz earned a bachelor of science degree in athletic training from West Chester University, a master of science in exercise physiology/athletic training from the University of Pittsburgh and a doctorate in sports medicine from the University of Virginia.
USA Commencement Parking and Shuttle Information
The Mitchell Center will open for the general public at noon.
Guests are encouraged to access the campus by USA South Drive or Jaguar Boulevard.
Directional signs will direct guests to parking lots.
Signs for shuttle service will designate specific parking areas. The shuttle service will run from 11 a.m. until 6 p.m. Shuttle pick-up and drop-off points will be in these parking lots:
University Commons
Gamma Residence Hall
Humanities Building
Student Services Drive (Shuttle access will be toward Old Shell Road, south of the entrance to Health, Kinesiology and Sport Building.)
East of the Computer Services Center
Limited handicapped parking will be available in the Mitchell Center parking lot for students, family and friends. Entrance to this lot will be only from Old Shell Road, located on the south side of the Mitchell Center. Proper handicapped tags must be visible on vehicles for admittance to this lot.
Graduating students should arrive well before the ceremony and park in the parking lot located behind the Mitchell College of Business on Student Services Drive. Admittance to the Health, Kinesiology and Sport Building, where graduates line up for the event, will be limited to only graduating students. Graduates should not bring bags, purses or any "carry" item.
---