Steve Campbell Named Head Football Coach
---
Posted on December 7, 2017
Marketing and Communications
---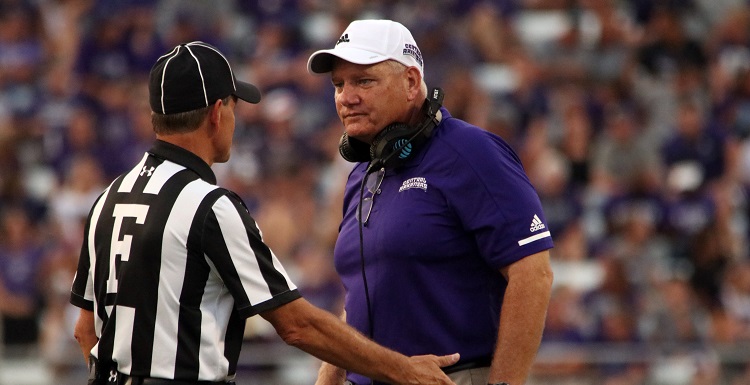 Newly announced South Alabama football Head Coach Steve Campbell was named Southland Coach of the Year, taking Central Arkansas this fall to a conference title and a 10-2 season.
---
With a résumé that includes three national championships as both a student-athlete and coach and a career .750 winning percentage, Steve Campbell was named head football coach at the University of South Alabama on Thursday. The announcement was made by Jaguar Director of Athletics Dr. Joel Erdmann.
Campbell — who replaces the only head coach in the program's 10-year history, Joey Jones — will be formally introduced at a 1 p.m. (CST) press conference on Friday, which will be held in the team room at the football field house on the South Alabama campus. The event will be open to the general public, and will also be available on the web via JagNationTV.com.
"When the search began we identified the experience, qualities and characteristics we were looking for. We searched for a leader who has demonstrated success and possesses a vision for the program with the plan to communicate and achieve that vision," Erdmann said. "As the search progressed, it became clear that Coach Campbell had what we were looking for. He became the primary target and accepted the offer. He is a proven college head football coach who has achieved consistent success in various settings with different programs. Coach Campbell possesses coaching expertise, high school and junior college recruiting relationships, and a contagious passion for the game of football. He is well-respected by his peers and at the core of his identify is a man of character and deep values.
"I am proud and excited to have Steve as the leader of our program, and look forward to working together to achieve great things."
"I was born and raised in this area, just down the road outside of Pensacola, and have always felt that if South Alabama started football it would be a gold mine, a place where the sky is the limit and you can definitely compete for championships at the highest level," said Campbell. "Coach Jones did a terrific job of getting the program started and laying a tremendous foundation. This is an opportunity to get back home and, more than that, to take what Joey has started and raise it to the next level and win some championships."
Campbell, 51, comes to South after a four-year stint at Central Arkansas, where he guided the Bears to 33-15 mark including a record of 24-3 in the Southland Conference the last three seasons, during which time the Bears have finished no lower than second in the league standings. This fall UCA went 10-2 and claimed the conference title with a 9-0 mark to earn the No. 4 seed in the NCAA Football Championship Subdivision playoffs. In addition to being named the Southland Coach of the Year, the Bears claimed four of the league's other six individual awards, with 10 first-team all-conference selections and another 10 individuals picking up second-team and honorable mention recognition.
After going 6-6 in his first season at the Conway, Ark., institution, Campbell led the program to a 7-4 record (7-2 in the league) the following fall. Under his guidance in 2016, the Bears posted a 10-3 mark — including going 8-1 in conference action — after winning their first-round FCS playoff contest.
Prior to his stint at UCA, Campbell led Mississippi Gulf Coast Community College to a record of 87-22 and the 2007 National Junior College Athletic Association national championship in 10 seasons at the helm of the program. During his final eight years at MGCCC, the Bulldogs spent 115 consecutive weeks in the NJCAA top 25, claimed six Mississippi Association of Community and Junior Colleges (MACJC) South Division titles and won the Mississippi Junior College championship on three occasions. He was twice named the national Coach of the Year, earning those honors three times at both the conference and region levels while 28 of his student-athletes received All-America accolades and 17 were selected Academic All-Americans.
Before his arrival, Bulldog football had not made it to the state playoffs since 1986.
Campbell was also the head coach at Delta State for three seasons from 1999-01, posting a 27-8 record that included a 14-1 mark and the NCAA Division II national championship in 2000 when he was selected the Chevrolet National Coach of the Year. In his first head coaching job, at Southwest Mississippi Community College during the 1997 and '98 campaigns, he led the Bears to their first winning season in 12 years while going 12-8 overall.
In 19 seasons as a head coach, Campbell — who was inducted into the NJCAA Hall of Fame in 2014, and also served as the President of the NJCAA Coaches Association in 2012 — has never guided a team that finished with a losing record while compiling a 159-53 overall mark.
Campbell began his coaching career as a graduate assistant under Pat Dye at Auburn in 1988-89, and during that time the Tigers would go 20-4 overall and 12-2 in the Southeastern Conference while playing in the Sugar Bowl and defeating Ohio State in the Hall of Fame Bowl. He moved on to become the offensive line coach (1990-91) and offensive coordinator (1992) at Delta State, also serving stints as the offensive coordinator at Nicholls State (1993-95) and as running backs coach at Southwest Mississippi C.C. (1996). In 2002, Campbell was the offensive coordinator at Middle Tennessee, and the following year he coached the offensive line at Mississippi State on the staff of Jackie Sherrill.
After beginning his collegiate career at Southeastern Louisiana, Campbell moved on to Troy where he was a part of the Trojans' 1987 NCAA Division II national championship team; during his two years with the program the team went 22-3 with a 16-0 record in the Gulf South Conference en route to claiming back-to-back league titles. He was named first-team all-conference at center his senior year.
A native of Cantonment, Fla., Campbell received his undergraduate degree in economics from Troy in 1988, and a master's degree in business administration from Auburn in 1990. He and his wife, Shellie, have three children: Kelsie (26), Steven Jr. (25) and Tate (12).
The Jaguars finished the 2017 season 4-8 overall, 3-5 in the Sun Belt Conference. A total of nine Jaguars earned all-league honors on Wednesday, highlighted by the announcement of senior safety Jeremy Reaves as the SBC Defensive Player of the Year.
For more information about South Alabama athletics, check back with www.usajaguars.com, and follow the Jaguars at www.twitter.com/WeAreSouth_JAGS. Season tickets for all Jaguar athletic events can be purchased by calling (251) 461-1USA (1872).
Join the Jaguar Athletic Fund (JAF) Priority Fund, the unrestricted giving option of the University of South Alabama Athletics. Contributions to the Priority Fund directly support all 17 sports in addition to various support programming.
---