Service, Focus and Seeing Excellence in Others
---
Posted on December 10, 2018
Joy Washington
---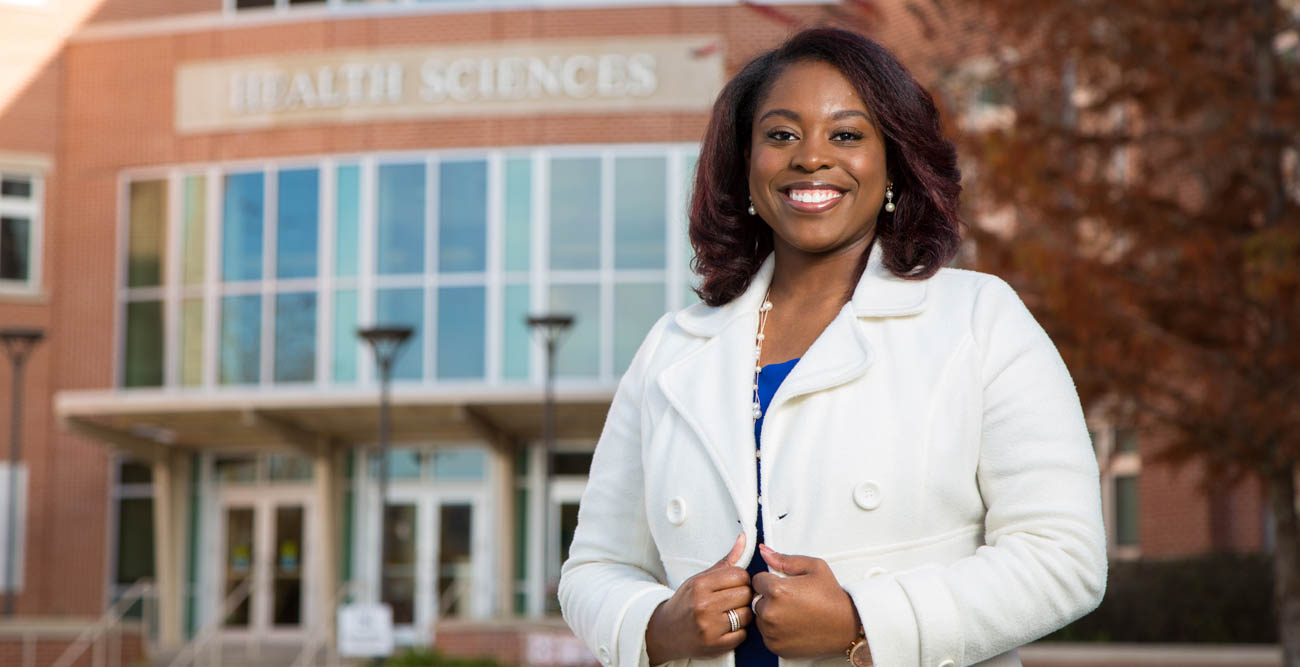 LaTya McCall, a nursing graduate, founded the BIG Club at South, which supports the Big Brothers Big Sisters of South Alabama. She looks forward to continuing to serve in a big sister role.
---
LaTya McCall has never been afraid to take on a challenge.
She has studied hard, created a meaningful impact through service, and has built lifelong memories while studying at the University of South Alabama.
McCall, 25, from Dothan and a native of Monroeville, Ala., reflected on how her dream to earn a bachelor's degree this fall from South's College of Nursing has bloomed into a reality.
"When I started as a transfer sophomore student at South, I was majoring in biology with my heart set on attending medical school," McCall said. "But, I had this yearning to become a nurse. My aunt, Dr. Brenda Rigsby, is a nurse practitioner and she has influenced me greatly."
When McCall first applied to the nursing program in the fall semester of 2016, she was not accepted. For a moment, it made her question if she had made the right decision to pursue nursing.
She received a pep talk from her mom, Angelia Clausell-Davis, her biggest cheerleader, and applied again.
"At that moment, I thought it was one of the most challenging times of my life," McCall said. "I was devastated. But, my loving, yet firm mom would not let me stay down too long. She gave me some time to get it together and find a solution. My life has not always been rainbows and sunshine. But, I have adopted mom's rule in my life, and it has allowed me to face every challenging situation with a positive outcome."
In the spring of 2017, she applied again and she was accepted into the nursing program at South Alabama. Clausell-Davis is proud of her daughter and how she has persevered.
"I have always told LaTya that God allows things to happen for a reason," she said. "And, I reminded her to always be a voice and never a victim. I am extremely proud of her success."
"I have faced many challenges trying to earn my nursing degree, but no matter how tough it got, I stayed focused," McCall said. "I want to care for those who are sick and help them heal. And, it's an awesome feeling to be graduating from one of the most prestigious nursing programs in the country."
McCall is grateful to her friends, professors and mentors at South for their unwavering support. Jarmora Valrie, director of Multicultural Student Affairs, has supported McCall through the good and difficult times.
"LaTya is one of those students who brings encouragement and support to all she knows. She has the intrinsic desire to see excellence in others," Valrie said. "LaTya is a champion for the voiceless. I am blessed to have worked with her when she served as one of our student leaders. I know she will be successful in her future endeavors."
McCall is also grateful for Heather Sprinkle, coordinator for the Student Government Association, for being straight to the point.
"LaTya has been a joy to mentor and support over the last few years," Sprinkle said. "I've been impressed with her willingness to continue working toward her goals despite the obstacles she's faced. She is such a strong and passionate person who looks for ways to serve others and make her community better."
McCall also appreciates Sprinkle for her help when she started the BIG Club at South, which supports the Big Brothers Big Sisters of South Alabama.
"I received so much help from Ms. Heather and Ms. Jarmora and other mentors, when I was building the BIG Club," she said. "As the founding member, I had to start the club from the ground up. I wrote the constitution and recruited members. South has more BIG mentors than any other college in Mobile. I have finished my final term as president, and I am leaving the club in good standing with dedicated members. I will continue to serve as a Big sister to my little. I am also grateful to the Big Brothers Big Sisters awesome staff."
McCall's dedication is already paying off; she recently signed a contract and will begin working as a registered nurse at a local hospital. In addition to securing her first job, she has been recognized for one of her deepest passions. McCall is the 2018 recipient of the South Alabama College of Nursing Community Service Award.
"I am so honored that the nursing faculty saw my volunteer work and decided to select me as a recipient," she said. "I love service, and I have strived to be a good servant leader. Service motivates me. I live to serve. My affirmation is, 'Excellence Through Service.' I am appreciative to the College of Nursing for bestowing this honor upon me."
Dr. Rebecca Thomas, assistant professor of maternal-child nursing, said McCall is deserving of this award.
"LaTya is one of the most determined students I have ever worked with," she said. "She has proven that through hard work, follow through, and dedication, she can accomplish the tasks and goals she has set for herself. She is active in her sorority, a JagPal working with students in Freshman Seminar, serving as a member of the Student Nurses Association, and has been involved with 10 different organizations in the community. She did this all while balancing her course load in a rigorous program. If this doesn't say leadership and community service, I don't know what does. We are so proud of her."
McCall was also the first African-American Azalea Dogwood Queen in Dothan, Ala., when she attended Dothan High School. She is a member of the Epsilon Upsilon Chapter of Alpha Kappa Alpha Sorority, Inc., and was active in the Student Government Association and Black Student Union. She is a member of numerous other organizations and the recipient of many awards.
McCall is also supported and loved by her dad, Tyrone McCall; step-dad, Terry Davis; and her siblings, LaTyron and LaTahjae McCall, and Andre Jones Jr.
---