Called to Prison Work, Nurse Practitioner Set to Earn Doctorate
---
Posted on December 10, 2019
Thomas Becnel
---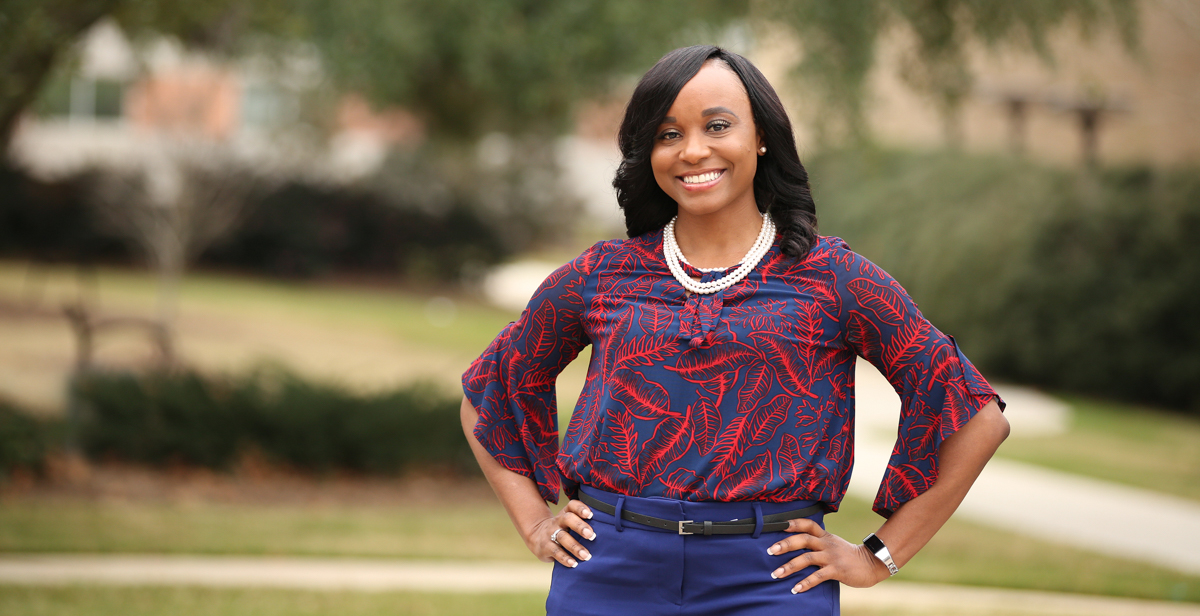 After working at USA Health University Hospital and as a traveling nurse, Krystal Lockett said she felt called to work with inmates as a nurse practitioner at Fountain Correctional Facility. "I can show them that I care," she said, "and I feel like they're receptive to me."
---
When Krystal Lockett stops to think about it, between graduate study at the University of South Alabama and full-time work as a nurse practitioner, she realizes that she's trained in Mobile for nearly a decade.
"Ten years," she said, laughing. "I've been here 10 years!"
Now Lockett, 32, is set to earn her doctorate of nursing practice at USA.
Besides her job at the Fountain Correctional Facility in Atmore, where she did clinical studies for her doctorate at USA, she leads a Bible study group at the City Hope Church in Mobile. She joined her mother in managing PureVine Health Care, a business providing at-home support for elderly patients, and next year they plan to launch a nonprofit foundation for needy families.
Lockett will be busy. Nothing new there. Her secrets include keto coffee and true grit.
"Time management," she said. "A lot of sleepless nights. There's been days that have been great and days that haven't. You do the best you can and make sure you finish on time."
Mardi Gras Queen and Miss Daphne
Lockett's family is from Daphne on the Eastern Shore.
Her father, who died in 2014, was a car salesman. Her mother started a business called Gloria's Reliable Sitting Service, now PureVine, which has 15 employees.
Lockett grew up dancing, cheerleading and competing in beauty pageants. She became a Mardi Gras queen and Miss Daphne High School. She went to Auburn University, where she danced with the Tiger Paws and earned a degree in biomedical sciences, before returning to Mobile after graduation.
Lockett once performed in a "Visit Mobile" commercial. She's been featured in a "40 Under 40" issue of Mobile Bay Magazine. She often sounds like a civic booster.
"Our city is charming," she said. "It's a hidden treasure."
After Auburn, Lockett spent a year in Mobile working with the AmeriCorps program at the Area Agency on Aging. She did another year working on rural health issues in the small town of Independence, La.
"A lot of people do a gap year after college, but I wanted to do something where I could give back," she said. "I love community outreach – that's what I learned the second year."
Back in Alabama, Lockett enrolled in an accelerated nursing program at the USA Baldwin County Campus in Fairhope. Then she became a registered nurse at USA Health University Hospital.
"I worked in med/surg — medical surgery — on the fifth floor," she said. "If you know anything about the fifth floor, you know you're going to learn fast and gain a lot of experience in a short amount of time."
Lockett continued her education at USA, earning a master's degree and becoming a nurse practitioner. For a few years, she worked as a travel nurse, doing three-month contracts at different hospitals and clinics. Most of her jobs were on the Gulf Coast, but she spent half a year in Los Angeles.
Lockett wasn't starstruck or anything like that.
"I wanted to make a lot of money in a short amount of time," she explained, "and I was looking for a nurse practitioner job. I had two offers, but decided to come home. One, I missed my family, and two, I couldn't stand that traffic."
Finally, last year, she returned to Alabama and got a job at the prison in Atmore.
Prison Practice and Nonprofit Work
Lockett felt called to work with inmates at the Fountain Correctional Facility.
"You want people to treat them kindly, treat them with respect, and give them the best possible care," she said. "That's what we commit to do when we earn our degrees. It doesn't matter if they're inmates or not."
For a nurse practitioner and health care researcher, prison patients offer at least one advantage.
"The biggest thing for me is the continuity of care," she says. "They're not going anywhere, so I can manage their care. I can show them that I care, and I feel like they're receptive to me."
Lockett thinks she might want to teach one day, but right now she has more than enough work.
In downtown Mobile, she and her mother share a small PureVine office on the fourth floor of the Fuse Factory building on Government Street. She's still working through the process of creating a foundation. It's not easy. Starting programs and writing grant proposals take time.
"I try to be patient," she said, snapping her fingers, "because I'm the kind of person who likes to get things going."
---