Nearly 1,500 Recognized at Fall Commencement
---
Posted on December 10, 2022
Thomas Becnel
---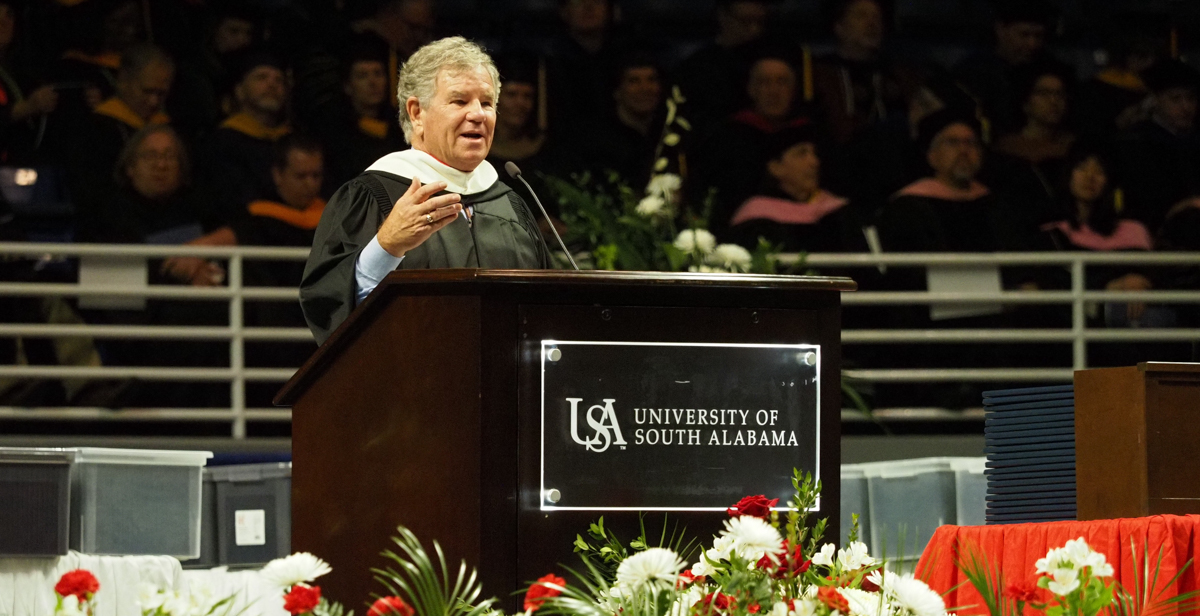 Julian MacQueen, a University of South Alabama alumnus and chairman and founder of Pensacola-based Innisfree Hotels, told graduates to look at the world as full of abundance.
---
Julian MacQueen, fall Commencement speaker at the University of South Alabama, told graduates to question everything, find answers in the most unlikely places, and see the world through eyes of abundance — there is enough for everyone.
On Saturday morning at the Mitchell Center, where nearly 1,500 graduates were recognized, MacQueen, an alumnus, hotelier and entrepreneur, quoted "Anthem," a Leonard Cohen song about accepting imperfection:
Ring the bell which still can ring
Forget your perfect offering
There is a crack, a crack in everything
That's how the light gets in.
Moments earlier, President Jo Bonner asked those gathered for a moment of silence in memory of Dr. Tony Waldrop, the third president of the University, and June Whiddon, the first First Lady at South. Bonner congratulated graduates for investing in themselves and their education. Their degrees have the power to transform lives.
"Today is a day of new beginnings," Bonner said. "The beginnings of a new career, or graduate school, or service to your country. Congratulations to our graduates. Congratulations to the proud families who are here with you."
Before and after the ceremony, graduates in blue gowns posed for pictures with family and friends. They stood beneath the Moulton Bell Tower or beside the statue of SouthPaw, the University mascot.
Nadira Sahori, a bachelor's degree candidate in professional health studies, limped along with a walking boot on her right ankle. She had surgery last month.
"I'm supposed to be on crutches, but I want to walk across that stage and get my diploma," Sahori said. "I'm determined."
Her three older brothers also earned degrees from South. While preparing for graduate school, she works as a medical assistant in the emergency room at University Hospital.
"South all the way," Sahori said. "It's practically family. My home away from home."
Jalen Boyd, a South track athlete from Pensacola, studied sports management. He wore a red sash over his gown representing the Sun Belt Conference.
"It feels great to be done," Boyd said. "This is actually my fifth year, because I took an extra COVID year for track and field."
Rachel Kirn, a senior from Chicago who studied nursing, decorated her mortar board with a "Friends" TV reference: "The One Where Rachel Becomes A Nurse." On Dec. 19, Kirn starts work as an emergency room and ICU nurse in Mobile.
"It's a good fit," she said. "I'm an adrenaline junkie, for sure. I love to work at a fast pace and always be doing something."
A crowd of several thousand people in the Mitchell Center laughed when MacQueen described his less-than-stellar grades as a student during the Vietnam War. He worked his way through school as an orderly at University Hospital and a night auditor at the Admiral Semmes Hotel.
After graduating with a degree in psychology in 1973, MacQueen began work in the hotel industry and went on to found Innisfree Hotels, based in Pensacola. In 2015, MacQueen and his wife donated $2 million to the University for the MacQueen Alumni Center on campus.
MacQueen said he will forever be grateful to South for the world religion class that introduced him to the Bahá'í Faith, which emphasizes equality, education and worldwide unity.
"Trust the universe is going to take care of you," he told graduates. "Look at the world full of abundance and not scarcity. There is enough for everyone."
On Saturday morning, Susan Piccini, who's from Huntsville, Alabama, walked across stage as a master's degree candidate in occupational therapy. She's been at South since 2014. She earned a bachelor's degree, got married and had two children while in graduate school.
"It's been a journey," she said. "Just the time management of going to school all day and then coming home to the kids."
Piccini is going to be working part-time at Mobile Nursing and Rehabilitation, but she expects to keep busy.
"I have another job coming up," she said, laughing. "I'm expecting a third baby in May."
Following Commencement, under a tent outside the Mitchell Center and with a raised glass, Bonner toasted the graduates at a reception he sponsored with the National Alumni Association.
"We're so proud to have you as members of the National Alumni Association, and we are so proud to have your family with you on this amazingly special day," he said. "We want to offer a toast to the Class of '22 and to the graduates of the University of South Alabama. Here's to a bright future, and Go Jags!"
---
Commencement photos can be viewed on social media on Facebook and Instagram.
---