Ahn Receives Mayer Mitchell Award for Excellence in Cancer Research
---
Posted on December 13, 2017
Mark
---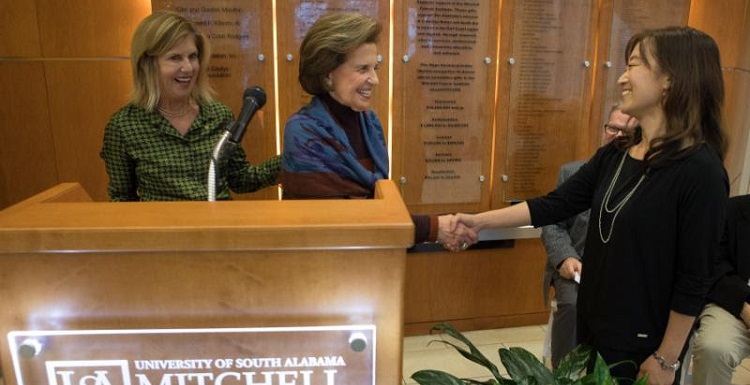 Dr. Erin Eun-Young Ahn, right, is congratulated by USA Trustee Arlene Mitchell, wife of the late Mayer Mitchell. She is joined by Vice President for Development and Alumni Relations Margaret Sullivan.
---
Mobile cancer researcher Dr. Erin Eun-Young Ahn has been named the recipient of the 2017 Mayer Mitchell Award for Excellence in Cancer Research.
The award, announced December 7, 2017, is presented annually to a promising scientist at USA Mitchell Cancer Institute upon the recommendation of a faculty committee. It includes a $10,000 prize. The award was established in 2009 by USA Trustee Arlene Mitchell in memory of her late husband, Mayer Mitchell, a Mobile businessman, longtime USA trustee and formative figure in the establishment of MCI.
Ahn, an associate professor of oncologic sciences at MCI, focuses her research on the regulation of gene expression in cancer development and progression, with a special interest in leukemia. In 2015, she was awarded a five-year $1.7 million R01 grant from the National Cancer Institute to study the role of the SON protein in the development of leukemia.
"Dr. Ahn discovered that the SON gene controls the behavior of the genetic material in cells and that the SON protein enables the formation of leukemias and brain tumors. Her work may provide a pathway for new classes of treatment for these cancers," said Dr. Arthur "Art" Frankel, interim associate director of Basic and Translational Sciences.
Ahn joined MCI in 2012 after working as an assistant project scientist at the Moores Cancer Center at the University of California, San Diego. She received a Ph.D. in Molecular and Cellular Pathology from the University of Alabama at Birmingham and postdoctoral training at the Scripps Research Institute and Moores Cancer Center.
Upon receiving the award Thursday, Ahn spoke directly to young researchers in the crowd. "Think about what you want to achieve after many years, and have a big dream," she said.
Ahn is the recipient of numerous professional awards, including international awards for research in leukemia and allied conditions from Lady TATA Memorial Trust, United Kingdom. Her research on the SON gene has been published in the prestigious journal Molecular Cell.
---