Bringing Order to the Court in Fulton County, Ga.
---
Posted on December 14, 2016
Joy Washington
---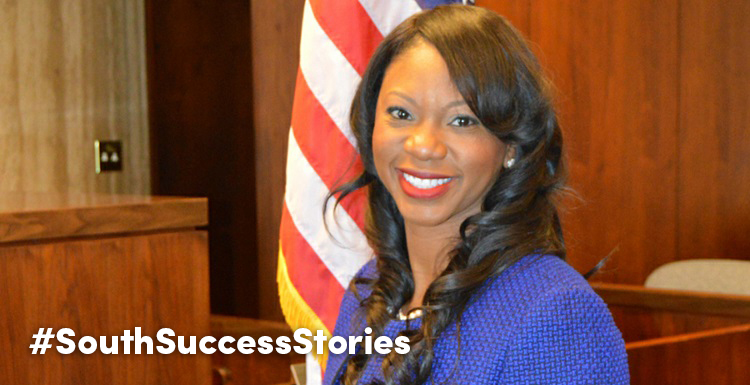 Yolanda L. Lewis is the court administrator/chief administrative officer for the Superior Court of Fulton County Georgia in the Atlanta Judicial Circuit, and 5th Judicial Administrative District.
---
#SouthSuccessStories is an ongoing series featuring University of South Alabama alumni who are life-savers, innovators, game-changers, music-makers and creative-thinkers, successful in their careers and supportive of their communities.
Every day, Yolanda Lewis juggles nearly 300 employees in one of the busiest and largest courts in Georgia. She also provides support to 20 elected judges, oversees 15 justice programs and manages a combined budget of $24.5 million. Her daily work is full of new and different challenges, but Lewis meets each morning the exact same way.
"I wake up early every day to plan my day and exercise," Lewis said, who is the court administrator/chief administrative officer for the Superior Court of Fulton County Georgia in the Atlanta Judicial Circuit, and 5th Judicial Administrative District. "I know the importance of being disciplined and healthy."
This consistency is a hallmark of success for Lewis, who holds two degrees from South. She earned a bachelor's in political science and criminal justice in 2000, and a master's in public administration in 2002. Lewis has spent the past 16 years in judicial and public administration, working consistently to improve services and justice programs.
"One of my goals is to have a well-run court system for the judges and the citizens of Fulton County," Lewis explained. "I grew up in a small town with hard-working parents and grandparents. I do my best to be dedicated and prepared every day.
That's how I learned to have a great work ethic. Leadership is about taking steps in the direction of our dream trusting that your passion will create new possibilities."
Lewis' work is being noticed. She was recently recognized by an Atlanta magazine as one of the Top 25 Women of Atlanta. Her ability to nurture and build relationships has allowed her to serve well in her current position.
"We embrace the principles of accountability and transparency," she said. "I have also worked with my staff to create a new court to serve our veterans who suffer from post-traumatic stress disorder, other brain injuries, and mental illness. I was able to write and secure a grant to fund the Veterans Court. We have also implemented the Video Remote Interpreting Technology Program to help citizens who have a language barrier. I am pleased that it has been named Program of the Year by the Georgia Council of Court Administrators."
Lewis said her father, Thomas, was instrumental in helping her choose a career path in public administration. He has been a police officer in Livingston, Ala., for nearly 25 years. He taught her the importance of serving others. In addition, her mom worked as a medical officer and was also key in helping Lewis prepare for a successful future.
"I owe everything to my parents, grandparents, and family," she said. "Although my mom, Ann, has passed away, and I miss her so much, there's not a day that goes by that I don't think of her grace and quiet power that prepared me for the life I live today."
Lewis' time at South Alabama prepared her well for her current career. She has great memories of support from South faculty, singling out Dr. Nola Allen, who served as chair and professor of the political science and criminal justice department in the College of Arts and Sciences. With Allen's high expectations and resiliency, she taught Lewis even more about the need to always be prepared.
"I had great professors who mentored me and expected the very best," she expressed. "I had a wonderful experience as a student, and I am now able to transfer what I learned into serving others in my current career and in the Atlanta community. I had a remarkable experience at South thanks to Dr. Allen and many others."
While she was studying at South, Lewis also reached out to help in the community. She became an AmeriCorps volunteer giving time to the clients of the Mobile AIDS Support Services, which is now AIDS Alabama.
And she still lives her life through service. She is currently a member of several non-profit and professional organizations and is the founder of Sisters with a Purpose, an organization designed to assist abused women and children. She is a television show host and executive producer for "Fulton Justice," a show is dedicated to providing resources and information about the justice system in Fulton County.
Lewis is the newly elected president of the Georgia Council of Court Administrators, vice president and national spokesperson with the National Association of Court Management, a graduate of the Atlanta Institute for Diversity Leadership Academy, a representative in the National Taskforce on Fines, Fees and Bail Practices, a faculty member in the Michigan State University's Judicial Administration Program, and a member of the Leadership Atlanta Class of 2016. She is also the recipient of the National Service Award from AmeriCorps.
Although her current career is not something she imagined as college student, Lewis said she was prepared for it when it arrived.
"When you grow up in a small town, sometimes you have to dream bigger to envision a great future," she said. "I was able to do that as a little Southern girl in Sumter County, Ala. And now, through my career, community service, and speaking opportunities, my philosophy is to empower and inspire others to be great."
---