Gaillard: Time Has Come to 'Relearn the Art of Creative Disagreement'
---
Posted on December 16, 2018
Alice Jackson
---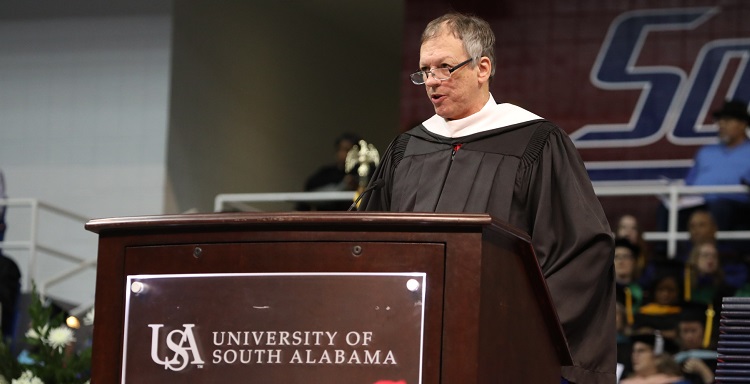 USA Writer-in-Residence Frye Gaillard told graduates they must find a way to cross barriers and heal divisions. "We have got to learn once again to listen," he said in his Fall Commencement address. Gaillard's latest book is "A Hard Rain: America in the 1960s, Our Decade of Hope, Possibility and Innocence Lost."
---
USA Writer-in-Residence Frye Gaillard urged University of South Alabama's graduates during 2018 Fall Commencement "to relearn the art of creative disagreement."
Gaillard, author of the critically acclaimed book "A Hard Rain: America in the 1960s, Our Decade of Hope, Possibility and Innocence Lost," shared how the graduates will soon face some of the similar problems as his own graduating class 50 years ago.
"I will submit to you today we somehow have to find a way to do better in the future, and your generation will have to lead us in that effort," Gaillard said. "At the time of my own graduation, which was also a time of division, many of us were so sure we were right that we simply tried to outshout the people who disagreed."
The Mobile native witnessed history at age 16 when he saw Dr. Martin Luther King Jr. arrested in Birmingham. As a young journalist, Gaillard covered race relations for the Charlotte Observer, where he wrote about Charlotte's landmark school desegregation controversy and covered social changes throughout the South. Later, he reported on the New South of the Sun Belt, including the campaign and presidency of Jimmy Carter, before leaving newspapers. In his second career as an author, he has written or edited more than 25 books on a variety of subjects.
Gaillard told the graduates that he changed his mind about outshouting his opponents after reading an article written by journalist Bill Moyers entitled "Listening to America."
"Moyers said our self-indulgent national divisions were tearing away 'the veneer of civility' that allows a fragile democracy to function, and the only antidote to that was to learn once again how to listen to each other," Gaillard said. He went on to cite books by Jon Meacham, "The Soul of America: The Battle for Our Better Angels," and Doris Kearns Goodwin, "Leadership in Turbulent Times," which also examine the uncivil discourse of American life.
"We are reminded what can happen in this country if we reach for the best that is in us instead of the worst, and if we demand that our leaders do the same," Gaillard said. "It has always been the great frontier of the human experience to live in peace and mutual respect with people who are not exactly like we are. There may be differences in political philosophy, or in the color of our skin, or in the name we give to the God of our prayers, … but what these writers are telling us is that we live in a land where we can — and must — find a way to cross these barriers and heal our divisions."
In closing, Gaillard reminded the graduates of "the decency and good will of people who are different, of people with whom we disagree."
"The time has come to relearn the art of creative disagreement — to find a path toward honest dialogue in confronting the problems of our country and the world. We have got to learn once again to listen," Gaillard said. "I urge you to go forth from this moment of celebration, of pride and satisfaction in what you have achieved and what that achievement portends for the future. Good luck on the journey that lies ahead."
The University awarded 612 baccalaureate degrees, 674 master's degrees and 143 doctoral degrees. Fall Commencement is the graduation exercise for students who completed degree requirements in either the summer or fall term.
---
For Fall Commencement photos, visit the University's Facebook and Instagram pages.
---