Mobile Designated TechHire Community
---
Posted on December 19, 2016
Marketing and Communications
---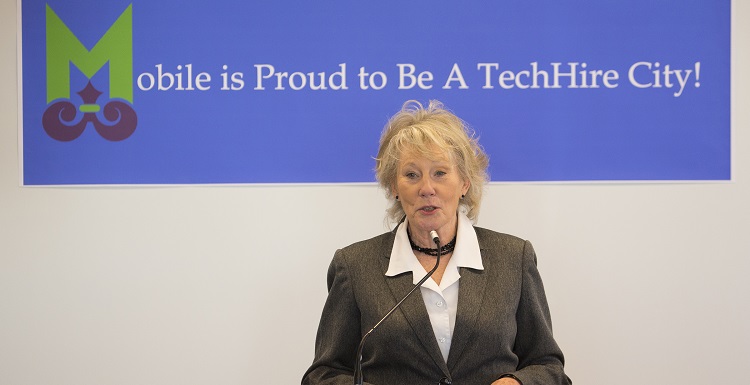 Lynne Chronister, USA vice president for research and economic development, speaks at a news conference designating Mobile as a TechHire Community. "Mobile is South's community," she said, "and we always want to be part of moving this community forward any way we can."
---
The city of Mobile has earned an elite designation aimed at connecting its residents to well-paying, high-tech jobs, and the University of South Alabama played several integral roles in the highly competitive, year-long process.
Lynne Chronister, South's vice president for research and economic development, told a crowd assembled last week for the formal announcement at Rural Sourcing Inc. (RSI) that Mobile's designation as a TechHire Community spotlights the Port City nationally as a place where residents can "live, work, play and learn," all in one place.
"This designation is just the latest example to the world that we're not only business friendly, but we're tech savvy as well. USA is really proud to be part of this initiative as one of its partners," Chronister said.
In addition, she said, South took an active role in the competitive application process because it was an opportunity to engage the community the University serves.
"Mobile is South's community, and we always want to be part of moving this community forward any way we can, but there's so much more to it than that. The thing is, it benefits the University to have an educated workforce. As the community grows, so grows South," she said.
Mobile was one of only 20 communities awarded the designation in the program's latest round, bringing the total number of TechHire Communities to 71.
"Today, Mobile stands with an elite group of major cities and states who have embraced the TechHire initiative to spotlight the 5 million job openings in information technology nationwide," Mobile Mayor Sandy Stimpson said, adding, "Mobile is joining the exciting national trend of attracting IT companies who are moving outside of Silicon Valley because of our quality of life, low cost of living and a workforce full of talent and potential. This designation will create new jobs, spur additional investment and economic activity, and help us to continue this momentum in Mobile."
Specifically, Mobile TechHire, through the University of South Alabama, programs such as Birmingham's Depot/U, and Bishop State and Faulkner community colleges, will train some 500 candidates within the next four years. The industry-driven training will include:
Customized capacity building for incumbent workers;
A 10-week coding boot camp; and
Advanced manufacturing technical training for entry-level jobseekers.
Monty Hamilton, RSI's chief executive officer and a key architect of the partnerships responsible for Mobile's TechHire designation along with the Gulf Coast Technology Council, called the announcement the "culmination of a lot of people's hard work" that shows the vision so many advocates have for the Port City and it's possibilities.
"We made a big investment in this city, and I can tell you right now we haven't regretted it one day in our life," said Hamilton, whose RSI is anchoring the ongoing revitalization of Mobile's St. Louis Street into a high-tech corridor.
He also said he sees clear trends emerging that will produce in the "not-too-distant future" three distinct workforce categories: those workers who use technology all day, every day to perform their jobs, whether it be writing code or building warships and airplanes; the people who have the ideas and the intelligence to build and market that technology; and "those folks who are either unemployed or underemployed because they haven't embraced that technology."
TechHire, he said, opens new pathways to tech-centered employment for communities that have historically accepted trade-offs as a way of life, specifically trading quality of life for vocation.
"I firmly believe that Mobile is at that great precipice here of having a superb industrial base and now adding the technology. It makes this a great place to live and work and be," Hamilton said.
The Gulf Coast Technology Council's Chris Morton said the TechHire designation in and of itself is impressive, but couple it with the city's designation as a federal manufacturing community – of which there are only 24 – and Mobile stands to emerge as a clear leader in the technology sector.
"It's an opportunity to lead not only our region, but the entire nation," Morton said, calling the very nature of technology "pervasive" and far beyond the programming and coding shops of days past.
Meanwhile, Chronister singled out Kathy Thompson, director of South's Science, Technology, Engineering and Math program, for her tenacity in authoring the application with assistance from the Chamber.
"It was an enormous effort. Kathy was in frequent contact with the White House and really pulled it all together," she said, noting the sheer enormity of partners is staggering.
Indeed, the 17 employers committed to hiring Mobile TechHire trainees include the University of South Alabama Medical Center, AccuReg Software, AM/NS Calvert, CentraLite, City of Mobile MIT Department, Mobile County IT Department, Harper Technologies, Platypi, Prism Systems Inc, Mobile Area Chamber of Commerce IT Department, Mobile Airport Authority, Mobile Infirmary Hospital, The Mighty Advertising Agency, RSI, The Red Square Agency and the SSI Group Inc.
Thompson called the application process "tremendously rigorous" and reliant on the team's ability to demonstrate the strength – and potential – of Mobile's IT ecosystem. The city's leadership, commitment of employers and spirit of regional cooperation all set Mobile apart.
More importantly, she said the program will ultimately expand the depth and breadth of employees working throughout the region. Specifically, Mobile TechHire graduates will be hired as computer analysts, software developers, network and computer analysts, computer programmers and computer-use specialists.
"At the end of the day, what really counts is that we can produce well-trained tech employees and support the tech companies who want to hire them," she said.
---