Healed for the Holidays
---
Posted on December 22, 2021
Thomas Becnel
---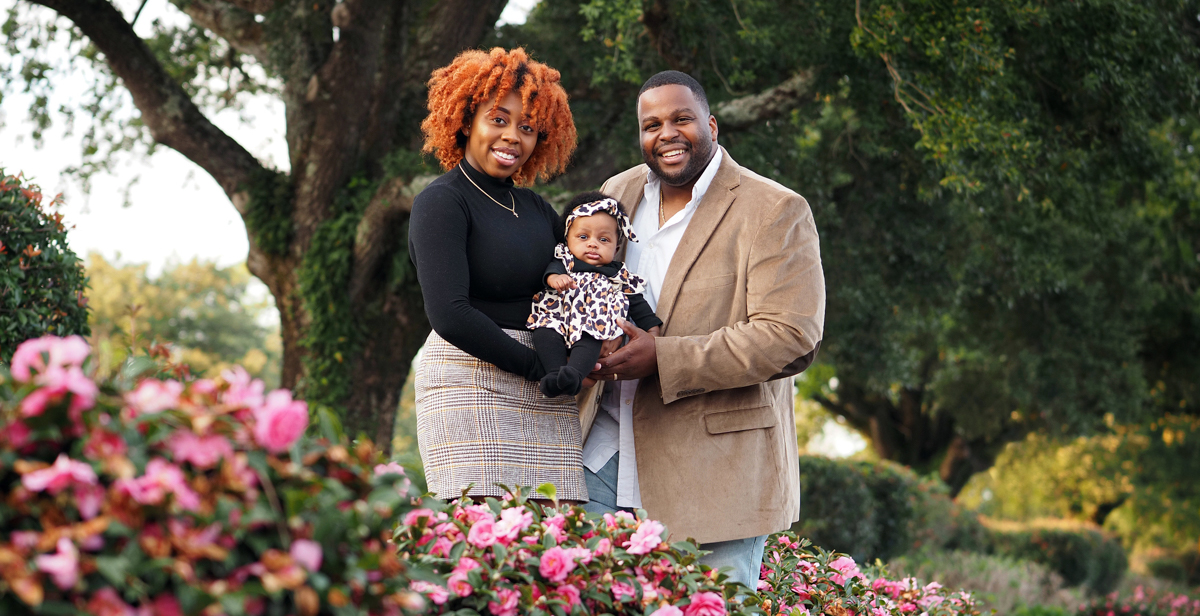 Kenneth and Diamond Johnson got married in the chapel at USA Health University Hospital during his recovery after being hit by a pickup truck. Kenneth Johnson, a University police sergeant and alumnus, has since returned to work. The couple has a 3-month-old daughter, Karis.
---
University of South Alabama police Sgt. Kenneth Johnson, a former football player known for his broad shoulders and big smile, has to shake his head when describing the shock, pain and joy of his remarkable 2021.
He and his fiancee were planning their wedding when he was hit by a pickup truck on Cottage Hill Road in March. His injuries included a punctured lung, fractured ribs and a broken arm and leg, along with nerve damage to his right foot. He spent two weeks in the hospital and a month in a rehabilitation center.
During his recovery, he and Diamond Johnson — a senior at South majoring in exercise science — got married in the chapel at USA Health University Hospital. In October, he was finally able to return to work at South. Now he has a 3-month-old daughter, Karis, and doesn't need any more gifts to celebrate Christmas.
"I got what I wanted – life, I'm still breathing," he said. "I've got everything I want right now."
Johnson, 31, was a center on the first football team at South. His Jaguars were undefeated for two seasons. In 2014, he earned a degree in criminal justice, did an internship with campus law enforcement and was hired as a University police officer.
He's a big guy – 6-feet-tall, 300 pounds – who disarms people with his friendly manner.
While working full-time, Johnson earned a master's degree in education at South. He spent a year working as an academic counselor in the athletic department before returning to the University police department. He spent another year working as an officer assigned to University Hospital before transferring back to campus.
"He's been around a long time as an athlete, student, intern, police officer," said Police Chief Zeke Aull. "He's a good one. Great attitude, great communication skills."
News of Johnson's accident dismayed many at South. At first, people feared for his life. Then they worried that he would be unable to resume his career in law enforcement.
"I really didn't know he was going to make it back – the outlook wasn't good – but he kept getting stronger and stronger," Aull said. "His will and desire and work ethic were great, and that took him through the rehabilitation process."
Now Johnson is back to work, as a sergeant supervising officers on patrol at South. When asked about long-term career goals, he jokes that he wouldn't mind becoming a police chief.
"That wouldn't surprise me," Aull said. "He would be a good guy to do that."
Accident and Recovery
On the night of March 28, Johnson and his fiancée were packing to move into their new home. He stopped on Cottage Hill near Hillcrest Road to check on boxes in the back of his truck. When he stepped out, their new puppy leaped out of the cab.
Johnson raced after the dog, Synclaire, only to be struck by another pickup truck coming down the road. He suffered a broken right arm, fractured ribs and a punctured lung. His right leg was broken in several places. His neck was injured and he had to wear a cervical collar for two months.
Johnson prayed for his life after he was hit. He prayed for his health when he began rehabilitation. He prayed for his future when he heard doctors discussing nerve damage in his foot.
On April 11, while still rolling around in a wheelchair, he and Diamond were married.
"It was rough," he said. "I wanted to stand next to her and I did – on one leg."
When Karis was born, Johnson had just moved up to crutches. The next step was learning how to walk again. Then he regained his strength and returned to work during Homecoming week.
After more than a decade at South, it feels like a second home for Johnson.
He's proud of helping start the Jaguar football program. He's proud of the academic work he did to earn his master's degree. He's proud of his work with students and the reputation he's earned on campus.
Support from the University community meant a lot during his recovery.
"People come up and give you that light during a dark time," he said. "It was amazing."
Johnson's best friend through high school and college, Ryan Onkka, watched Johnson recover, slowly, while also becoming a husband and a father. Now his friend is back in uniform, working at South, with the same presence and personality.
"He's always been energetic and charismatic, and he makes everyone around him feel better," Onkka said. "He's always working and grinding and doing what he needs to do."
Johnson hopes the New Year will be calm and peaceful for his family. There was more than enough drama in 2021. He and wife are excited about celebrating their first holiday season with their daughter.
"I'm working on Christmas Day," he said, "but we're switching to an overnight shift, so I'll be off Christmas morning."
---