Mapps Offer Direction to Success: Quality Healthcare
---
Posted on December 29, 2020
Thomas Becnel
---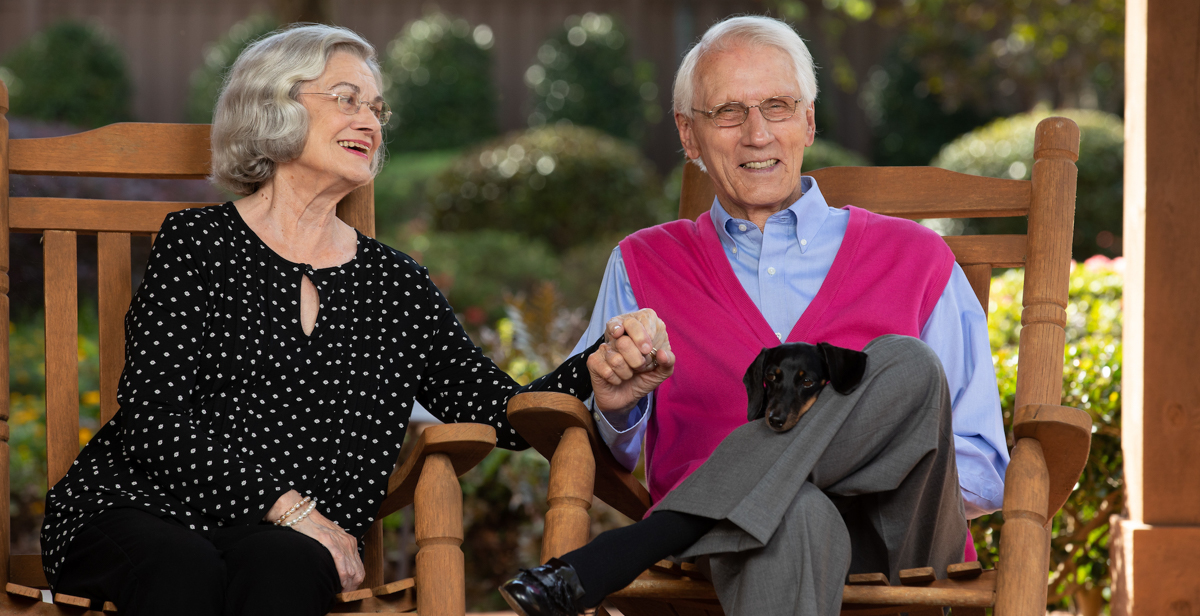 Louis and Melinda Mapp donated land this summer to USA Health for a Baldwin County medical campus. "Communities can't make it without good healthcare," he said. In all, the Mapp Family Foundation has given away more than $6 million, including several six-figure donations to USA Health Children's & Women's Hospital, where Louis has volunteered in the Neonatal Intensive Care Unit.
---
This story originally appeared in the fall 2020 edition of South Magazine.
On a glorious fall afternoon — their favorite time of the year — Louis and Melinda Mapp pull up a pair of rocking chairs on the front porch of their Fairhope home.
They sit down to trace a family history that begins with business roots in Mississippi and ends with hospital philanthropy in Alabama. Both of them are volunteers as well as donors. They have the easy rapport of a couple who have been married 61 years.
He starts most of their stories. She finishes many of his sentences.
The Mapps are from Hattiesburg, Miss., where his grandfather founded the Faulkner Concrete Pipe Company in 1915. Years later, after selling the family business, Louis started a second career in finance at the company that became Regions Bank.
Since then, he and his wife have shared their good fortune with neighbors in both states. The Mapp Family Foundation has given away more than $6 million. The couple has made several six-figure donations to USA Health Children's & Women's Hospital, where Louis has volunteered in the Neonatal Intensive Care Unit.
He's a certified NICU cuddler, using his body warmth and a gentle rock to soothe premature infants. "To hold one of those babies in your arms," he said, "is just amazing."
This summer, the Mapps gave eight acres to USA Health for a Baldwin County medical campus that is proposed to include outpatient surgical care.
"Communities can't make it without good healthcare," Louis says. "And it's needed here. Why should a young family with a critical-need child have to drive to Mobile, when you can have a doctor with a subspecialty right here?"
Owen Bailey, the CEO of USA Health, has known the Mapps for 30 years. They've served on local boards and committees. As volunteers, they've offered their time as well as their money.
"I can't say enough good things about them," Bailey says. "They're kind, caring and selfless. They've made a difference in countless lives."
Years ago, when the Mapps donated to a new heart center in Fairhope, hospital administrators planned the usual ground-breaking ceremony of VIPs with hard hats and shovels. Louis suggested a program featuring local heart patients and their families.
This year, when USA Health was looking at land for a campus near Fairhope, the Mapps owned two suitable tracts. Louis insisted that the hospital group accept the more desirable one, a $2 million corner parcel at the intersection of Alabama 181 and Alabama 104.
Bailey calls him a mentor and counselor who is gracious and humble.
"Louis is one of the most talented business people I know, but you would never hear that from his mouth," he says. "He's a servant leader."
Sunshine on the Eastern Shore
For a front porch chat, Melinda Mapp wears dress shoes, black slacks and a matching print blouse. Louis is more casual, in a gray long-sleeve T-shirt and faded blue jeans. He's taller than his wife. His hair is shorter and whiter. His drawl is more syrupy.
Louis doesn't jog anymore, thanks to his 83-year-old knees, but he still wears New Balance running shoes. An iPhone peeks from his shirt pocket.
"I love technology," he says. "I'm an Apple guy."
"He's a good geek for me," Melinda says.
"Yes," he agrees, laughing. "I'm her Geek Squad."
The Mapps have three children, eight grandchildren and three great-grandchildren. Their daughter's family lives in Fairhope, while one son is in Mississippi and the other is in Florida.
"We don't go to visit much anymore," Louis says. "They come here."
Joining the Mapps on their front porch is a five-year-old dachshund. Animal welfare is another one of their interests. Sunshine is part of that story.
"She's a rescue," Louis says.
"Our second rescue dog," Melinda says.
"From 'The Haven,'" Louis says. "A Fairhope-Mobile animal shelter."
"We found out about her from a friend," Melinda says. "We had just lost another dog."
"I got this e-mail saying 'you need to go and see this dog,'" Louis says. "Then they brought her to the house."
"She went through that door," Melinda says, "like she'd lived here her whole life."
"And the rest is history," Louis says.
Mississippi Natives
The Mapps knew each other growing up in Mississippi. They started dating when she was a sophomore and he was a senior at Hattiesburg High School.
"He was nice – very nice," Melinda says. "And my older brother was so particular about who I dated. Mother and dad would always say, 'Is it OK if she goes out with so-and-so?' Then they said, 'What about Louis Mapp?' And he said sure."
Louis went on to college at Southern Mississippi, where the football field, Faulkner Field, was named for his grandfather. He was not an academic success, though, and never graduated.
"I didn't flunk out, but I didn't do well," he says with a hangdog grin. "I enjoyed myself."
His father told him that leaving school meant that he was either going to work or joining the military. Louis enlisted in the Army – "I was a slick-sleeved private, about as low as you can get" – before marrying Melinda and returning to college at Louisiana State University.
They were big football fans in those days. The Ole Miss and LSU teams were often ranked No. 1 and No. 2 in the nation. In Tiger Stadium on Halloween Night, 1959, they watched Billy Cannon become a legend by returning a punt 89 yards on his way to winning the Heisman Trophy.
"They were playing Ole Miss and I got blamed for it," Melinda says, laughing. "I had just said, 'Well, I don't know what's so great about Billy Cannon. …'"
The Mapps returned to Hattiesburg and Louis took over the family business after his grandfather died. He jokes that he earned his MBA on the job. Years later, he took his business experience to the banking industry.
He makes it sound simple.
"The basics are the same," Louis says. "Treat your customers right, treat your employees right, and you'll be all right."
A Commitment to Service
In Baldwin County, the Mapps remain active in the Fairhope Christian Church, where Louis offers computer support. He helped the pastor set up live streaming so quarantined members can join Sunday services from home. He also took a series of photographs for a church display, using his iPhone as a technical and artistic challenge.
He has a passion for automobiles that is also related to engineering and technology. He loves to drive his Audi Q8, especially at night.
"I'll tell you what it's got," Louis says. "This Audi has night vision with infrared cameras and thermal imaging. If I'm going down the road in the dark and there's a jogger or bicyclist, they light right up."
For many years, Melinda volunteered at hospitals in Mississippi and Alabama. She preferred working with staff and patients in the emergency room.
"It was always interesting," she said. "If there was a family that was worried or distressed, I could run errands or do whatever they needed me to do."
At Children's & Women's Hospital in Mobile, a tour of the Neonatal Intensive Care Unit touched Louis' heart. Like Melinda, he wanted to work in the busiest wards of the hospital. Last year, he also volunteered to work with the families of patients in the Trauma Center at University Hospital in Mobile.
"I knew there were some really sick people and they were getting great care," he says. "I wanted to be a part of that."
Closer to home is their land grant to USA Health. The couple don't often lend their names to a project, but this is an exception. They're invested in the Mapp Family Campus.
They see a need for everyone in Baldwin County, themselves included.
"We're at an age where it's not so easy to go back and forth across Mobile Bay," she says. "I've had so many people tell me, since the announcement was made, how excited they are to have this in Baldwin County."
---