USA Joins Mobile United and City of Mobile to Create Community Dialogue on Race
---
Posted on August 18, 2014
Joy Washington
---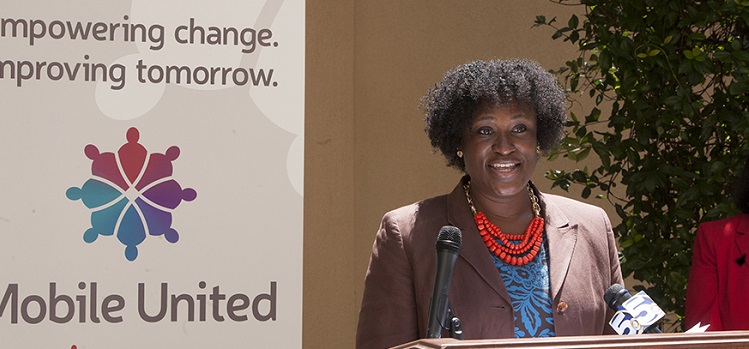 Dr. Joel' Lewis, associate professor of professional studies in the College of Education, speaks at a news conference announcing the Community Conversations initiative that will take place over the next year.
---
University of South Alabama faculty member Dr. Joel' Lewis, associate professor of professional studies in the College of Education, and Dr. Robert Gray, manager of faculty development services in the USA Innovation in Learning Center, are pleased to join the efforts of Mobile United and the City of Mobile to help in leading an initiative of Community Conversations on race.
This process will kick-off with an event at 6 p.m. on Monday, Aug. 18, at the Alabama School of Math and Science. The program will feature Alabama Attorney Stephen Foster Black and Rev. Dr. Robert Turner, Jr., who will set the stage for the year-long public process that will follow.
In addition, a survey has been designed to gauge public opinion on race in Mobile as well as a plan to feature the USA documentary "Mobile in Black and White," directed and produced by Gray, produced by Lewis and Brian L. Butler, and supported by Mobile United, The University of South Alabama, The History Museum of Mobile, Community Foundation of South Alabama and the Mobile County Commission, District 1.
"Mobile in Black and White," which was recently accepted in the competitive Los Angeles Diversity Film Festival, takes a hard look at the ways racism continues to pervade the structures and institutions of a supposedly post-racial world.
"We are pleased to collaborate on this city-wide effort to bring all citizens together to view our documentary," Lewis said. "Mobile in Black and White expertly blends the insights and experiences of local residences and leading national experts."
Just recently, "Mobile in Black and White" was accepted in the Los Angeles Diversity Film Festival, which received more than 300 submissions from around the world. This process was identified as highly-competitive. The documentary film project has received numerous awards and recognitions since it was released.
"In May 2013, the documentary was named one of the top 50 research, scholarly, and creative works in the history of the University of South Alabama," Gray said. "In February 2014, the film project was also named Mod-Mobilian Bay Documentary of the Year."
Katherine Pitman, executive director of Mobile United, shared some of their goals for this year-long process Community Conversations on race. They include, creating a community agenda to increase racial equity and create safe spaces where people can discuss and confront the issues that still exist around race and inequity in Mobile.
The public is encouraged to take the survey, which can be found online at www.surveymonkey.com/s/racerelationsmobile and on all Mobile Public Library, MPL computers. There will also be paper copies available at each MPL location as well as the information desk inside Government Plaza.
Mobile Mayor Sandy Stimpson's office sought to engage Mobile United to help create the series of community conversations based on the film, which originated out of Mobile United's race relations committee. The film, designed and implemented by Gray and Lewis, was used in a number of community conversations throughout Mobile before being accepted into seven film festivals across the country. The conversation now returns to Mobile as it examines the pervasive, institutional forms of racism, and it helps identify inequities in the City of Mobile.
For more information about the kick-off event or the year-long community conversations, contact Katherine Pitman at kpitman@mobileunited.org.
---