USA Kicks Off New School Year
---
Posted on August 18, 2014
Joy Washington
---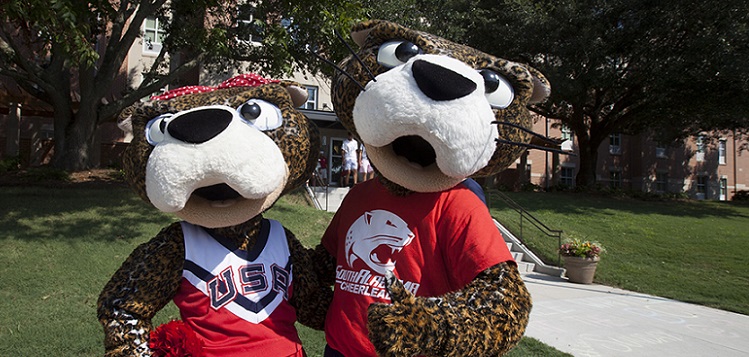 Miss Pawla and South Paw help students move into their residence halls on Saturday, Aug. 16. More than 700 volunteers came out for Move-In Day.
---
View photos of Move-In Day 2014.
View video of Move-In Day 2014.
---
More than 700 University of South Alabama faculty, staff, students and alumni helped students move into residence halls on Saturday, Aug. 16, as a new academic year kicked off this week.
One of the highlights of Saturday's JagFest, which included Move-In Day, Campus Fair and the President's Dinner Buffet, was new USA President Dr. Tony G. Waldrop and his wife, Dr. Julee Waldrop, greeting and helping students move into their rooms.
USA will have more than 3, 277 students residing on campus at the University this fall. This number includes students living at The Grove, privately owned apartment-style student housing on USA's campus.
Saturday's events, along with the record number of volunteers for Move-In Day, marked the beginning of a busy start to the year. On Monday, Aug. 18, classes began and the USA Student Center Grand Opening featured refreshments, music and more. USA Student Affairs wants everyone to "Come Experience the Center of it All."
Other events include:
Aug. 16-25, Pan-Hellenic Recruitment Week
Please view detailed schedule at https://www.southalabama.edu/departments/greeklife/
Friday, Aug. 22, Jaguar Soccer
7 p.m., The Cage.
South Alabama vs. UAB
Sunday, Aug. 24, Football Fan Day
4-6 p.m., Main Floor of the Mitchell Center
Come out and meet Head Football Coach Joey Jones and the Jaguar football team for Fan Day 2014. This event will feature an autograph session with the coaches and players. All fans are encouraged to bring memorabilia to be signed and cameras to take photos of your favorite Jaguar players and South Paw with the cheerleaders. This event, which includes parking, is free and open to the public.
Wednesday, Aug. 27, Get On Board Day
11a.m.-2p.m., Student Center.
This day is an opportunity for all students to meet representatives of more than 200 student organizations and to get involved on USA's campus.
Thursday, Aug. 28, National Pan-Hellenic Council Informational
7 p.m., Student Center Ballroom. For more information, contact Petre Freeman at (251) 460-6895.
Thursday, Sept. 11, USA National Alumni Association Annual Meeting
5:30 p.m., USA Student Center Ballroom. For more information, contact the National Alumni Association at (251) 460-7084.
Friday, Sept. 12, Inauguration Ceremony, President Tony G. Waldrop
2 p.m., USA Mitchell Center
Friday, Sept. 12, Jaguar Prowl-Pep Rally
7 p.m. Jaguar Marching Band, Cheerleaders, Prowlers and Football Team will depart The Battle House Hotel at 7 p.m. and walk to Cathedral Square. The Pep Rally will begin in Cathedral Square when the band arrives.
Saturday, Sept. 13, USA Jaguars VS. Mississippi State University
Ladd-Peebles Stadium, First 2014 Home Game. This game will be televised on ESPN News.
Tailgating All Day - Ladd-Peebles Stadium
12:45 p.m. - Jaguar Prowl - Coaches and players walk south side of Ladd-Peebles Stadium.
3:00 p.m. – Kickoff time- Jaguars vs. Mississippi State
Individual and season South Alabama Jaguar football tickets can be purchased by visiting https://usajaguars.com/ or by calling (251) 461-1USA.
For more information on registration or readmission for former USA students, visit the USA Registrar's Office online at www.southalabama.edu/registrar or call (251) 460-6251.
New students interested in applying for admission to the University can get information by visiting the USA Office of Admissions online at www.southalabama.edu/admissions or by calling (251) 460-6141.
---